Jaisimha - The stylish and sensible cricketer
1.76K //
08 Mar 2013, 17:50 IST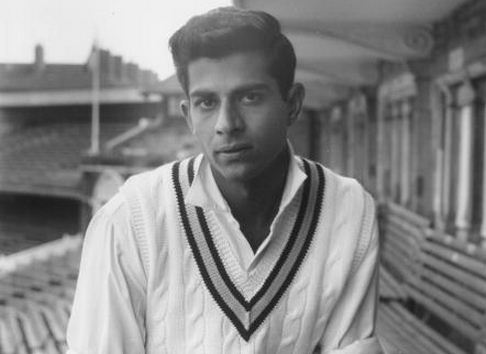 "On and off the field, Jaisimha was the personification of elegance and charm. He could not do a mean thing or play a mean stroke even if he tried. Grace came naturally to him. There was something about him that made Jai the darling of the masses. His slim figure, which he maintained till his last day, the boyish good looks, the inimitable gait, the trademark silk shirt and scarf, the sleeves buttoned at the wrist or the collar turned up – all these attracted immediate attention". ~  Partab Ramchand, an author with ESPN Cricinfo, on the demise of M L Jaisimha. 
Motganhalli Lakshminarsu Narasimha was a pioneer in using the wrist to class and perfection. On a geographical note, this stylish ambassador of the game hailed from a middle class family in Secunderabad, South India, when it was under the rule of the Nizams. As a kid, he excelled in cricket, tennis and swimming. But it was through the game of cricket that he achieved fame. He played the Ranji Trophy for 23 straight seasons and the Duleep trophy for 12 straight seasons. 'Jai' appeared first in Indian colors at Lords, England, three years after the nation became a republic.
Jai neither had a lure for money, nor a longing for fame and publicity as the current crop of the modern day cricketers have. He, in fact, was a man of the bygone era where the aim was to play the game in its primitive (orthodox) format. To be subtle, he was elegance, ingenuity and craftsmanship rolled into one. Such legendary packages happen only a few times in a generation. Mohammad Azharuddin and V V S Laxman are surely his successors by virtue of playing the game in a stylish way.
He was not fortunate to play countless matches and pile up tons and tons of runs like some of our modern day greats, nor does he have that unconquerable average of Sir Donald Bradman, yet he possessed something remarkable. Jai's batting style was graceful and elegant. Erapalli Prasanna, in his autobiography 'One More Over', writes, "Jai was one of the elegant ones. Being highly intelligent, Jai worked his way against spin initially, getting his runs slowly. Once set, he was a very different proposition. He could collar the bowling, and could lift the ball too. Nobody hit the on-drive off the back-foot wide of mid-on better than he could". As a batsman, in the 39 Tests he played, he scored 2056 runs at an average of 30.69.
He was an intelligent and an educated cricketer. He was his own tutor and guide. At the end of the day's play, he'd have a nice bath, comfort himself on a cushion and would analyze his game; his day on the field. He had his own dictionary of ideas and approaches to the game. When speaking about his intelligence, we should mention his bowling skills. As a kid of the 80's, I'd compare Jai to Waqar Younis. He contained in him that much- needed variety and variation while bowling. Let me make one point here. He was not a man of endurance or forbearance on the field like those Caribbean speedsters who would approach the crease like an infuriated bull, but used his wisdom and presence of mind in bowling a swinger or an off-break, or even an occasional yorker. Our Jai was a medium pacer in his times.
Jai was as articulate in his cricketing strokes as he was in speaking English. He was a good orator, with the knowledge and information that he had on varied subjects. To one correspondent in the 1980's, he told, "It's not enough to be merely a good or talented player. You should have a good mind, too. I mean the combination is likely to bring more success. Of course, this applies in other fields also. Cricket is such a game that it's often played in the mind than on the field, if you get me."
He was a rare kind of legend who opened both bowling and batting in Tests and the first cricketer ever to bat on all days of a Test match. He achieved this distinction against the visiting Aussies in Calcutta (now Kolkata) in the 1959 – 1960 cricket series. Jai's sense of humor was such that he could entertain people for hours without any feeling of boredom.
Our beloved Jaisimha should be a source of inspiration and motivation for young players of today who should play the game for the sake of the game.