Katy Perry to set the IPL Opening Ceremony ablaze
The opening ceremonies of the IPL usually make headlines because of the pizazz and glamour they showcase. The fifth edition of the IPL extravaganza is all set to kick off from the 3rd of April, 2012, at the YMCA Grounds in Chennai. With stars like Shaggy and Akon having wowed spectators by performing at the opening ceremony in the past, this year, the 'Firework' star Katy Perry will be setting the stage on fire. She will be performing along with some big Bollywood stars who would hope to compliment the young girl who has lived her 'Teenage Dream'.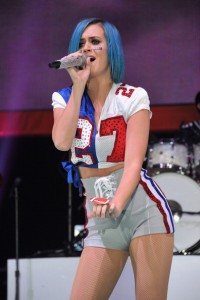 Katy Perry is one of the hottest international musical sensations who will set the tournament's tune with her whacky ways before the cricketers head to a new season of the IPL. Having ruled the music charts and won almost every prestigious music award from the Billboards to the Brits, this pop princess is all set to storm the DLF IPL 2012 Opening Night.
"We look forward to Ms. Perry's participation at the DLF IPL 2012 Opening Nite. A performer of her calibre makes the occasion even more special for the IPL family – the players, organisers and fans. The verve and originality of her music matches that of the competition and we look forward to an inspired performance from her," IPL Chairman Rajeev Shukla said.
The International pop star is known for flaunting her unique mix of talent, spirit and innovation, all of which are reflective of the tournament that has captured the hearts of audiences worldwide. Having toured all over the world and now making her debut performance in India, Katy Perry will help kick start the latest season of the Indian Premier League in her trademark style.