Ravindra Jadeja thinks he's as good as Cristiano Ronaldo in football - Virat Kohli
8.72K //
11 May 2014, 13:04 IST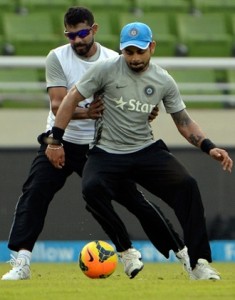 RCB skipper Virat Kohli took a break from cricket recently to attend the adidas FIFA Fairplay flag bearers program in Bangalore where he talked about his passion for football.
When asked who's the most entertaining player in the team, he cited Ravindra Jadeja's 'skills' with football, which have supposedly reached legendary levels in the team.
"It is really funny to see some of the guys trying different skills, especially Ravindra Jadeja. You should watch him play football…you will have a laugh. He thinks he is as good as [Cristiano] Ronaldo when he gets the ball. I mean you should watch him. It is hilarious!" Kohli said.
Kohli said his favourite position was midfield, but then he has to make up for others lacking up front too. Jadeja however, was a follower of 'total football' according to Kohli.
"He (Jadeja) plays everywhere. I sort of play mid-fielder but I have to eventually go forward to try and score some goals. Once you give the ball to Jadeja there is no getting it back so I have to sort of take that role over," he said.