Leading wicket takers of 2012
A quick look at the highest wicket takers of 2012 shows Saeed Ajmal as the most successful bowler this year, with a total of 93 wickets across all formats. Rangana Herath leads the Test matches list with 60 wickets in just 9 matches, while Lasith Malinga and Ajmal lead the ODI and T20I list respectively.
The absence of Indian bowlers in the top 10 of any of the formats explains the woeful year for the Indian cricket team.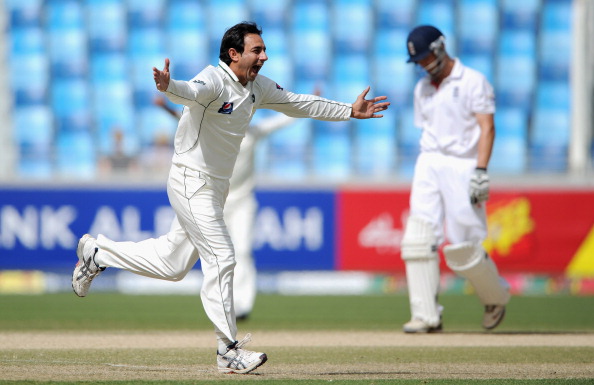 Test matches – Most wickets
| | | | | | | | | | |
| --- | --- | --- | --- | --- | --- | --- | --- | --- | --- |
| Player | Mat | Inns | Wkts | BBI | BBM | Ave | SR | 5 | 10 |
| R Herath (SL) | 9* | 17 | 60 | 6/43 | 12/171 | 22.05 | 49.8 | 7 | 2 |
| G Swann (Eng) | 14* | 24 | 59 | 6/82 | 10/181 | 29.93 | 64.5 | 3 | 1 |
| J Anderson (Eng) | 14* | 26 | 48 | 5/72 | 6/116 | 29.50 | 70.7 | 1 | 0 |
| V Philander (SA) | 9 | 17 | 43 | 6/44 | 10/114 | 21.11 | 45.8 | 3 | 1 |
| S Broad (Eng) | 11 | 19 | 40 | 7/72 | 11/165 | 31.70 | 62.7 | 2 | 1 |
| S Ajmal(Pak) | 6 | 12 | 39 | 7/55 | 10/97 | 20.56 | 46.4 | 2 | 1 |
| K Roach (WI) | 7 | 14 | 39 | 5/41 | 10/146 | 22.25 | 41.0 | 3 | 1 |
| D Steyn (SA) | 10 | 19 | 39 | 5/56 | 7/112 | 29.71 | 58.5 | 1 | 0 |
| M Morkel (SA) | 10 | 19 | 38 | 6/23 | 8/196 | 30.28 | 56.9 | 2 | 0 |
| B Hilfenhaus (Aus) | 9* | 17 | 37 | 5/106 | 8/97 | 21.67 | 54.8 | 1 | 0 |
| | | | | | | | | | | |
| --- | --- | --- | --- | --- | --- | --- | --- | --- | --- | --- |
| Player | Mat | Inns | Runs | Wkts | BBI | Ave | Econ | SR | 4 | 5 |
| L Malinga (SL) | 32 | 31 | 1508 | 47 | 5/54 | 32.08 | 5.66 | 33.9 | 1 | 1 |
| S Narine (WI) | 17 | 17 | 600 | 34 | 5/27 | 17.64 | 3.66 | 28.9 | 2 | 1 |
| T Perera (SL) | 23 | 21 | 859 | 32 | 6/44 | 26.84 | 5.95 | 27.0 | 2 | 1 |
| S Ajmal (Pak) | 16 | 15 | 613 | 31 | 5/43 | 19.77 | 4.32 | 27.4 | 1 | 1 |
| N Kulasekara (SL) | 28 | 28 | 1129 | 28 | 3/40 | 40.32 | 4.84 | 49.9 | 0 | 0 |
| C Mckay (Aus) | 17 | 17 | 645 | 27 | 5/28 | 23.88 | 4.52 | 31.6 | 1 | 1 |
| S Finn (Eng) | 14 | 13 | 500 | 25 | 4/34 | 20.00 | 4.20 | 28.5 | 3 | 0 |
| B Lee (Aus) | 16 | 16 | 704 | 23 | 3/42 | 30.60 | 5.48 | 33.4 | 0 | 0 |
| X Doherty (Aus) | 21 | 20 | 811 | 22 | 4/49 | 36.86 | 4.87 | 45.3 | 1 | 0 |
| M Morkel (SA) | 11 | 11 | 423 | 20 | 5/38 | 21.15 | 4.89 | 25.9 | 1 | 1 |
| | | | | | | | | | | |
| --- | --- | --- | --- | --- | --- | --- | --- | --- | --- | --- |
| Player | Mat | Inns | Runs | Wkts | BBI | Ave | Econ | SR | 4 | 5 |
| S Ajmal (Pak) | 14 | 14 | 324 | 23 | 4/23 | 14.08 | 5.78 | 14.6 | 2 | 0 |
| G Swann (Eng) | 12 | 12 | 250 | 17 | 3/13 | 14.70 | 5.68 | 15.5 | 0 | 0 |
| S Watson (Aus) | 11 | 11 | 269 | 17 | 3/26 | 15.82 | 6.43 | 14.7 | 0 | 0 |
| S Finn (Eng) | 11 | 11 | 284 | 17 | 3/16 | 16.70 | 6.76 | 14.8 | 0 | 0 |
| S Narine (WI) | 13 | 13 | 294 | 16 | 4/12 | 18.37 | 6.16 | 17.8 | 1 | 0 |
| A Mendis (SL) | 6 | 6 | 147 | 15 | 6/8 | 9.80 | 6.12 | 9.6 | 1 | 1 |
| G Dockrell (Ire) | 12 | 11 | 240 | 15 | 3/15 | 16.00 | 5.97 | 16.0 | 0 | 0 |
| M Starc (Aus) | 8 | 8 | 192 | 14 | 3/11 | 13.71 | 6.16 | 13.3 | 0 | 0 |
| T Southee (NZ) | 12 | 11 | 347 | 14 | 3/16 | 24.78 | 8.26 | 18.0 | 0 | 0 |
| R Haq (Scot) | 5 | 5 | 119 | 12 | 3/22 | 9.91 | 5.95 | 10.0 | 0 | 0 |