"Love thy neighbour" - Time for some India vs Pak action
1.91K //
22 Jul 2011, 01:20 IST
Over the years cricket has witnessed many a rivalries, the one involving Australia and England resulted in "ashes". The aussies have also fierce rivalry with their neighbours Newzealand. England and Westindies faced many competitive and enthralling test series in 70′s and 80′s. Australia and South Africa dominated the cricket in much of 1990-2000. But the grand daddy of all these rivalries is India vs Pakistan . The rivalry between the two countries has continued since Pakistan formed its own cricket team, and it is only fitting that these two teams have often possessed some of the finest batsman and bowlers. If "Gavaskar,Sachin,Rahul,Sehwag,Kapil,Kumble" are the famous names featured in Indian side then Pakistan also boasts of "Anwar,Abbas,Miandad,Inzamam,Akram,waqar and Imran Khan" . When two nations play , billions stop working. Passion runs high, human emotions experience a roller coaster ride, the players themselves have given such memorable performances that their deeds have been etched in folklores.
Ask Kumble who took 10 wickets in an innings what it means to him to see Pakistanis suffer and going without clue one after another to the pavilion. Ask Chetan Sharma how a single delievery continue to haunt him from Sharjah to Delhi, even after 30 years he has not found peace. Ask Shoaib Akhtar what it feels like when you ran as fast as you can only to see the ball being dispatched to boundary at twice the speed from the bat of little master. Ask Sehwag what a joy it is to score two triple centuries against your arch-enemy. Ask Misbah-ul-haq what got into his head that he tried to scoop Joginder Sharma's dolly. Ask Saurav,Rahul and Sachin what it feels like to face the bowling of 2 sultans of swing-"wasim and waqar". And ask the billion fans what Imran Khan, Kapil Dev and M.S.dhoni mean to them . Also ask the same fans what Salim Malik and Mohammad Azharuddin mean to them.
Such is the history between the two sides that even Dads and Grandads have their own version of various encounters between the two sides.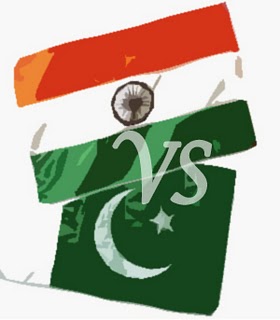 The build up to a India-Pak series is such that the tickets are sold much in advance. The two sides last played a test series in November 2007 and since then there has not been a single bilateral series between the two countries. The two nations are expected to meet again in 2013  march. What i fail to understand is that India will play their arch-rivals after a period of nearly 6 years !!!! The BCCI cannot give the excuse that the series is not financially profitable , then why this delay ???? The Indian team has firmly established itself as no. 1 team in test but have they played Pakistan ??? the answer is no. And since they have not conquered and registered a victory over arch rivals their no.1 rank is of little significance. Their is no better view in world than seeing the Indian batsmen slugging it out against Pakistani pacers. It also hurts a cricket lover when he sees that the number of ODI's these two countries have played in last 5 years has fallen drastically. It only adds to excitement that Pakistan which has better head to head record both in Test and ODI , fails to register a single victory against India in any World Cup.
The adrenaline rush seeing the players from two countries spatting and sledging each other is a sight to behold. Who can forget Afridi – Gambhir incident, or Sachin-Shoaib encounter, and recently the Bhajji-Shaoib spat. They may say that Australia or England is the final frontier, but defeating Pakistan in its own backyard remains one of the toughest job. Only one Indian side has done it which was lead by charismatic leader Sourav Ganguly, it still remains to be seen whether Dhoni will be able to repeat the feat. As the 2000 test between India and England begins in Lord's, I can only imagine what would have been situation if the same test was played between India and Pakistan.
It would have been fitting if 2000 th test was played between arch-rivals who possess the world's most talented players. It would have been even more enthralling had Sachin got his 100 th international century in the majestic stadium of eden garden or wankhede or chepauk. I leave the crowd's response to "master blaster" to ur imagination . As for the BCCI I only have three words to say-"Love thy neighbour".