Mahendra Singh Dhoni vs Sourav Ganguly - Who's a better captain?
3.66K //
08 Mar 2013, 20:54 IST
A few days back, there was brouhaha in the cricketing circles and elsewhere about India's facile victory in the second Test against the Aussies at Hyderabad. Not only were paeans written at length about the Pujaras, Vijays, Ashwins (or Sir Jadeja), the victory also brought to the fore another statistical plume that got attached to the already crowded crown that captain Dhoni wears.
As it happened, this victory marked an important milestone in Dhoni's career as regards his captaincy. It was India's 22nd win in 45 Test matches under his captaincy, the most ever achieved by an Indian skipper. With this victory, he leapfrogged Ganguly's record of 21 wins. As soon as this data-point was realised, comparisons between the two of them started flowing in from all quarters – irrespective of whether or not one concerned oneself with cricket.
To say that Dhoni has won us more matches than any of his predecessors, and hence makes for a better captain, is to assume an air of naiveté, for these individuals, as captains, led two differently structured teams. And whilst comparing different eras, statistics can tell you only so much.
Ganguly took over the reins at a time when winning an away Test series was termed as a preposterous dream, and a draw was more than acceptable. With Australia dominating the international arena, a win against them, whatever the format be, was considered an improbable proposition. Ganguly, as if defying pre-defined laws and re-writing them, showed how it could be done. After a humiliating 10-wicket defeat in the first Test of the Border-Gavaskar trophy (2000-2001) at Mumbai, the team, under his guidance, displayed an awe inspiring resurgence to close the next two Test matches (epic ones at that) decisively in India's favour. True, individual brilliance was the flavour of the series, with Laxman toying with the Australian attack repeatedly and Harbhajan taking on their mighty batting line-up all by himself. But that does not take anything away from Ganguly's brilliance at the helm of affairs.
This series marked the beginning of his romantic association with captaincy. With the series in his pocket, he then marched on to unconquered territories. India then drew against England in England in 2002, completed the outlandish journey to the finals of the 2003 World Cup, followed by the drawn series (which India completely dominated) against Australia Down Under in 2003-04. Soon, India beat Pakistan in Pakistan in more than 50 years.
With himself, Ganguly brought to the table certain attributes previously alien to Indian cricket. The fact that he was aggressive seemed to rub off on the rest of the team. Used to losing away series in trying conditions, this was something new for the team. He instilled in them the winning habit. Not only that, he was the one who was ever so ready to breed new talent: Yuvraj, Kaif, Pathan, the list goes on. He led India on the path of rebuilding and laid a strong foundation. It is not incorrect to presume that it is this foundation India still thrives on.
Having said that, Dhoni has managed to fill in the captain's boot with elan. With two World Cup victories, and the fact that he was the one who actually managed to lead India to the top of the Test rankings, he boasts of a record to die for. At home, with the exception of the series against the visiting English that concluded in December last year, Indians still seem invincible. India's performance in the first two Test matches reinforce this long held belief. It would be rather rude and wrong to claim that the Australian team is far from its best. True, their batting lacks expertise, but it is more or less the same attack that thoroughly destroyed the famed Indian line-up last year. But it is his away record that raises a few eyebrows. Two back to back series whitewashes (against England and Australia) is something that will continue to haunt him forever. The English tour, where India surrendered to the rampaging opponents, was an ignominious defeat. Coming at the backdrop of the World Cup victory and CSK's second straight IPL title, he fell from the acme of greatness to a definitive nadir.
Ganguly's away record as a captain tilts the balance in his favour. India's ascendancy to the pinnacle of Test rankings tilts it back towards Dhoni. Having said that, one needs to look at other factors too. One had a relatively better team, or had players who were at their peaks, when compared to the other who had players retiring or reeling under the weight of age. Ganguly led India at a time when the team was jam packed with individuals who were legends in their own right, while Dhoni has, of late, been leading a team which is in the rebuilding phase.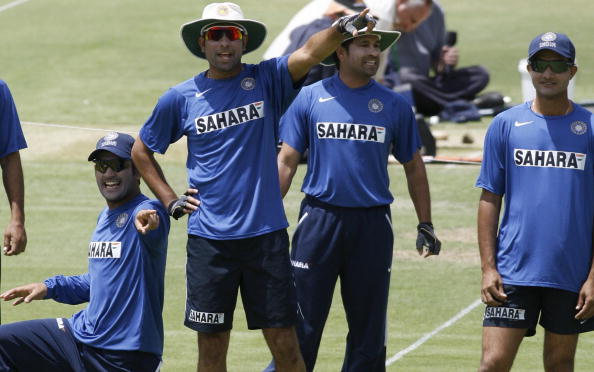 It is not right to choose between two individuals belonging to somewhat different eras. Ganguly led the team to winning ways. Dhoni seems to have followed up on that in an exemplar way. He, too, will leave behind a legacy he can be proud of.