Minnows at World T20 2012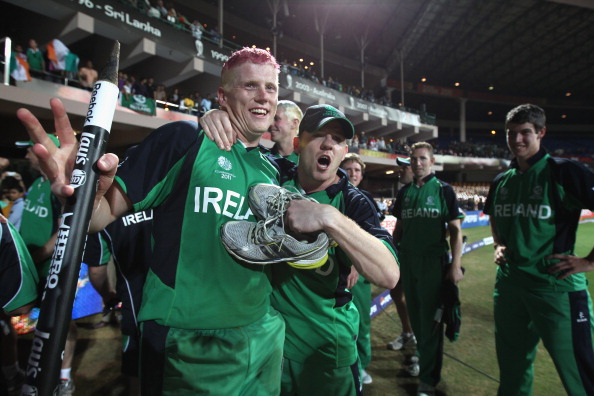 Cricket is a game of uncertainty and the amount of uncertainty is higher in T20 than any other format of this game. T20 WC is just 3 days away and we have already seen people talking about their favorites. Teams like India, Pakistan & South Africa are favorites to win the 4th edition of T20 WC. And there are also few people like me who feel West Indies will clinch the WC Trophy this time around. We'll come to know who lifts the trophy on 7th October but before that, let's not forget that there are a few teams in the tournament which can spoil the party for some of the big teams. And things like this have happened in the past in this sport.
Who can forget the way Bangladesh (not minnows anymore) and Ireland knocked India and Pakistan out of the 50 overs WC 2007 in West Indies. In the T20 WC 2007, Zimbabwe beat Australia by chasing 140 runs. In the first match of T20 WC 2009, Netherlands beat England in a thriller. And probably the biggest upset was the way Ireland chased down the score of 327 vs England in WC 2011. Teams like Zimbabwe, Ireland and Afghanistan are certainly not expected to win the trophy but they can surprise a big team by winning a match against them in a group stage and can make it tough for the other teams to advance further.
Ireland is the team which has produced biggest upsets in World Cricket in recent years by beating Pakistan and England in WC 2007 and 2011. Ireland is in Group B with Australia and West Indies. The team has some very talented individuals who can make a mark in the tournament. Their 20 year old left arm spinner George Dockrell has just won the ICC Associate and Affiliate Player of the Year. He has been in tremendous form for over a year now. Who can forget Kevin O'Brein's knock vs England where he scored the fastest century in the WC history ever and helped his team chasing the target of 327. His ability to hit the ball out of the park can change the course of the match. 38 year old Trent Johnson has been the regular face in the team. He leads their bowling attack and is capable of hitting few big ones towards the end of the innings.
Zimbabwe is a team that has surprised bigger teams in the past since 1983 when they went on to beat Australia in a WC match. Zimbabwe is in Group C with Host Sri Lanka and neighbors South Africa. Both these teams are one of the favorites to win the WC. Zimbabwe will rely most on their captain, wicket keeper and most reliable batsman Brendon Taylor. Taylor was Man of the match in the game vs Australia in T20 WC 2007. He scored 60 runs off 45 balls and steered his team to victory. Apart from Taylor, Zimbabwe will expect good performances from hard hitting batsman Hamilton Masakazda, all-rounder Prosper Utseya and veteran left arm spinner Ray Price  whose economy rate is 6.4 after having played 59  T20 games. Zimbabwe Cricket has seen some bad days in the last decade and by putting up a good show they'll try to bring the good days back.
Many people are looking forward to seeing Afghanistan in the tournament. They defeated SL A quite convincingly by 58 runs in the warm up game today. They have beaten Sri Lanka A team which included some of the international players like Kandamby, Nuvan Pradeep, Senanayeke and Jehan Mubarak. The team could not win against Australia in an ODI two weeks back but displayed a decent performance. Their confidence must have been boosted after the return of their fast bowler Hamid Hassan who bowled a brilliant spell vs South Africa in T20WC 2010. Mohammad Nabi, the all-rounder has also done well in the recent past in both bowling and batting and would be hoping to continue his performance at the bigger stage. The captain Navroz Mangal will try to use his limited resources at best. Afghanistan are placed with India and England in Group A.
All these 3 teams have the potential to win the game by playing some good cricket for 3 hours. I like it when small teams go on to beat giants of the game, though I hope Indian team doesn't become a victim of such an upset.