The story of a convert: How Misbah-ul-Haq turned one of his critics into his fan
7.69K //
22 Mar 2015, 12:41 IST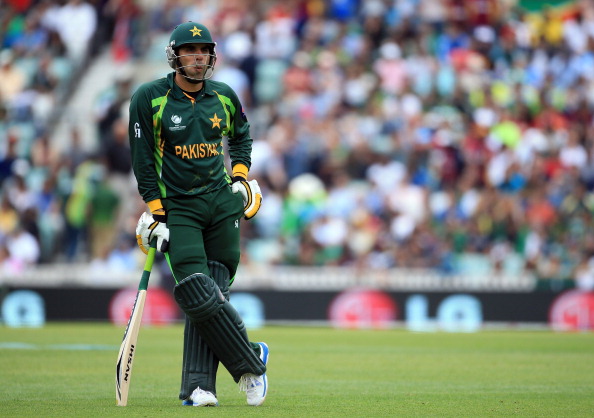 I have always been a critic of Misbah-ul-Haq. I have always maintained that the biggest mistake in Pakistan's recent cricket history has been replacing Shahid Afridi with Misbah as ODI captain shortly after Afridi led his team to the semi-finals of the 2011 World Cup.
I still stick by that statement, but I hate Misbah a little less than I hated him after Mohali. In fact, I don't hate him at all. He captained Pakistan in 87 ODIs, as many as Inzamam-ul-Haq, which is the third highest in Pakistan's history after Imran Khan and Wasim Akram. He didn't win as many ODIs as captain as Imran, Wasim and Inzamam did, but he still won more games than he lost: 45 to 39 with a win% of 53.5.
While I am a staunch supporter of Misbah the captain in Tests – he has been one of our best ever, if not the best, his ODI captaincy always left a lot to be desired. However, this World Cup changed my perception.
How Misbah proved me wrong
The biggest criticism of Misbah was his defensive approach to both his batting and captaincy, which he defended by talking about his limited resources. Why he was so defensive was there for everyone to see in this World Cup – the team struggled to bat its quota of 50 overs whenever Misbah fell early. The irony, however, would always be that the one day Pakistan required him to go slow and play out overs – in the quarter-final match against Australia that eventually turned out to be his final ODI, he fell holing out to the man at the mid-wicket boundary.
I always felt that Misbah's batting resulted in Pakistan scoring less than what they could have or in Pakistan not being able to close a match in many a ODI. However, after watching the recent games involving Pakistan, I started feeling that Misbah was always right: he had no option but to bat the way he did.
This World Cup was a testament to that fact: Against India, Misbah was the lone man fighting in a chase of 300; against West Indies, Pakistan folded to 160 as Misbah was dimissed early; against Zimbabwe and South Africa, he was unable to accelerate as wickets kept tumbling around him; against the UAE and Ireland, he was aggressive as his batsmen felt at home against weaker bowling attacks; and against Australia, in his final ODI innings, he looked good till he holed out. He should have gone on I felt, but you can't really blame him for playing the stroke that had fetched him two sixes earlier in the innings.
Big shoes to fill in
I believe the value of Misbah the batsman will be realised now that he is no longer part of the ODI set-up. Now that he has retired, someone else will need to take the responsibility to play through the innings. Someone else will need to step up and bail Pakistan out every time they are 2 down for very little. I don't know who that someone will be, but whoever it is, he has one hell of a task in hand.
Misbah's captaincy also shone during this World Cup, especially in the two must-win pressure games against Zimbabwe and South Africa. Sure, Misbah did not have any option but to attack to win those two games, but he was instilling the belief in the team. Those two wins were redemption in my eyes for Misbah the ODI captain.
There are many sweet memories associated with Misbah's captaincy in ODI cricket: the Asia Cup win in 2012, the series win over India in India, and the first ever series win by an Asian team in South Africa are the most notable ones. Those three series will always be remembered by fans and will always be talked about how they were achieved under Misbah.
Stats indicate how special Misbah was
Misbah leaves the game without ever scoring an ODI hundred. That will remain the only blemish on his otherwise outstanding record. He has retired from ODIs having scored the most number of runs ever by a batsman without a century. He has retired with a batting average of 43.4, which is second only to Zaheer Abbas for all the Pakistan batsmen with at least 1,000 runs; his batting average is better than that of Inzamam, Saeed Anwar, Mohammad Yousuf, and Javed Miandad.
He averages more than Ricky Ponting, Brian Lara, Kumar Sangakkara, Clive Lloyd, Sourav Ganguly, Desmond Haynes, Martin Crowe, Steve Waugh, and many other illustrious ODI batsmen. He scored over 3,000 runs as Pakistan captain, second only to the great Imran Khan. Those are great numbers for a man who was forever criticised for the way he batted.
From being a harsh Misbah critic, I am now a Misbah supporter. Yes, I am a convert. He will be missed.