Player in Focus: Ishwar Pandey - Pacing new heights
25.31K //
26 Jul 2013, 01:20 IST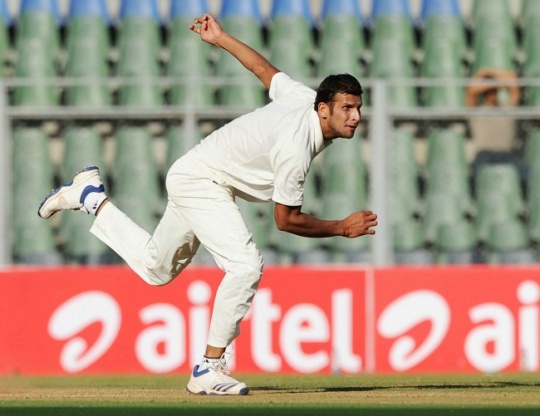 Picture this. A small, little known town of Rewa, situated somewhere in the nook of Madhya Pradesh. A 6 ft 4 inch tall 16 year old boy is enjoying his summer holidays roaming around the small town, relieved from his board exams. While casually loitering around with a friend, our protagonist walks up to a camp/cricket trial. Decides to bowl an over and gets handed a seasoned ball for the first time in his life. 3 years later, he goes on to become the highest wicket taker in the Ranji season. Sounds like a Hindi film script, right?
Far from it. Ishwar Pandey, who turns 24 this August 15th, is the guy for whom an unintended, informal decision turned out to be a life changing one. Like any other teenager in India, his parents too wanted him to concentrate on his studies and leave the cricket playing only for the by-lanes of his small town. The medium pace bowler was a find from Rewa and has since then played for Madhya Pradesh Cricket Association (MPCA). The dynamic bowler was chosen to represent district of Rewa in the state level games. From there he was promoted on back of some promising action and soon found his place in Ranji team for MP.
In his debut in first class cricket, Ishwar was playing besides TP Sudhindra, an experienced fast bowler who had been playing first class cricket for MP since 2005 and who also was the highest wicket taker in Ranji season 2011-2012.  Ishwar was dropped from the side as he failed to take any considerable number of wickets. But he left a mark on the coach of the state team, with his unplayable deliveries. He was picked again.
Ishwar, meanwhile, nursed his wounds from being left out, convinced his father that he belonged on the field and practiced fervently. The once burnt Ishwar was going to tread well this time along and gave his best performance in the U-19 MP team. MP showed its trust in Ishwar as they promoted him to U-22 team.
Following a shameful booking scandal, MP lost its star bowler TP Sudhindra to the follies of man-greed. Ishwar now had to prove his worth and MP was more than relying on him. There are only a few cricketers in this country of legendary sportsmen that make honesty and integrity look difficult.
Although Ishwar's predecessor was blacklisted and banned, he shows no such deviation from his passion for cricket. Enrolling himself in MRF pace academy, Chennai only helped improve the precision Ishwar's bowling lacked. Ishwar Pandey's pace with the ball has been noticeable – not outstanding. He usually bowls in the humble speed range of a 130kmph -135 kmph. But he compensates that by the attacking nature of his bowling and the ability to swing the ball either way around the off stump.
Ishwar's records speak for themselves. In the 8 first class matches he played this year, Ishwar managed to get 48 wickets, with an outstanding record of five 5-wicket hauls. Amongst those was the wicket of Wasim Jaffer in the Mumbai v/s MP game at Holkar stadium, Indore. It was a show of great presence of mind from Ishwar who tried to trick Jaffer into playing a ball pitched slightly outside. Jaffer ended up giving the wicket to fielder in slip.
A stunning sight and a more stunned Jaffer will always be a fond memory etched in the minds of first class cricket viewers. Apart from his methodical bowling, Ishwar's stint with the bat looks promising. He starred in a 36 run partnership for the last wicket, hitting 3 6's himself against Mumbai. The loss, despite his efforts, cost MP the seat in semis for Ranji which still makes him cringe.
Hailing from an army background, discipline comes naturally to Ishwar. He attributes his fitness and athleticism to his father, who insisted on them being active in sports. But for any fast bowler, fitness goes beyond the general understanding of a layman. Indians don't have the physical make up of an ideal fast bowler.
Take the case of Varun Aaron, who after having a remarkable debut, has been out of action since two seasons owing to injuries. Ishwar is well aware of the perils of fast bowling and has worked diligently on his fitness and physique. In the initial few months at MRF Pace academy, he worked on his fitness and barely even touched a ball. That transpired into him being more agile and swift in his action.
Ishwar Pandey's pace is not Brett Lee-esque, but is swift, a great medium pace bowler, a terrific fielder and can get going with the bat when needed. So what is taking so long for him to get the India cap? He still has Varun Aaron as his chief competitor and bowler in the running when they look for pacers. But Aaron, as mentioned above, is nursing injuries and may return to form this October with a different bowling action.
The existing bowlers include Ishant Sharma who has been over worked and, frankly, has lost plot. Bhuwaneshwar Kumar has delivered when it mattered and now seems to have cemented his place in the preferred XI. Umesh Yadav has the talent and experience but Ishwar's swing and consistent line and length is a better deal.
And kudos to Zaheer for trying to get back in form but one can only expect him to lead the way for other bowlers with his experience and mentor them. India is going to play plenty of cricket from October onwards, which includes Australia tour of India and India playing South Africa. So that leaves plenty of opportunity for Ishwar to prove his mettle.
Ishwar Pandey is just an opportunity away from giving India a great medium pace bowler. He has some big shoes to fill in. So this might be a good time to pull up his socks and be patient. And a dream debut would be a perfect addition to this script of the boy from Rewa. Watch out for more.