Rahul Dravid (a video collection)
2.84K //
10 Mar 2012, 15:27 IST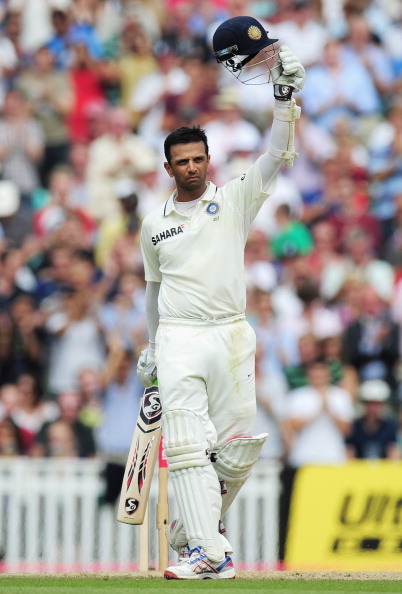 Rahul Dravid, The Wall as he was rightly called had something common with the Indian Himalayas. The Indian Himalayas stands as a barrier protecting the country from intruders and enemy forces from entering in to the mainland, while Rahul Dravid replicated this aspect on the Cricket pitch on most days, whenever the Indian batting line-up around him crumbled, there was this man who stood in the the literal sense as a wall in the way of the opposition. He guided the team to a safe zone and a respectable score countless times. His safe pair of hands, a God given gift and perfect technique as a graceful slip fielder won India several matches and made him one of the best fielders ever to have graced he cricket field. Rahul was a peculiar case wherein a Work Horse also had the ability of a War Horse, he toiled hard on the cricketing field with patience and perseverance which summed up his work horse characteristics and also had the war horse like qualities with his masterful stroke play. He was the epitome of selflessness, an attribute of his that we just cannot forget or ignore.
When the going got tough, 'The Wall' got going. His batting was a treat to watch-technically correct, artistic, skillful, stylish, wristy,  great front foot play, equally adept back foot play, solid defence that demoralized many a bowling attack  and above all the unwavering patience to take the team to a respectable position. No tribute is going to be enough for this hero. He was the most technically correct of the terrific trio of India, which also comprised of the masterly Sachin Tendulkar and the fearless Sourav Ganguly who all excelled in both forms of the Game – the pure 'Test' cricket and the entertaining ODI. When Sourav decided to call it a day back in 2008, the world lost several of his terrific shots the most notable of which was the lofted drive for six, for which he danced down the track.Now that Rahul Dravid has decided to call it a day, retiring from playing tests for the nation, the world would again lose several terrific shots of his too, the most notable being the glorious square drive off the front foot.
The famed Indian batting lineup attracted huge crowds overseas on their tours, the locals piled up on to the stands to watch the skillful masters weave their magic by executing their glorious shots. When Ganguly retired we lost a bit of that artistic style and magic of the Indian batting display hailed worldover, and now that Dravid too gets out of the game, we will lose that same artistic style and craft element again and it will only be Sachin who would carry it lonely hereafter, albeit but only for a few more months till the time he too retires from the game.
As a tribute to the Great Wall of India, I strive hard to list some of his greatest batting displays. A very hard job as most of his innings were top class.
Please don't stop only with the description. All the knocks demands a viewing.
95 Vs England, Lords, 1996
Two top class acts who brought India great glories made their debut on the same match. Both showcased their talents and put on a scintillating batting display with high quality strokes and a 94 run partnership on a green-top wicket where the ball was swinging well. Though, Ganguly scored a century (131) Dravid fell agonizingly short of 5 runs for his own ton. Both showed the world their arrival on the big stage. The stage was set for far more greater things to come in the future.
148 Vs South Africa, Johannesburg, 1997
On a tough seaming and bouncy wicket – conditions that didn't favour Indian batsman, facing a bowling pack consisting of Donald, Pollock, Klusener, Mcmillan who were all in their prime. Rahul steadied the Indian batting with a sublime knock of 148 with incredible stroke making of the highest quality and a defence that showcased his sound technique. He added up a 81 in the second innings to help India challenge the Proteas at their own turf.
180 Vs Australia, Kolkata, 2001
Australia were flying high, they came with an invincible tag having not lost matches from late 1999 to early 2001 under the tactical captain Steve Waugh. India lost the first match of the test series rather tamely, but won the second and third at Eden Gardens and Chepauk and put a big full stop to the Australian 16 test winning streak. And, it was Rahul Dravid who stood the test of time and fought hard to steer India from a position wherein an innings defeat for India looked probable. He put on a 376 run partnership with VVS Laxman, for whom it was his innings of a lifetime and inspired him to make 281 not out (his career best) and guided India to a famous victory. India went on to win the 3rd test at Chennai and clinch a historic series win against Australia.

270 Vs Pakistan, Rawalpindi, 2003-04
India won the first match of the 3 match test series at Multan riding on a Sehwag blitzkrieg, wherein he scored a quick but massive 309, which also earned him his nickname 'Sultan of Multan'. India lost the second match at Lahore. And the match at Rawalpindi was a series decider. Once again, 'The Wall' stood firm facing a pace attack that comprised of the 150kmph+ Akhtar and made a fluent 270 with a 131 run partnership with captain Ganguly who made 77. Together, India piled on 600 runs in its first innings in reply to Pakistan's first innings score of  224. India didn't have to bat again as they won by an innings and 52 runs there by clinching the 3 match test series 2-1. This was a series that was highly anticipated as India hadn't toured Pakistan after the 1990 series. Earlier, India also won the ODI series 3-2.
217 Vs England, Kennington Oval 2002
India was slowly shedding off 'The Poor Visitors' tag under the leadership of Ganguly. They fought hard on Overseas tours. And Dravid was an integral part of this new force. India had earlier levelled the test series 1-1 and Dravid had to showcase his patience and solid technique coupled with his delightful strokes to make a double ton and ensure India didn't lose the series.
148 Vs England Headingly, Leeds, 2002
India were batting first in overcast conditions. The team lost a wicket very quickly and the ball was doing all sorts of things. Under extremely difficult batting conditions Dravid braved his way to a hundred which is probably his best ever taking into account the conditions. His innings set up the match which India eventually won. He was awarded the Man-of the match even though there were two more centurions in the innings indicating the sheer class of the innings.
146* Vs England Oval, Kennington Oval 2011
At a time when he was written off by critics Rahul Dravid showed everyone why he was one of the best players ever. Under tremendous pressure 3-0 down in the series acting as a make-shift opener Dravid scored a brilliant 146 not out while India managed 300 in all. However, without much support from his team mates Dravid was not able to save the test match but nothing can be taken away from his superlative effort.
233 (I innings), 72* (II innings) 2nd test Vs Australia at Adelaide Oval, December 2003
India had shown in the first match of the series that hey have come to Australia to challenge the Aussies at their own turf and can't be forced in to submission easily. Ganguly played a superb knock of 144 in the first match at Brisbane and he was well supported by Parthiv Patel at the other end. India managed to frighten the Aussies and settled for a draw.
In the second match, Australia posted 556 as their first innings score, in reply the Indian top order collapsed and it was down to Dravid to save Team India. He played a sublime innings and scored a great double ton. He was ably assisted by VVS Laxman, with the pair forging a 300+ partnership enroute to India's first innings score of 523. The Indian bowlers swung the match in India's favour by bowling out Australia for just 196 in their second innings. The Indian top order collapsed yet again in the second innings too but Dravid stood tall at one end and made a spirited and unbeaten 72 and single-handedly penned India's first victory in Australian soil in 23 years.
Captain Ganguly was standing near the boundary rope with a tensed look as India was inching closer to the target. When Dravid scored the winning runs off a delivery from Stuart Macgill, cutting him through point for a 4, the captain walked in to the center of the field clapping all the way through before congratulating his Vice-Captain on his gem of an innings. The entire team soon joined in and celebrated a great victory that still is etched in our memory even now.
145 (129 balls) vs Sri Lanka at Taunton on May 26, 1999
This was a match hard to forget, Srilanka ruled over the Indian team in the 90′s. The style-less Jayasuriya, the fighting spirit of Aravinda de Silva and the Cool Ranatunga all dominated the Indians in several matches.
This was a 1999 WC match against Sri Lanka in  Group A. Dravid made a quick but stylish 145 in just 129 balls giving good support to Sourav Ganguly who made 183 (158) both added 318 runs for the second wicket to set up a thumping win for India. It was an innings hard to forget with Dravid cutting, pulling and driving with such authority to amass 17 fours and a six, while Ganguly provided the contrast by taking the aerial route repeatedly and hitting 7 sixes. Even Murali couldn't stop the pair from piling on the runs.The match brought great joy to all Indians who wanted revenge against SL for a long long time. He went on to collect 461 runs in the tournament, which made Sportstar (leading sports magazine in India) to feature him on their cover-page with the caption 'Run-Machine'.
107 (116 balls) vs Pakistan at Chennai on May 21, 1997
Video unavailable
This was a match in which a then record of 194 (146) was made by Saeed Anwar, who took Pakistan to a huge total of 327 for the loss of 5 wickets. India crumbled in the face of pressure and it was only Dravid who stood up and  gave the Indian fans some consolation with his century knock, which was also his first. India could only manage 292 all out in 49.2 overs. This innings of Dravid silenced critics who were calling for his head, saying he was a slow run-maker and not suited for ODIs. This was the time when India was blamed for its cycle-stand theory, when Sachin was dismissed early the whole batting order collapsed too easily without providing any real fight, and it was the infusion of young blood in the form of Dravid and Ganguly, which put a stop to this practice.
123* (123 balls) vs New Zealand at Taupo on January 9, 1999
Video unavailable
After Sachin's early departure, along with Sourav Ganguly – 60 runs, Dravid put on a partnership of 113 runs, and stood up fighting till the end with wickets falling in quick succession at one end to steer India to a competitive 257/5, but rain played spoilsport and using D/L method the target was revised to 200 in 39 overs. NZ reached the target with an over to spare.
109* (124 balls) vs West Indies at Ahmedabad on November 15, 2002:
The big-hitting Chris Gayle was in a marauding mood and made a big knock of 140 in 127 balls hitting 12 fours and 5 sixes and along with Ramnaresh Sarwan (99 not out) he was belting the Indian bowling attack, the pair put on a 148 run partnership for the third wicket. West Indies ended with 324 for 4 in 50 overs. Indian top order once again collapsed and it was Dravid and Laxman who rescued the chase and put on a 103 run partnership for the third wicket,but still India lost 5 wickets for 231 runs in 37.3 overs.The Wall still stood tall and along with a Sanjay Bangar cameo (57 not out in 41 balls) he steered the team home with more than 2 overs to spare.Thereby, registering a famous win.
50* (22 balls) vs New Zealand at Hyderabad on November 15, 2003
India had piled on 283 runs for the loss of only 3 wickets in just 43.4 overs,and it was Dravid's turn to add more salt on to the wounds of the Black caps. He sent the ball to all corners of the park, belting the NZ attack and demoralizing their bowlers. The Calm and composed Dravid showed that he can score the world' second fastest fifty in ODI cricket.
92* (63 balls) vs England at Bristol on August 24, 2007:
India was well set for a big score having scored 180 runs and losing only two wickets in 31 overs.Dravid came in after Sachin departed. He forged a little partnership with Yuvraj. Later , when Yuvraj perished the Indian innings was well in  to the last 10 overs. Dravid, switched on his aggressive mode and the boundaries flowed in repeatedly. In the end, his heroics took India to a huge total of 329 runs. England's chase came close but fell short by nine runs and it was Dravid who made the difference.
71 (81 balls) vs Zimbabwe at Premadasa, Colombo on September 14,2002:
India won the toss and chose to bat, but went on to lose wickets at regular intervals with Douglas Hondo putting in one of his career best performances claiming 4 prized wickets.Yet again Dravid was left to save the day and he played a valiant knock of 71 and also guiding a young Mohammad Kaif in steadying his innings.The pair went on to register 117 runs in their partnership.Finally, Kaif went on to score his century and remained unbeaten on 117 runs. India posted a target of 288 runs for Zimbabwe to chase, but could only manage 274 runs in the stipulated 50 overs.Zaheer Khan was excellent with the ball claiming 4 wickets for 45 runs.
76* (92 balls) vs Pakistan at Lahore on March 21, 2004:
Chasing a huge total of 293, India was in deep trouble losing 5 wickets for only 162 runs in 23.4 overs. Luckily for India, Dravid was still in the middle and the promising Mohammad Kaif came in and the pair put on a masterful partnership with plenty of strokes enroute their unbroken stand of 132 runs and thereby steering Team India to a famous victory against Pakistan.
Kaif was repeatedly sledged by the Pakistani bowlers and the young blood in him spurred him on to respond verbally. Dravid cooled him down with his valuable advice and made sure Kaif replied them only through his bat.Another unforgettable memory.
Listing Dravid's heroics is no mean task, as most of his innings were nothing short of greatness. In this article I have listed those for which videos were available. I certainly would have missed many, fellow fans of Dravid please list your favourite innings in our comments section.
The ever dependable, technically-correct, crafty, artistic, skillful master called Rahul Dravid is irreplaceable in the world of cricket.