Rahul Dravid and his five greatest test knocks
2.48K //
09 Mar 2012, 21:44 IST
So, there it is. Rahul Dravid, probably the last Indian classical test batsman has decided to quit International cricket. In a press conference held at his home ground, the Chinnaswamy Stadium, the Wall announced that he will part away sadly yet with pride.
Sachin Tendulkars and MS Dhonis carry the hopes of a billion when they walk out, Rahul Dravid carries the hopes of Sachin Tendulkars and MS Dhonis. Rahul Dravid was a man of incredible finesse, extreme fitness and unquestionable class.
Dravid has won more test matches to India over the past decade than all other batsmen put together. It is hard to pick out his five best knocks but let us hope that I do justice.
The 270 against Pakistan at Rawalpindi, 2004
India and Pakistan haven't toured each other in almost five years and this series was supposed to be the "strain-eraser" between the two neighboring nations. The test series was tied 1-1 and the final test began in Rawalpindi.
India dismissed Pakistan for a moderate 224 and started their first innings. Things weren't going too well for them when they lost Sehwag in the very first ball. Then came Rahul Dravid. The Wall stood firm as the batsmen at the other end started falling despite making good starts.
Dravid scored a mammoth 270 and took the team total to 600. India then curtailed Pakistan to 245 in the second innings to wrap off the series.
81 and 68 against West Indies at Jamaica, 2006
This one was a very low scoring game for everyone except Rahul Dravid. As the wickets at the other end started falling, Rahul Dravid was the only man to find his stance. This was probably the series that gave him the name "The Wall".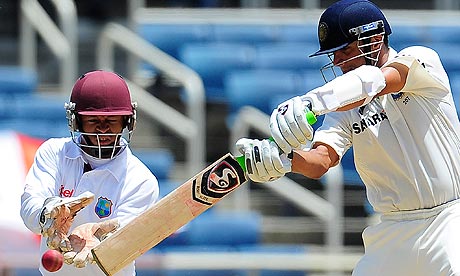 The pitch at Jamaica had everything for the bowlers. India were bowled out for 200 in the first innings with Dravid scoring 81 of them. West Indies faltered to a mere 103 and India began its second innings. This time, no Indian crossed 20 runs other than the Wall himself. He scored 68 and India set a target of 269 runs to the West Indies.
West Indies came close with a last minute effort from Dinesh Ramdin but they eventually lose the match.
The Test series against England, 2011
Yes, you read it correctly. I could have easily gone for the 148 against England at Headingly in 2002  which probably defined his career. But no.
A few months back, India suffered a whitewash of 4-0 at England. Still, the English media kept praising one man – you guessed it correctly. People who are saying that it probably was time for Rahul should go must take a look at the stats of this series.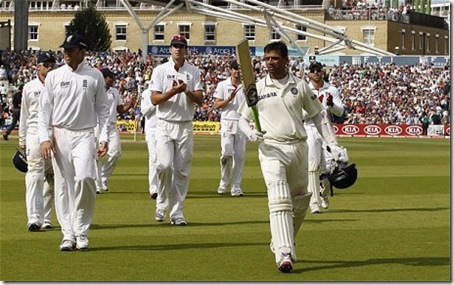 Out of his 36 Test centuries, only 4 have come at a losing cause and three of them were in this very series. Dravid single handedly scored almost half of his team's runs in this series. When he reached his third century at the Oval, every single Englishman at the field applauded. His footwork was precise, his determination and application was fluent.
In this very series, he faced his 30,000th test delivery, more than any other batsman in the game. Even when wickets kept falling like a pack of cards at the other end for not one, not two but eight consecutive innings, the Wall stood tall.
The 180 against Australia at Kolkatta, 2001
Probably the greatest comeback in the history of the game.
After a great innings from Steve Waugh, Australia had scored 445 runs from their first innings. India, were reduced to a mere 171. Australia enforced follow-on hoping to wrap off the match in three days. Nobody expected what followed.
In the second innings, Laxman came ahead of Dravid at No.3. Ganguly and Tendulkar didn't do any good as Dravid came in at No.6. The two began what will be referred as the "greatest Indian partnership of all time"
Both these men made a mockery out of Australia's bowling line-up. Warne and McGrath couldn't work it out as Justin Langer and Michael Slater came out to bowl. India ended 4th day without losing a single wicket and on day five, they declared after scoring 657 runs. Dravid scored 180 while Laxman made 281.
Australia had only one day to survive but Harbhajan Singh made sure that they didn't. India went on to register their most famous test victory.
The 233 against Australia at Adelaide, 2003
No team in the world would expect to lose a match after scoring 556 runs in the first innings. But, if you are Australia and if you are playing against Laxman and Dravid, you might be open to that possibility.
India were struggling at 85 for 4 when these two men joined at the crease. This time, it was Dravid who took the leading role. The shots were orgasmic from  the blade of Rahul Dravid. Only twice or thrice did he mis-hit a delivery in this entire innings. After Laxman left the crease, Dravid thought the whole world how to bat with the tail enders.
India ended their first innings with 523 runs still trailing Australia. But, Ajit Agarkar came out and bowled the spell of his life to reduce Australia for 196 in their second innings.
That left India needing 230 runs to win. A very tough ask at the fifth day of any test match. Dravid's job wasn't quite done. He came out, scored 72 runs and remained till the end to see India through.
Dravid was a player with the great ability to last long in partnerships. He is the only man to feature in two 300+ partnerships in ODIs and endless long lasting ones in Tests.
Rahul Dravid is a man with extreme quantities of determination and perseverance bundled with sheer dignity and modesty.
A man without an Ego, a man who will never ever be replaced.