Rahul Dravid - The Wall has crumbled
1.07K //
16 Mar 2012, 11:24 IST
An era of dignity, humbleness, dedication, commitment and reliability comes to an end as one of India's greatest Batsmen of all time calls it quits.  The manner in which the announcement of Dravid's retirement was made, reflected almost his entire career. He was always away from limelight  and most of his incomparable performances went unnoticed. Rahul  lived in shadows of his fellow men through out his career, from debut to retirement.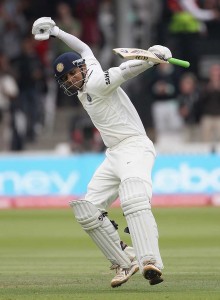 It all started at the Mecca of cricket "the Lord's", where  a  lean, young, passionate, technically sound batsman from Karnataka makes his debut. Classic Test match batting was at display as the English bowlers had no clue about how to get past his defense. He scored an impressive 95 but unfortunately for him, another young batsman made his debut in the same match scoring a century. He was none other than the Royal Bengal Tiger – Sourav Ganguly. Nothing against Dada, but he center staged the show as Dravid's debut was just an ordinary one.
Now, lets just fast forward our memories. Pause at the home series against Australia in 2001. India were down and almost surrendered as they were asked to follow on by Steve Waugh. History was made at Kolkata where Rahul Dravid and VVS Laxman were involved in a match-winning partnership that came out of nowhere. Laxman's innings of 281 was considered as one of the best innings of all time but a silent 160 odd contribution from the other end went unnoticed as always.
Lets move on to the little master Sachin Tendulkar. The entire career of Rahul Dravid happened to be covered in the shadows of Sachin's records and achievements. Nothing against the little master again, whose records speak for themselves, but, Rahul was only unlucky to be playing in the same team for which Sachin plays. Had he been born in any other cricket playing nation, he would have by default been the best batsman of that country. It is not an ordinary feat to score over 13 thousand runs in test cricket with 36 centuries and an impressive average of 51 and in spite of that, not be regarded as one of your best; not to forget his 210 catches and 10,000+ runs in ODIs.
It was not only about his game but, the way he conducted himself on and off the field that made him a special human being. He was an obedient and true team man as he was always ready to sacrifice for the team. Ask him to open the innings, keep wickets, captain the side during a tough phase, address the media after a humiliating defeat, he would readily do it; because  the team meant more to him than himself. They say "Form is temporary, class is permanent" but Rahul had not many bad phases in his career and made both form and class permanent in his game.
Moving to his retirement, the news comes all of a sudden with very less hype and no controversy at all – that is Rahul Dravid for you. Any ordinary player would have had dreams to play one last match in his home ground or country to bid a final goodbye to his colleagues and fans. But, Rahul did not want to be in the limelight, as he silently announced his retirement and paves way for youngsters to take the game forward. This true ambassador of the game of cricket will be missed not only by the Indians but cricket lovers world wide. He definitely deserves a lot more than what he actually gets. Although, being as humble he is, he would never expect anything. Farewell Mr. Dependable – The Wall –  Rahul Sharad Dravid.