Ranji Trophy: Delhi bag three points, Baroda win thriller
743 //
27 Nov 2012, 20:33 IST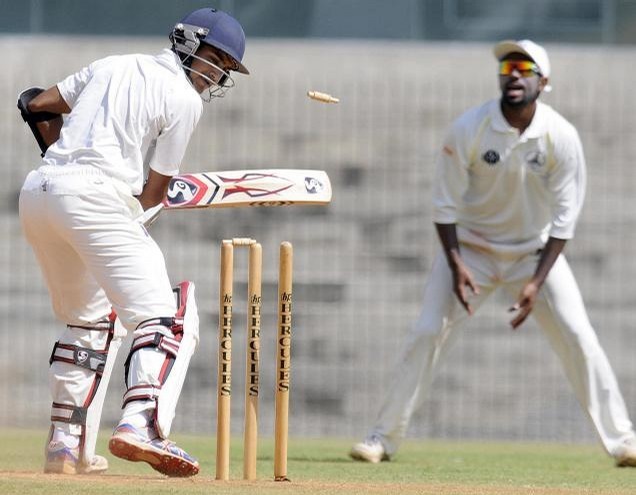 New Delhi - Delhi bagged three points in their drawn match against Tamil Nadu here on Tuesday while Baroda clinched a thriller against Haryana on the final day of the Ranji Trophy fourth round matches.
Delhi got more points than Tamil Nadu for taking a 329?run first innings lead over the visitors, who were 220 for two in their second innings by the fourth day at Feroz Shah Kotla after following on.
Arun Karthik (121 not out) and Subramaniam Badrinath (45 not out) held the fort for Tamil Nadu. They had made 226 in the first innings in response to Delhi's 555 for four.
At Rohtak, Utkarsh Patel (14 not out) and Bhargav Bhatt (14 not out) pulled off a stunning win for Baroda, who chased down Haryana's 132?run target with a wicket in hand.
Haryana made 295 and 160 in their two innings. Baroda struck 324 in the first innings. The away team bagged six points for the victory.
In another Group B match, Odisha beat Karnataka by 65 runs at the Chinnaswamy Stadium in Bangalore.
Brief Scores:
Group A:
In Hyderabad: Mumbai 443 all out vs Hyderabad 699 in 207.3 overs (Akshath Reddy 196, Hanuma Vihari 191; Ankeet Chavan 3/184, Ramesh Powar 2/139)
Result: Match drawn
In Bhubaneswar: Gujarat 117 all out and 551/8 decl in 197.4 overs (Parthiv Patel 65, Manprit Juneja not out 153, Rush Kalaria 100; Sanjay Bangar 2/90, Anureet Singh 2/108) vs Railways 308 all out
Result: Match Drawn
Group B:
In Delhi: Delhi 555/4 decl. vs Tamil Nadu 226 all out and 220/2 in 77 overs (Arun Karthik not out 121, Subramaniam Badrinath not out 45; Vikas Mishra 2/64)
Result: Match Drawn
In Rohtak: Haryana 295 all out and 160 all out in 74 overs (Sunny Singh 57, Abhimanyu Khod 38; Bhargav Bhatt 3/62, Gagandeep Singh 3/39) vs Baroda 324 all out and 133/9 in 33.5 overs (Gagandeep Singh 24; Mohit Sharma 5/50)
Result: Baroda won by one wicket
In Bangalore: Odisha 202 all out and 255 all out vs Karnataka 213 all out in 77.5 overs and 179 all out in 72.3 overs (Robin Uthappa 45, Stuart Binny 42; Alok Sahoo 3/27, Basant Mohanty 2/31)
Result: Odisha won by 65 runs
In Nagpur: Maharashtra 282 all out and 261/7 decl in 74 overs (Virag Awate 112, Rohit Motwani 67; Sairaj Bahutule 3/51) vs Vidarbha 266 all out and 103/1 in 29 overs (Urvesh Patel not out 54, Shiv Sunder Das not out 36)
Result: Match Drawn
Group C:
In Ranchi: Jharkhand 236 all out and 244/2 in 91.3 overs (Akash Verma 117, Manish Vardhan 94; Gurvinder Singh 2/86 vs Himachal Pradesh 442/7 decl.
Result: Match Drawn
In Malappuram: Goa 512/8 decl. vs Kerala 297 all out and 120/4 in 61 overs (VA Jagadeesh 40, Robert Fernandez not out 52; Sher Yadav 2/26)
Result: Match Drawn