| | |
| --- | --- |
| Full Name | Robin Venu Uthappa |
| Date of Birth | January 11, 1985 |
| Nationality | Indian |
| Height | 5 ft 7 in (1.70 m) |
| Role | Batsman/Right-handed, Right-arm medium Bowler |
| Past Team(s) | |
| Family | Roselyn Uthappa (Mother), Venu Uthappa (Father), Sheethal Gautam (Spouse), Neale Nolan Uthappa (Son) |
| Game Type | Mat | Inn | R | BF | NO | Avg | S/R | 100s | 50s | H | 4s | 6s | Ct | St |
| --- | --- | --- | --- | --- | --- | --- | --- | --- | --- | --- | --- | --- | --- | --- |
| ODIs | 46 | 42 | 934 | 1031 | 6 | 25.94 | 90.59 | 0 | 6 | 86 | 107 | 19 | 19 | 2 |
| T20Is | 13 | 12 | 249 | 211 | 2 | 24.90 | 118.00 | 0 | 1 | 50 | 26 | 6 | 2 | 0 |
| T20s | 291 | 282 | 7272 | 5464 | 24 | 28.18 | 133.08 | 0 | 42 | 92 | 720 | 267 | 131 | 39 |
| LISTAs | 203 | 197 | 6534 | 6914 | 12 | 35.31 | 94.50 | 16 | 33 | 169 | 0 | 0 | 110 | 9 |
| FIRSTCLASS | 142 | 238 | 9446 | 14185 | 6 | 40.71 | 66.59 | 22 | 52 | 162 | 0 | 0 | 134 | 2 |
| Game Type | Mat | Inn | O | R | W | Avg | E/R | Best | 5w | 10w |
| --- | --- | --- | --- | --- | --- | --- | --- | --- | --- | --- |
| ODIs | 46 | 1 | 0.2 | 0 | 0 | 0 | 0 | 0 | 0 | 0 |
| T20Is | 13 | 0 | 0 | 0 | 0 | 0 | 0 | 0 | 0 | 0 |
| T20s | 291 | 1 | 1 | 11 | 0 | 0 | 11.00 | 0 | 0 | 0 |
| LISTAs | 203 | 0 | 47.2 | 286 | 5 | 57.20 | 6.04 | 2/19 | 0 | 0 |
| FIRSTCLASS | 142 | 0 | 125.4 | 485 | 12 | 40.41 | 3.85 | 5/67 | 0 | 0 |
Robin Uthappa: A Brief Biography
Robin Venu Uthappa is an Indian cricketer, who was born on 11 November, 1985 in Kodagu, Karnataka. He plays as right-handed batsman who can also be a part time wicketkeeper.
Table of Contents
Career
Domestic Career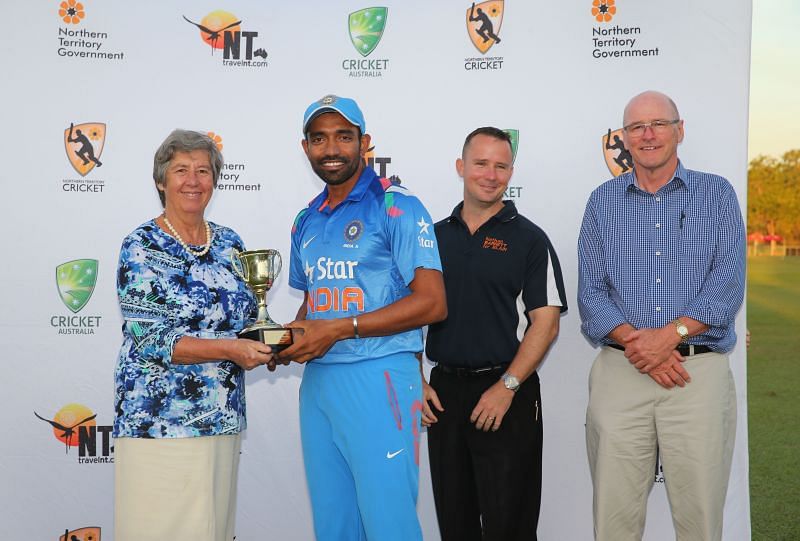 Robin Uthappa first came into limelight for his inning of 66 runs for India B against India A during Challenger Trophy 2005. In the same tournament, he scored a magnificent match- winning century in just 93 deliveries. He was also part of the India U-19 team during 2004 ICC U19 cricket world cup which included players like Shikhar Dhawan and Suresh Raina. In 2006-07, Ranji trophy season, Uthappa scored a massive 857 runs in just seven games which made it irresistible to keep him out of the national team.
IPL Career
Robin Uthappa has always been a 'hot' player when it comes to Indian Premier League. He played the first season for Mumbai Indians where he had a reasonable tournament with few 30s. In the next year he swapped with Zaheer Khan and played for Royal Challengers Bangalore. He scored a few fifties there before he went to the Pune Warriors India for about Rs. 9 crores in 2011.
His major performances came with Kolkata knight Riders where he was picked in 2014. He started playing as an opener for them and also won orange cap in that season. He also broke the record of Matthew Hayden (8) and scored eleven 40+ in 2014 IPL season. Uthappa was one of KKR's star-turns in the title-winning efforts in 2012 and 2014 with aggregate run tallies of 405 and 660 runs in the respective editions.After being released by KKR, he was bought by Rajasthan Royals for INR 3 crores during the IPL Players Auction ahead of IPL 2020. Uthappa has amassed 4427 runs from 180 IPL matches and is one of the highest run scorers of the tournament.
International Career
ODI Career
Uthappa made his debut in ODIs against England in Indore in 2006. It turned out to be a very good match for him as he scored 86 runs before he ran out. However due to his inconsistent performances, he could not cement his place in the team. In the 2007-08 NatWest series, he was brought back to the team and he got a chance to play in the sixth match. He guided India to a victory with his innings of 47 runs off 33 balls. After that inning, he was able to stable his position in the Indian team. In November 2014, Robin was included into Indian One Day International squad for the last two matches against Sri Lanka. Robin was also included in 30 men Indian squad for 2015 Cricket World Cup, however, he couldn't make the final cut. Robin Uthappa was also included in team India which toured Zimbabwe in 2015
T20 Career
Uthappa was also the part of the 2007 World T20 winning Indian team. In seven matches, he had scored 113 runs, with the highest score of 50, and strike rate above 113. He is first Indian player to make a half-century in a T20 international match against Pakistan in 2007. He also holds the world record for 10 consecutive 40+ scores in T20s.
Background
Robin suffered from Epilepsy (neurological disorder) at the age of 10, due to which he had problems in maintaining weight. His father Venu was an international hockey umpire and after tat he served as the president of the Karnataka Hockey Association.