| | |
| --- | --- |
| Full Name | Imam-ul-Haq |
| Date of Birth | December 12, 1995 |
| Age | 27 Years |
| Nationality | Lahore, Pakistan |
| Birth Place | Multan, Pakistan |
| Height | 1.75 m |
| Current Team(s) | |
| Role | Batsman |
| Batting Style | Left hand Bat |
| Bowling Style | Top order Batter |
| Debut | October 18, 2017 |
| Jersey No. | 26 |
| Family | Father - Insaram-ul-Haq, Mother - Farah Insaram |
| Game Type | Mat | Inn | R | BF | NO | Avg | S/R | 100s | 50s | H | 4s | 6s | Ct | St |
| --- | --- | --- | --- | --- | --- | --- | --- | --- | --- | --- | --- | --- | --- | --- |
| ODIs | 72 | 71 | 3138 | 3801 | 6 | 48.27 | 82.55 | 9 | 20 | 151 | 253 | 30 | 15 | 0 |
| TESTs | 22 | 42 | 1474 | 3103 | 4 | 38.78 | 47.50 | 3 | 8 | 157 | 165 | 12 | 18 | 0 |
| T20Is | 2 | 2 | 21 | 25 | 0 | 10.50 | 84.00 | 0 | 0 | 14 | 2 | 0 | 0 | 0 |
| T20s | 78 | 74 | 2143 | 1737 | 9 | 32.96 | 123.37 | 0 | 20 | 94 | 205 | 37 | 23 | 0 |
| LISTAs | 104 | 103 | 4260 | 5305 | 6 | 43.91 | 80.30 | 10 | 28 | 151 | 357 | 34 | 23 | 0 |
| FIRSTCLASS | 73 | 127 | 4527 | 9817 | 18 | 41.53 | 46.11 | 11 | 23 | 202 | 495 | 27 | 45 | 0 |
| Game Type | Mat | Inn | O | R | W | Avg | E/R | Best | 5w | 10w |
| --- | --- | --- | --- | --- | --- | --- | --- | --- | --- | --- |
| ODIs | 72 | 0 | 0 | 0 | 0 | 0 | 0 | 0 | 0 | 0 |
| TESTs | 22 | 1 | 2 | 9 | 0 | 0 | 4.50 | 0 | 0 | 0 |
| T20Is | 2 | 0 | 0 | 0 | 0 | 0 | 0 | 0 | 0 | 0 |
| T20s | 78 | 0 | 0 | 0 | 0 | 0 | 0 | 0 | 0 | 0 |
| LISTAs | 104 | 4 | 4.4 | 35 | 0 | 0 | 7.49 | 0 | 0 | 0 |
| FIRSTCLASS | 73 | 11 | 20 | 74 | 1 | 74.00 | 3.70 | 1/10 | 0 | 0 |
Imam-ul-Haq: A Brief Biography
Table of Contents
Biography - About Imam-ul-Haq
The pressure of being the nephew of Inzamam-ul-Haq was on Imam from the very beginning. But the young Pakistani batsman didn't let the pressure get to him and performed very well in his debut series against India U19 team. Known for his flamboyant style of batting, Imam-ul-Haq has become one of the top ODI batsmen in Pakistan and has made a place for him in the national team.
Imam-ul-Haq - Along the Years
| | | |
| --- | --- | --- |
| Year | Age | Achievement |
| 2012 | 17 | Selected for 2012 ICC Under-19 World Cup |
| 2017 | 22 | ODI debut |
| 2018 | 23 | Test debut |
| 2019 | 24 | T20I debut |
| 2019 | 24 | Selected for 2019 ICC Cricket World Cup |
Records
Highest opening partnership in ODI
Second fastest batsman to reach 1000 runs in ODI
Domestic Career
In his initial days in 2012/13, Imam played for Lahore Shalimar. He played a crucial role in the victory of his team, Lahore Blues in the final of 2017-18 National T20 Cup. In 2019, he started playing for Balochistan and Peshawar Zalmi in different domestic competitions.
International Career
He made his ODI debut in 2017 against Sri Lanka. He scored a century on his debut and became the second Pakistani batsman to do so. In the summer of the next year, he made his Test debut against Ireland. Two months later, he along with Fakhar Zaman made the highest opening partnership in ODIs. The two of them put up a partnership of 304 runs. Pakistan innings ended with 399 runs, the highest ODI score by Pakistan. The pair also made the record of highest score by a pair in a bilateral series by scoring 705 runs in the series.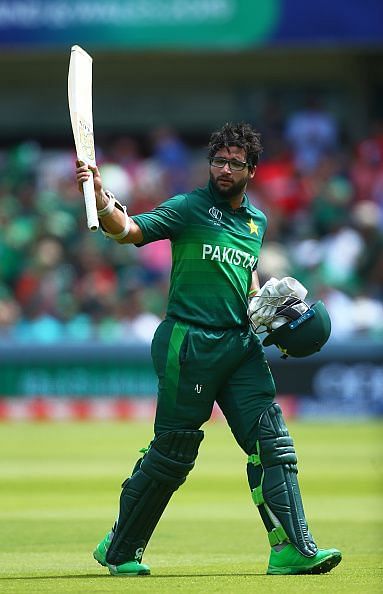 In early 2019, Imam-ul-Haq became the second-fastest batsman to score 1000 runs in ODIs. He reached the 1000 runs mark in just 19 innings. He made his T20I debut. Shortly after that, he was selected in the national side for the 2019 ICC World Cup
Also see - Imran Tahir Biography
Family
Imam-ul-Haq is the son of Insaram-ul-Haq and Farah Insaram. He is the nephew of the legendary Pakistani batsman Inzamam-ul-Haq.