| | |
| --- | --- |
| Full Name | Yashasvi Jaiswal |
| Date of Birth | December 28, 2001 |
| Age | 21 Years |
| Nationality | Indian |
| Birth Place | Suriyawa |
| Height | 5 ft 6 in (1.68 m) |
| Current Team(s) | |
| Role | Left hand batsman |
| Batting Style | Left hand Bat |
| Bowling Style | Legbreak |
| Debut | September 22, 2020 |
| Jersey No. | 23 |
| Family | Bhupendra Jaiswal (Father), Kanchan Jaiswal (Mother) |
| Game Type | Mat | Inn | R | BF | NO | Avg | S/R | 100s | 50s | H | 4s | 6s | Ct | St |
| --- | --- | --- | --- | --- | --- | --- | --- | --- | --- | --- | --- | --- | --- | --- |
| TESTs | 2 | 3 | 266 | 491 | 0 | 88.66 | 54.17 | 1 | 1 | 171 | 29 | 3 | 1 | 0 |
| T20Is | 10 | 7 | 232 | 144 | 1 | 38.66 | 161.11 | 1 | 1 | 100 | 25 | 12 | 5 | 0 |
| T20s | 73 | 70 | 2052 | 1407 | 4 | 31.09 | 145.84 | 2 | 12 | 124 | 248 | 85 | 27 | 0 |
| LISTAs | 32 | 32 | 1511 | 1753 | 4 | 53.96 | 86.19 | 5 | 7 | 203 | 159 | 36 | 8 | 0 |
| FIRSTCLASS | 17 | 29 | 2111 | 3225 | 3 | 81.19 | 65.45 | 10 | 3 | 265 | 256 | 27 | 14 | 0 |
| Game Type | Mat | Inn | O | R | W | Avg | E/R | Best | 5w | 10w |
| --- | --- | --- | --- | --- | --- | --- | --- | --- | --- | --- |
| TESTs | 2 | 0 | 0 | 0 | 0 | 0 | 0 | 0 | 0 | 0 |
| T20Is | 10 | 1 | 1 | 11 | 0 | 0 | 11.00 | 0 | 0 | 0 |
| T20s | 73 | 4 | 3.1 | 41 | 0 | 0 | 12.94 | 0 | 0 | 0 |
| LISTAs | 32 | 13 | 47.3 | 257 | 7 | 36.71 | 5.41 | 2/31 | 0 | 0 |
| FIRSTCLASS | 17 | 3 | 8 | 28 | 0 | 0 | 3.50 | 0 | 0 | 0 |
Yashasvi Jaiswal: A Brief Biography
From living in a tent at Azad Maidan to scoring a century in the ICC U19 World Cup 2020 semifinal, Yashasvi Jaiswal has come a long way. The talented southpaw is destined for greater things in his career, and the best part, he hasn't even started yet.
Table of Contents
Career
Domestic career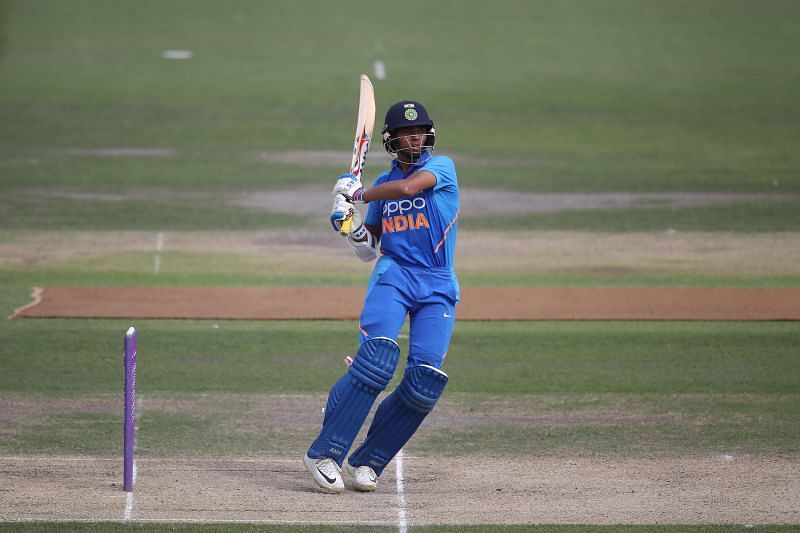 Jaiswal's journey started seven years ago, when he was only 11 years old. Born in Uttar Pradesh, Jaiswal landed in Mumbai with a heart full of dreams. However, it was not just cricket that took up his time; he had to work hard to sustain a living as it was difficult for his father, who owns a shop in Bhadohi, to feed his two sons. Jaiswal practised, or played, in the day-time, and sold pani puri in the evening before sleeping in one of the groundsmen's tents.
Jaiswal first hogged the limelight in 2015 when he scripted his name in the Limca Book of Records for scoring 319 not out and taking 13/99 in a Giles Shield match, an all-round record in school cricket. He was then selected in the Mumbai under-16 squad, followed by the India under-19s.
Jaiswal's stock kept growing and he was adjudged the player of the tournament at the 2018 ACC Under-19 Asia Cup, which India won. He continued to showcase his talent with the bat after that, be it in the Youth Test against South Africa or the tri-series in England.
It was in 2019 when he grabbed the attention of the national media. Jaiswal became the youngest cricketer to score a double century in a Vijay Hazare Trophy game, when he blasted 203 off 154 balls for Mumbai against Jharkhand.
The then 17-year-old was the third to achieve the feat but it was his temperament and immense talent that caught the eye. Jaiswal finished with 564 runs from six innings which included 25 sixes and 49 boundaries at an average of over 112.
Jaiswal was subsequently roped into the squad for the U-19 World Cup, and the young batting prodigy has not let the opportunities go begging. The young batting prodigy captured the headlines with an unbeaten knock of 105 runs to beat arch-rivals Pakistan by 10 wickets
He further enhanced his prominence in the Indian cricket circles by helping India reach the U-19 World Cup final in February this year, amassing 400 runs in just six matches.
IPL Career
Consistent performances helped the left-handed opener earn the big bucks when the Rajasthan Royals purchased him for INR 2.4 crore in last December's player auction. Now that Ajinkya Rahane has been traded to the Delhi Capitals, Jaiswal can stake his claim for the opener's role. And, a good stint at IPL 2020 can indeed help him make his way into the India A squad and beyond.
Background
Yashasvi Jaiswal belongs to a financially weak family. His father used to run a small hardware store and wasn't able to make ends meet. At the age of 11, Yashasvi decided to move to Mumbai to pursue his dream of playing for the Indian Cricket Team. His father did not stop him for leaving, as he was not able to feed his family of four, and their house did not have any space for another adult.
Yashasvi only had an uncle staying in Mumbai, whom he hardly knew. His uncle stayed in Worli, but he wasn't able to accommodate him as his house was too small. Hence, he got him a job at a dairy where he was allowed to work and sleep.
Yashasvi used to attend school, and then practice cricket alone. Due to his tight schedule, he did not have any energy left at the end of the day, and he used to sleep when he was supposed to work. As a result, he was thrown out of the dairy as he only used to sleep.
It was after his admission to the club that he started to play regular cricket. He used to stay in the gardeners' tent in the ground and sell fruits and pani-puri in the evening to make ends meet. He would often go out to lunch with his friends at the cricket club and would ask them to bear the expenses for him.
Once, while he was practising in the nets, the local coach, Jwala Singh, spotted him. Yashasvi soon moved to Singh's place, who took care of him, provided him with everything, and trained him every day. He also encouraged Yashasvi to take part in competitions.