Report Card of Team India after India v/s Australia
1.48K //
25 Mar 2011, 00:23 IST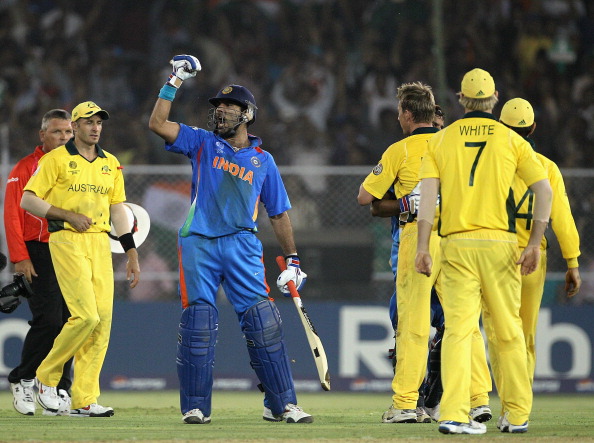 I know the chances of Dhoni reading this are as high as Shoemaker Levy Comet appearing tomorrow. But still penning down my evaluation of today's performance.
1. Virender Sehwag – His batting was shaky to say the least. He looked worried about something while batting. Though he middled most of the deliveries he faced he was not able to make his usual shots. Also he got out trying to play a bowl which could have been easily left alone. 3.5/10
2. Sachin Tendulkar – His batting laid the platform for the team. Looked comfortable against pace till he got out. Played a couple of beautiful shots – The cut against Tait was effortless and pure timing. He surprisingly bowled 2 overs as well. One of his deliveries spun a lot. But that was it.  8/10.
3. Gautam Gambhir – Stabilized the middle order with his half century. Rotated the strike well – only 2 fours in his 50. But absolutely poor running with Yuvraj. Though his run out was not entirely his fault communication with Yuvraj was hopeless.  7/10
4. Virat Kohli – Batted pretty well to get a start. But screwed it up getting out in a full toss ball – the worst a batsman can do. Fielding was good as always.  5/10
5. Yuvraj Singh – The star of the moment. Played very confidently and took India to victory. Bowled beautifully as well. His half century and 2/44 deservingly earned him the man of the match. Fielding was also a plus point. 10/10
6. MSD – The captain MSD had a good day at the office. Picking Raina in the XI, opening with Ashwin, shuffling the bowlers on a constant basis  – all paid off. Batsman MSD did not do well. He did not apply himself to the situation. 7/10
7. Suresh Raina – Live wire in the field initially. Then finished off the game with Yuvraj. The six of Brett Lee was super shot. The catch to get Haddin out was also crucial. 8/10
8. Ravichandra  Ashwin – Opened the bowling with Zak and also bowled towards the death overs. Bowled a good line. Got the dangerous Watson out in the powerplay. 7.5/10
9. Harbhajan Singh – Operated with control and bowled a tight line in the powerplay. Miserly initially but got hit towards the end. Provided good support to Ashwin. 7/10
10.Zaheer Khan – Bowled beautifully. Got the key wickets of Michael Hussey and Cameroon White. Bowled couple of bad deliveries. But he bowled better than his figures of 2/53. 8/10
11.Munaf Patel – I seriously don't know why he deserves a place in this Indian team. He has lost his pace. Someone rightly said he bowls 5 slow balls and one very slow bowl in an over. He was pretty lethargic on the field as well. 3/10
Overall Team India's fielding was better than what they have showcased till now. But they still need to go a long way to be called excellent. Batting showed more maturity and was a chance for the youngsters (relatively) to prove their mettle. Bowling needs to be tighter towards the end overs as was obvious towards the end overs.
The match against Pakistan is going to be a thriller and I have already applied for leave. So see you guys after that.