Resident Evil- A Nemesis
Indian cricket has undergone serious phase transitions after clinching the ICC World Cup 2011.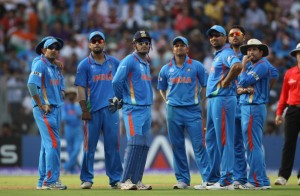 Featured as a paradigm of roller coaster, the unpredictable Dhoni's team started off the new season on a high note with a flurry of sweet memories to be cherished after a stunning victory over West Indies in their own backyard. May it be a dominating ODI series 3-2 win or attaining the the no. 1 spot in ICC Test team ratings, nobody wanted to mess with a team performing at its peak as the Men in Blue would look straight back into the eyes and bundle  the opponent who was forced to kiss his pride and bid it farewell after tasting bitter defeat.
But, nobody was aware of the fact that MS Dhoni was secretly watching a complete series of  horror film production- Resident Evil (Hollywood block buster) secretly along with his wife. Even M.S. wasn't aware of the subsequent consequences he had to face. Maybe his stars betrayed him and finally 'an unexpected twist of fate' took place. The curse of the Resident Evil gripped the Indian Cricket and the end of seemingly unconquerable legacy came to an end.
M.S. went for the Indian tour of England which was eagerly awaited by millions of cricket enthusiasts and TV rating staff. Coming into the series as world's numero uno Test team and ODI world champions, India had a nightmarish English summer where they were dismantled by England in Test Series via a 4-0 clean sweep.
It was a Herculean task for Mahendra Singh Dhoni and his men to get the better of the motivated home team in the upcoming ODI series . But again the 'irony of fate' played its part and the ravaged Indian side, which was hit by injuries to star players, didn't have an answer to the sustained onslaught and succumbed without much of a fight and lost the series 3-0.
England sprouted some new talent, be it Ian Bell or Tim Bresnan. Meanwhile, leaving apart a few positives, a heart shuddering experience which left the Indian hearts in utter dismay was a feeling, every individual wanted to forget.
INDIA VS AUSTRALIA (Border Gavaskar Trophy)
Not being able to cope with a humiliating defeat, India was once again was trampled by Australia.  As usual a mammoth 4-0 Test loss (including 2 inning defeats) was not a surprise. Could have been the bouncy pitches that baffled the Indian batsmen or the sheer pace that surpassed them. Resident Evil !
Whatever the reason, captain cool needed to get the X-factor back into the team and be prepared for The Commonwealth Bank tri-series.
Tryst of destiny! A mixed bag for India.  All the hardwork, and thriller of matches, including Australia's defeat, a tie with SriLanka  and the memorable win making 336 in mere 37 overs witnessing a stupendous innings by
Virat Kohli
. But no one can withstand one's fate. India's lively intent and the resilient attributes seem to be returning and so is the next part of Resident Evil.