Return of the flat track bullies
994 //
12 Mar 2012, 10:43 IST
It took India's golden generation of cricketers seven years (2001-2007) to remove the "Flat track Bullies" tag bestowed over them for decades. Alas! It took our current cricketers just seven months to get the tag right back on their backsides – labelled, bold and underlined.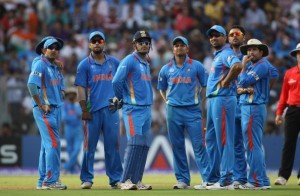 As if the nightmare of the last two overseas trips weren't enough, at time of writing, there are fresh allegations that India's biggest achievement of the past two decades (World Cup 2011) came with a help of a fixed semi-final match-up. One thing is sure, its unlikely that the Indian players were involved. The sort of money and fame, BCCI has afforded to them is too huge a risk for some petty pounds from a shady book maker. Better still, BCCI's one helluva organization which protects its players well – within their whimsical ways!
Where else would you find an employer who don't 'sack' or 'drop' any player despite the "bunch of losers" losing 9 of the 14 games they played on Australian soil? And while fans bore the ignominy, BCCI was announcing IPL-5 dates and auctions – which is another event the cricketers will look forward to. That's the only logical reason why Sachin Tendulkar has been asked to play this event. The local media and Tendulkar's devotees await impatiently with tributes to lace on their Facebook walls once he reaches the three figure mark – even if it's at the cost of further frustrating a Rohit Sharma or a Manoj Tiwary.
India's winning percentage at Asia cup 2012's host country, Bangladesh, over 30 games, is at 65%. When you remove Bangladesh as an opposition, the winning percentage drops to 47% – significant! The percentage remains consistent over the past 14 yrs of cricket there, irrespective of who wins toss and who bats first. Hence India have to do something more than what they have done in this cricket crazy country – a nation who have this insatiable appetite for cricket. Rest assured, stadiums will be packed and bursting from the seams for all games, as it was in the opening fixture. The noticeable data from that fixture was that for both teams, Pakistan and Bangladesh, the bowling figures of spinners was far superior to that off the pacers. That should be good news for the Indian lineup – India don't posses a Marshall or a Lillee and even the deliveries from the opposition pacemen will have less bite, and less height!
One common thing about India's nine losses in Australia (and indeed the nine losses in England earlier) was a complete lack of plan B. Aaron, Rohit and Tiwary have warmed benches for long spans in these two nations. While a Rahul or a Rahane, have returned home after doing their regular shopping, and missing on domestic performances.
India will need a Plan B in Bangladesh – to keep the X factor alive, to keep the over-rates within limits, to have a long batting which will absorb early collapses (inevitable with India one may think) and fielders to save every run. Yes fielding is important. India's exit at the tri-series in Australia was by one run (in the tied game vs SL).
So two pacers, not more than three 'slow fielders' and tail not longer than three players, you would think. Sachin, Gambhir, Virat, Raina, MSD should form our top five batsmen. Personally, I would have liked Rohit to open with Gambhir and Sachin resting at his Bandra residence. However Rohit and Tiwary should complete the seven batsman pick. Praveen and Vinay should spearhead the bowling. Jadeja and Ashwin would fill in the "bits and pieces" slots. Yes, no place for Pathan brothers – am not yet convinced Irfan can be picked as one of two pacers in spinning tracks, and that Yusuf can even last twenty balls without gifting his wicket.
Prediction: India will do well in Asia Cup 2012 and play the final vs Sri Lanka.