Sachin Tendulkar - A Legend
1.12K //
21 Mar 2012, 17:02 IST
Cricket fans around the world were waiting with a baited breath from the moment Sachin Ramesh Tendulkar hit his 99th International hundred in that world cup game against South Africa at Nagpur in March 2011.The wait was agonizingly long and at times frustrating not only for the millions of fans across the world but also for the little master. The moment finally arrived on 16th March at Mirpur in the Asia Cup game against Bangladesh and all those former cricketers turned critics, on various Indian news channels went into an over drive, showering praise on the little champion by saying he should decide when to quit the game, etc etc. (Only a few days ago same set of 'experts' wanted Sachin to retire. The world changes so quickly!!!).
Here are some of my Sachin's favourite knocks which I remember since I started following the game :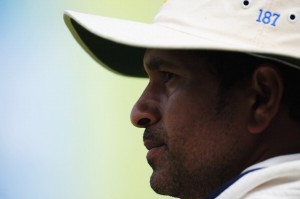 82 off 49 balls vs New Zealand at Auckland, March 1994: Trailing 0-1 in a 4-match ODI Series against the Kiwis, Indians did fabulously well to restrict the hosts to a modest total of 142.The then Indian captain, Md.Azharuddin played a master stroke by promoting a young Sachin Tendulkar, who by then had already become the main stay of Indian batting, to open the innings in absence of the regular opener, Navjot Sidhu. What followed was a complete carnage at the Eden Park and the New Zealand bowlers had no clue as to what had hit them. It is one of the best ODI innings that one can wish to see.
110 off 132 balls vs Australia at Colombo, September 1994: Sachin took one full year to reach the landmark of 100 international hundreds but what many don't remember is that he took almost 5 years & 78 ODIs, since making an international debut to reach his first ODI hundred i.e. after stroking 7 hundreds in the Test matches. This one came in Singer World Series game against the Aussies at Premadasa Stadium Colombo. This game also saw the beginning of one of the most famous modern day cricketing rivalry between Tendulkar & Warne, with the former clearly winning this battle hands down.
169 vs South Africa at Newlands, Cape Town, January 1997: India was down 1 Test in the three match series and after the South Africans had scored 529 in the first innings writing was on the wall with India tottering at 58 for 5 in their first innings. What one saw after this was one of the most entertaining counter attacking partnership of 222 runs between Tendulkar and Azharuddin.Azhar scored a brilliant 115 off 110 balls and Sachin who scored 169 with 26 magnificent boundaries was the last man out with the team score on 359 and thereby enabling India to avoid follow on. Even Allan Donald said later that he felt like clapping.
155* vs Australia, 1st Test Chennai, 1997-98: There was plenty of pre-series hype around the much anticipated dual between Sachin Tendulkar and Shane Warne. Warne got better of Sachin in the first innings of the Test and with India marginally ahead by 40 odd runs, in came Sachin Tendulkar. First in the company of Rahul Dravid and later Azhar, Sachin scripted a tremendous fight back to give a target of 348 for Aussies to chase in the 4th Innings. Sachin remained unbeaten on a 155 off 191 balls. Needless to say India went on to win the Test.
Two Centuries at Sharjah against Australia in 1997-98: India chasing Australia's 284 ,had to score at least 254 to get ahead of the New Zealand, the third team in the tournament. Sachin's murderous assault (143 off 131 balls) on the Aussies bowlers enabled India to qualify for the finals. And the lightening did strike twice, with Sachin scoring a blazing 134 off 131 balls in the finals against his favourite opponents – Australia. India went on to win the triangular series and after these knocks Shane Warne was so devastated he confessed Tendulkar hits him for sixes in his nightmares.
98 vs Pakistan, Centurion, 2003 World Cup: Pakistan had set a stiff target of 274 for India to chase in this high octane clash of 2003 World Cup. Sachin looked all pumped up when India came out to bat and smashed Shoaib Akhtar for an upper cut six and plethora of boundaries followed. All the Pakistan bowlers were treated with utter disdain and by the time Sachin got out for 98 in the 28th over the match was well and truly settled in India's favor.
103* vs England, Chennai Test 2nd Innings, 2008-09: Only doubt people had about the little master was put to rest with this magnificent 4th innings hundred chasing a huge target on a crumbling pitch. Chasing 387 on a 5th day pitch at MA Chidambaram Stadium against Swann and Panesar, Sachin didn't let go of a golden opportunity to silence his critics with an epic century which brought smiles on millions of Indians, a week after the country was hit by one of the worst terror attacks in its history.
There have been many other entertaining knocks from the little champion and I am sure he will continue to entertain us for couple of seasons more atleast.People who have doubted his ability must remember that 53 of these 100 hundreds have come in a winning cause, behind only Ricky Ponting and Kallis.For someone around whom the team's batting has revolved for major part of his career, this is not a bad conversion at all. We all are privileged to have lived in an era where we saw SACHIN RAMESH TENDULKAR bat.