Shikhar Dhawan's tryst with destiny
2.06K //
17 Mar 2013, 18:19 IST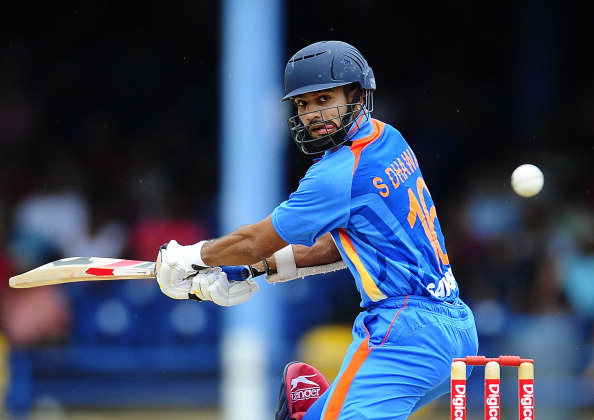 His teammates from the U-19 days, Dinesh Karthik, RP Singh, Raina et al got the opportunity to represent India much earlier than he did. Not that he was lacking in any sense, talent seemed to ooze from him. But with the Indian batting line-up of yesteryears making life hard already, Dhawan also had to come to terms with the fact that the opening slots (him being a specialist opener), were (sort-of) permanently taken. All he could do was wait.
True, Dhawan did have his chances. After all, he managed to make his way into the ODI squad. One might say that he could not make the most out of that opportunity, a forgettable debut followed by a lacklustre series against the West Indies. I don't think most Indians would be aware of the fact that he had, albeit for 5 matches, donned the Indian jersey. 5 matches to gauge the ability of a prodigious talent? Hard luck, one would say. People might as well would have forgotten about his existence were it not for the IPL.
Indian supporters, as well as the media, are known to be quite unforgiving. Dhawan got to experience that first hand. Categorised as one fit only for IPL, he got stereotyped as a run-of-the-mill product. But, he wasn't. Dhawan isn't one of those whose claim to fame is bamboozling fans in the shortest format. Even after having made his mark in the U-19 team (blasting 3 centuries in the 2004 U-19 World cup, and being declared the Player of the Tournament), he had to sweat it out in the domestic circuit, while many of his teammates got noticed. Dhawan had been a consistent performer for his state side since, as his average of nearly 45 indicates. With his Delhi teammates forming one of the most lethal opening pairs in world cricket, his wait became even more grinding.
IPL came around, and television audiences had a good view of his batting prowess. And the only view, perhaps, that they had of him annually for the next five years.
It took a non-performing Sehwag's axing that finally brought him to the fore. He was handed a Test debut, that too against Australia, albeit a depleted side compared to their former self. And boy, what a debut it was! Scoring the fastest ton ever on debut, he came within touching distance of leapfrogging Sehwag's record of the second fastest double century in Test matches. He seemed like a left-handed version of Sehwag himself, only with better footwork.
"Why is patience so important? Because it makes us pay attention." ? Paulo Coelho.
Coelho might as well have written that exclusively for Dhawan.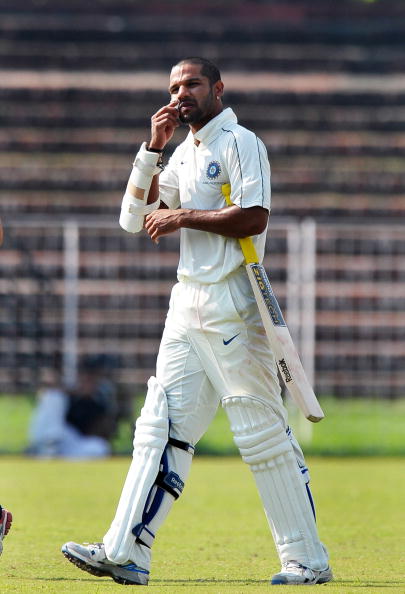 Once a regular at page 3 parties, Dhawan was notorious for his wild ways. His larger than life image in Delhi's cricket circles notwithstanding (he drives personalised Hayabusas, you see), he has now turned out to be a complete family man post marriage; rather subdued and absolute in his focus on his career. Sporting fancy tattoos on his biceps, and twirling his moustache, his teammates have given him the sobriquet 'Gabbar'. Receiving his maiden Test cap from the Master Blaster, his has been a rising story movie scripts are made of.
The internet was flooded with parodies of how Sehwag's career was done and dusted. Well, that is an obvious and grotesque misrepresentation. He is sure to bounce back, a once-in-a-generation player that he is.
But, nevertheless, Dhawan too has stamped his authority. Unforgiving that it might be, Indian fans are also the ones who treat their cricketers like demigods. The cynosure of all eyes for now, he has ensured a place in cricketing history by playing one of the most ferocious knocks in Test matches ever. And with Pujara and Vijay seemingly coming of age, the biggest beneficiary in such a flood of options for the selectors is Indian cricket.
As Sidhu quipped in his own style, "This is a sign of new brand of cricketers which is emerging. Cheteshwar Pujara, who is solid as a rock, the other Murali Vijay, who is like a volcano and this guy Dhawan, he is a hurricane. They sure are going to take our cricket to glorious Shikhars (heights)."
He rode his luck like one of them Suzukis. Let's enjoy the show while it lasts. And hope that it lasts long.