Stats: Highest away batting averages in Test cricket
3.54K //
15 May 2014, 18:05 IST
One of the best ways to find out if a cricketer is a 'complete' batsman is to check his away record. Many good batsmen have failed to deliver top performances while playing in alien conditions, something that has stopped them from achieving greatness.
Here, we look at the batsmen with the highest Test averages in away matches through out their careers. No one would be surprised to find out that legendary Australian batsman Sir Don Bradman heads this list with an astonishing average of 102.84 . There is a massive gap to the second position, which is held by former English batsman Ken Barrington.
The top ten is dominated by players from England and Australia, with just one appearance from a South African and none from other countries. The following are the top ten batsmen with highest away batting averages in Tests, having played a minimum of 10 Tests: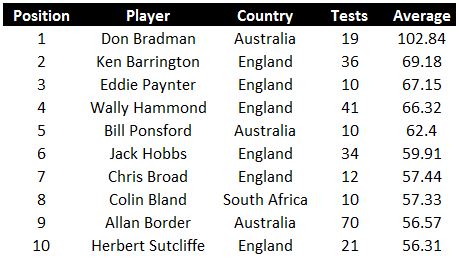 NOTE: Stats were last updated on May 15th, 2014.