The great Australian team under Ricky Ponting
1.17K //
29 Mar 2013, 20:47 IST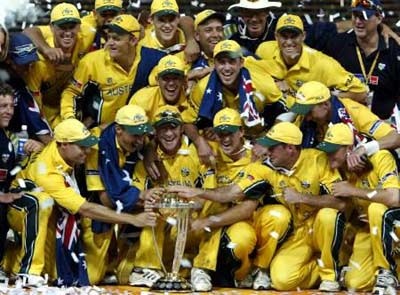 After their object surrender to India in the recently concluded Border-Gavaskar trophy, Australia's chances of competing at international level looks slimmer than ever. This team though they don't have enough experience; they have the potential to beat any side on any given day. Their top batsman looked in fine knick before India tour and I thought it would have been a tough contest. But in the end, it was just India who dominated the Australians thoroughly and came out victorious. This clearly shows that there's lack of experience in the side and they are in the transition period.
Australia's horrible show in the sub-continent reminded me of the set which dominated the World under Ricky Ponting. That was an extraordinary Australian team where each and every individual knew their role. I really enjoyed watching those Australian matches and even now I watch those matches in television. I can't forget that set because under Ricky Ponting each and every player played his part and also, it was terrific combination between Ponting and Buchan. Ponting and Buchan before a match, they have interaction about the opposition's strength and weakness, nature of wicket and the conditions. Keeping in mind all these salient features, they pick the playing XI squad.
One of the main reasons for their success is because of aggressive captaincy by Ricky Ponting. Each player responded to his call. He also didn't shuffle his side constantly as he stuck with his best XI. Further, he had known about each player's strength and weakness upto the mark, and assigned the role to them depending on their weakness and strength. He also makes smart and unexpected moves. For instance Bevan's usual spot in the batting is at number six. Under crunch situation he promotes him up the order to up the ante and Bevan sequentially goes on to make a big score.
Australia initially relies on Gilchrist and Hayden for a good start, and that will be capitalised by Bevan, Martyn and Symonds. I enjoyed watching Bevan and Martyn bat. This is because Bevan usually a defensive player. I have also enjoyed his strokes as he times the ball to perfection and more importantly he finds the gap. He had never taken calculated risks unless the situation demanded. I enjoy watching his square cut, and cover drive. More so, when he hits straight down the ground, he presents the full face of the bat and will provide nice sound on that occasion. Many bowlers found extremely difficult to dismiss Bevan. This shows that he's a master-class player for Australia. Soon after his retirement, Australia's batting gradually started declining, but somehow they managed as Hussey was replaced in his place.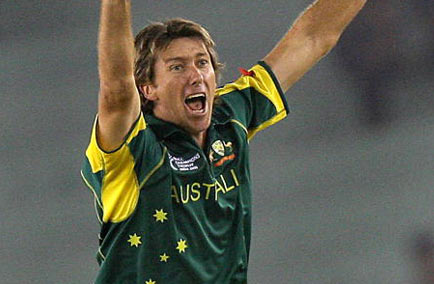 You have known that Australia's strength is their pace-attack. Yes, they had great bowlers as well who were equally supported by batsman. Shortly, they had well-balanced side. One of their great bowlers is Glenn McGrath, who has around 500 Test wickets to his name. In fact, he's a world-class bowler and it's a record that a fast bowler has 500 wickets to his name. He's generally a good bowler with the new-ball as he swings the ball both ways and keeps the batsman in check. Even Sachin Tendulkar, Brain Lara, and Dravid found rather difficult to handle McGrath. The first Ashes Test 2005, where picked 5 wickets initially to put England on back foot, was the spell I enjoyed the most. First victim was Strauss as chased a wide delivery of him. Vaughan was completely knocked off as the ball sneaked through the bat and pad gap. These two wickets were as dramatic as McGrath stared in Australia's first Test win in 2005.
This doesn't mean that Warne, and MacGill haven't done their jobs. As said earlier, a quality fast bowler can only take 500 wickets in Tests. That's the reason I have talked about only McGrath. He had also got good support from Brett Lee, and Jason Gillespie.
It's because of these world-class players, Australia were able to dominate under Ricky Ponting. Soon after the legends retirement, Ricky Ponting felt a bit difficult to lead the Australian team and at the moment, they are in the transition period.
However, those days were memorable and I really enjoyed those days watching Australia's matches. I never miss the matches between England and Australia. Not only me, everybody is missing those days a lot.