The hunter called Punter
1.19K //
13 Mar 2012, 11:18 IST
The pull, the shuffling across the crease, smacking of the cherry through covers, a direct hit at the stumps and lifting of 2 World Cups is what comes to one's mind when someone utters the name – Ricky Ponting a.k.a Punter.  The veteran Tasmanian is the sort of player whom you can't stop admiring. He's also the kind of player whom you can't stop hating if you aren't Aussie, because he's a thorn in the path of every opponent! Very few teams have been able to tame this beast.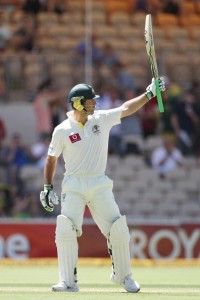 When it all started..
Ricky made his debut for Australia in a quadrangular cup against South Africa in 1995, getting out scoring just one. But it was not until 1998 that he found a permanent place in the Aussie team. He faced stiff competition from the likes of Greg Blewett, Justin Langer and Stuart Law. His domestic form too was erratic during the period. At times there were flashes of brilliance followed by not so impressive performances.  He made his Test debut against the Lankans and scored a brilliant 96 before being adjudged out to a questionable LBW decision.  And during the limited opportunities he got, Ricky was forced to take guard at the number 6 position. He got his big ODI break in the tri-series that featured Sri Lanka and West Indies. He moved to his favored number 3 position after Slater was dropped after a patch of poor performances. He scored his maiden ton at the MCG, a cracking 123 against the Lankans. His Test berth got cemented after fellow Tasmanian and his hero David Boon bowed out of the game.
He played his first World Cup in 1996 in the sub-continent. It was during this series that punter refused to wear a helmet and played with the cap on. Though he scored a century and became the youngest batsman to do so in a World Cup, his performances in other games were below average. The following months saw Australia playing a lot in the sub-continent and Ricky's shortcomings were exposed here. It was evident that he struggled on the sub-continent pitches. His poor form saw him being axed from the national team, a very harsh decision to say the least.  He missed a couple of test series, meanwhile he continued playing domestic cricket and put up solid performances. Ponting returned in 1997 when he was picked for the
Ashes
tour. He scored his first Ashes and Test hundred and showed signs of becoming an Aussie legend. Little did the world know that this man would go on to become a cricketing great and not just a national hero.The following few games saw not so great performances from his blade against the Indians and then in a Sharjah tournament, he had his first altercation with Bhajji, a player who's always managed to get the better of Punter on numerous occasions. The following few months saw his form dip and eventually being dropped from the Test team, this time replaced by Darren Lehman.  However he remained a strong ODI contender and continued playing for Australia.
Ponting tasted his first World Cup success in 1999. His contributions were valuable but were eclipsed by performances from Steve Waugh and Shane Warne. Ponting showed his worth in the following encounters at home against Pakistan and India. His strong performances in tests and ODIs saw him being named as the Aussie vice-captain. 2001 was a forgettable season for Ponting with a poor run of form against India, England and New Zealand, leading to the stripping of the vice captain's post and handing it over to Adam Gilchrist.

The first World Cup Triumph (As a captain)Ponting's high point came when he was appointed the Aussie skipper ahead of Adam Gilchrist the then vice-captain for the ODI team. Gilchrist was the vice-captain for the Test team.  Punter led the Aussie team in the Ashes series of 2002. He started the series in remarkable style belting hundreds in the first and second Test. They won the Ashes and people knew that the country's cricketing reigns were in the right hands.
Australia's run up to the 2003 World Cup was marred by several incidents. Lehmann was banned on account of racial abuse, Bevan and Watson were injured. And just before the start of the tournament Shane Warne tested positive for a banned drug and had to return home. Ponting then took a major decision by naming Andrew Symonds in the squad, a player whom the experts and fans had slammed across the globe for poor performances. But Ponting's gamble paid off when Symonds scored an unbeaten 140 against Pakistan and saved the day for his team in a group stage match. The Aussies progressed further and reached the finals unbeaten throughout and faced India.
On the D-Day Ponting came out all guns blazing and scored a stunning 140 against India in the final. This innings was definitely Ponting's best and may I say one of the best ODI hundreds of all times. Australia went on to win the World cup by a record margin of 125 runs.
After his one day exploits as captain, Ponting was named the Test team captain in 2004 taking over the mantle from Steve Waugh. Australia continued their dominance by thrashing opponents who came in their way. This included several whitewashes and humiliation of opponents. By then Australia had won every cricketing honor. The only thing that had eluded them was the Champions Trophy also dubbed as the mini World Cup. But that too was accomplished in the year 2006, with Ponting holding the trophy high. Ponting and his team drew flak from several corners after asking the then ICC president Sharad Pawar to leave the podium and even nudging him, so that the team could begin celebrations!
The 2007 World Cup tournament lost its charm with early exit of India, Pakistan and also the sad demise of Bob Woolmer under unnatural circumstances. The event held in the Caribbean saw empty stands for most of the games. But Ponting and his men had a job at hand – defending their crown. This was the last World Cup for a few stalwarts of Aussie cricket and they definitely wanted to win this one. Australia entered the final winning all the games until then. The final was a repeat of the 96 World Cup final. The match was rain affected and reduced to 38 over game. Gilly played a blinder scoring 149, the highest score in a WC final. The game ended in confusion due to poor management by the on field umpires with their handling of rain, bad light and the D/L system. But Ponting had lead his team to its third successive World Cup win and his second as captain. A remarkable achievement in today's competitive world!
The Scars in Ponting's life
Alcohol AbuseEvery cricketer has his low points in his life. Ponting too had a few. I list a few of them here.
Ponting was involved in several incidents of alcohol abuse. He was thrown out of a night club in Kolkata due to alleged misbehavior with women and was fined $1000 by the ACB. He was also involved in a pub brawl back at home that earned him a 3 game suspension.
First Ashes defeat in 18 years - Australia faced their first Ashes defeat under Ponting in 2005 losing a fiercely contested series 2-1.
The Bangladesh upset at Cardiff June 2005
The greatest game of cricket ever played – The game saw 430+ being scored for the first time..Err.. a second time few hours later! Need I say more?
The monkey gate issue created a furor in the cricketing world and displayed the players involved in bad light.
Couple more Ashes defeat 2009, 2010. Only the third Aussie captain to achieve this undesirable feat.
Ponting's form with the bat dipped 2009 onwards. Though he scored few hundreds in between he was nowhere at his best. He gave up captaincy after the quarter final defeat to India in the 2011 world cup, despite scoring a wonderful century in the game. Here on Ponting's decline was somewhat predictable. Every innings of his came under scrutiny. Voices were raised asking him to be dropped from the team. But a century against India in the Test series of 2011, his first in two years gave some respite and silenced the critics. The cricketing world was a bit shocked when it was announced that Ponting was dropped from the ODI squad mid way through a triangular series in 2012. Next day Ponting in a conference said that he would continue playing the longer format of the game.
Ponting leaves a great legacy behind. I'm not sure any Aussie captain or for that matter any other captain would be able to equal his record let alone surpass it. His arrogance and tough cricket hits you in the face. But you can't ignore him. He's always been weighed alongside Sachin and Lara and some veterans have also suggested he is a step ahead of them. For someone who grew up watching cricket it's a tough call to make as to who is better, but Ponting certainly scores over other two greats with the fact that he was a great batsman and even a better leader at the same time. I can't recall any other captain leading his side from the front as Ponting did for 9 long years. Ponting was blessed to have a bunch of talented players around him. He had the aggressive Matthew Hayden open for the team, a great deputy in the form of Adam Gilchrist, who played quite a few swashbuckling innings in Tests as well as ODIs; the world's greatest leg spinner Warnie and the master of line and length Glenn McGrath. He had a capable all-rounder Andrew Symonds who put up his hand whenever the team was in trouble and a capable batsman in himself! He has lead the team to glory with a few greats around him and also with a bunch of youngsters in the latter half of his career. There has never been a story of a rift in the Aussie squad playing under Ponting. He kept the team as one closely knit unit, which certainly played part in the demolition of their oppositions. Ponting has had his name engraved on every medal and trophy, sometime on more than one occasion. I've never been a fan of Ponting due to his arrogance, but his batting and captaincy always compelled me to stay glued to the television. I had the opportunity of seeing him score a century in a Test and an ODI at a stadium (both against India).  It's the way he mauls the opposition walking down the pitch, shuffling across the crease, pulling a ball and hoi king it out of the park without a helmet that makes it a treat to watch him.
I personally felt it was not the right way to axe a three time World Cup winner, twice as a skipper and also Test cricket's most successful captain in the way it was done and forcing him into retirement. But then that's how Aussies are. They did it with Steve Waugh as well (The guy who revived Aussie cricket!)
It'll be difficult for ACB to find another Ponting, especially one who can don the Baggy Green and bring every glory possible to it.