The Legend – Adam Gilchrist
1.30K //
14 Nov 2012, 18:22 IST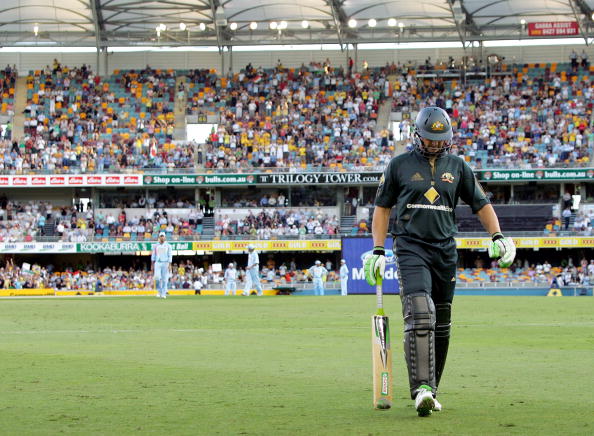 One fine morning I saw a man wearing a yellow jersey smashing the ball all over the ground, with the sound of the ball hitting his bat music to the ears. I am happy to see the world respects him. Happy birthday Adam Craig Gilchrist.
"Churchy" was a trend setter, and his style was unique when he established himself in the land of kangaroos. Adam Gilchrist knew only one style of batting, attack. Whichever jersey he wore when playing, whichever number he played at, he knew just one style. He never let the scoreboard and the pitch affect his batting. Adam Gilchrist was a starry-eyed boy when he made debut against the Proteas way back in 1995. From then, it was a wonderful journey which transformed the boy into a man. A gentleman.
Gilly is considered one of the greatest wicketkeepers to have played the game, and has his skills admired the world over. He was involved in 416 dismissals in test cricket (379 catches + 37 stumpings) and 472 dismissals in ODIs (417 catches + 55 stumpings).
He was the first player to score 100 maximums in test cricket, and had an aggregate of 5570 runs from the 137 innings (96 matches) he played, with a  solid average of 47.60. He also had 9619 runs in ODI cricket with an average of 35.89, with his pairing alongside Mathew Hayden at the top of the order considered to be one of the most feared opening pairs ever.
81.95 and 96.94 were his strike rates in tests and ODIs, summarising the way he batted, and his tons in the 2003 and 2007 World Cup added that he was a big match player.With Punter (Ricky Ponting) and Pigeon (Glenn McGrath), they owned the golden trophy for a decade.
Many play good cricket, but it's a cricketer's character that makes them stay in our hearts forever. Adam Gilchrist played the game with a true spirit, he was a friendly character both on and off the field, he is known for his walk to the pavilion when he believed he was out, even when the umpire signalled not out. In the recently concluded IPL, during a match against the Chennai Super Kings, he stopped running when he noticed that the fielder who had tried to stop the ball was injured. That shows what kind of man he is and what kind of heart he has.
The moment when he gently waved towards his family and raised his bat towards his team after his last innings made his country weep.
Men may come and men may go, but legends last forever!
Looking forward to see him play in the next edition of the Indian Premier League.
Happy Birthday and all the best, Churchy!