The Terminal Decline of Virender Sehwag
1.61K //
08 Mar 2013, 10:48 IST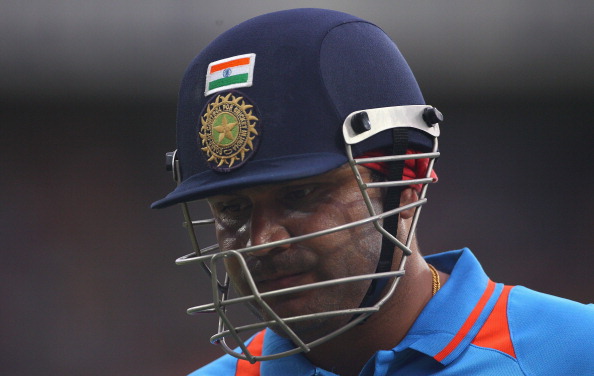 A statistical evaluation of Virender Sehwag's overall career shows a cricketer with remarkable, unique characteristics.
Here are three reasons why he'll go down in history…
1. With regards to destructive capabilities, Sehwag has few peers. In Test match history, only three batsmen have a strike-rate in excess of 80 runs per 100 balls – Sehwag (82.23), Adam Gilchrist (81.95) and Kapil Dev (80.91).
2. Sehwag is one of only four batsmen in history to score two Test triple-hundreds – a feat Donald Bradman could only match, not exceed.
3. Out of all the Indian batsmen to have played Test cricket, only four have scored more career runs than Sehwag's 8,586 – VVS Laxman (8,781), Sunil Gavaskar (10,122), Rahul Dravid (13,288) and Sachin Tendulkar (15,746*).
Sehwag is, without question, a modern day great; however, like all batsmen, there comes a time when form is brought under close cross-examination. A temporary dip in productivity is anticipated in all batsmen, but Sehwag's dip currently resembles a canyon.
This graphic gives a stark indication of just how far Sehwag's stock has fallen in recent years, leading to his exclusion from the remainder of the current India v Australia Test series.
Four Horsemen of the Sehwag Statspocalypse
1. In his career, Virender Sehwag has recorded a duck in 8.89% of his Test innings. The figure for the last 3 years though, is an astonishing 13.89%.
2. The red bars are an indication of Sehwag's percentage of 50+scores.
In the past three years he has converted just 19.44% of his innings into 50+ scores, compared with 33.33% in the first 84 Test matches of his career.
Most tellingly, and as indicated by the green bars, Sehwag's just not sticking around at the crease long enough to make a substantial contribution to the Indian team totals.
3. Between 2001 & 2010, Sehwag's average innings duration was 63.81 deliveries; in more recent times that figure has dropped to just 34.81 deliveries per innings – under six overs in total.
4. If we take Sehwag's last three years as a career of its own, it looks like this:
20 Tests, 1036 runs at an average of 28.77.
If this had been Sehwag's overall career, it would have put him up there with some of the giants of the game like Craig White, Ranjan Madugalle and Ashod Mankad.
Clearly it's folly to compare him with these middle-ranking cricketers, but we are trying to establish whether Sehwag's cricketing problems are terminal. There has been very little to suggest otherwise, in what has been a particularly bleak period for Sehwag.
The statistics don't tell the full story – they rarely do –  but it is abundantly clear that Sehwag has failed to adapt his weaknesses into strengths. Whilst the batting bravado may never leave him, there is a need for circumspection opening the batting, especially for a team like India where form has been fleeting in the Test arena.
Sehwag has lost the ability to score big runs, hit sixes and occupy the crease for extended periods of time. If he is to resurrect his flagging career, it would appear that he needs to work just as hard on his mental attributes as he does his physical ones.
Test cricket without Sehwag would be a far hollower place; Test cricket with a limping, wallowing Sehwag is hollower still.