The weak links of CWC 2011
1.08K //
13 Mar 2011, 17:49 IST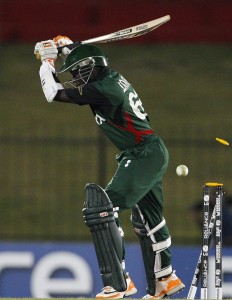 As we know already, the next 50-over World Cup in 2015 will be a 10 team tournament. Everyone has their own opinion on this. Some believe that playing minnows in the marquee event makes no sense, while others believe they should be given a chance. Even though I am one amongst the latter, I do believe that the associate nations that come into the tournament shouldn't be absolutely incompetent. Canada and Kenya, in particular, have failed to show any signs of belonging to this level. These two are by far the weakest teams in this World Cup and have been a huge disappointment.
For a team, who reached the semi-final back in 2003 WC, Kenya has surprisingly bad. Not in even one of their matches, they have shown a fight or given a scare to any team. A team with 2 veterans who are playing their fifth WC, is expected to do much better. These two, Steve Tikolo and Thomas Odoyo apart, Kenya has hardly turned up. The Obuya brothers did manage 50′s in one of the matches, but played too slowly and didn't convert them into innings big enough to trouble the opposition.
I don't expect Kenya to score 300 or bowl out top sides for a small score, but I surely want them to score more than 69, or 112. Strategically, they seem like the worst team by far. Every time that their wickets seem to fall, they don't even remember to take the batting Powerplay. The only occasion they have managed to take it was against Canada when they lasted 50 overs. Jonty Rhodes, who is among the Kenyan team management needs to realize this and they should at least try using the PP. Similarly against Canada, Thomas Odoyo bowled just 5 overs when he was bowling tight, while Otieno bowled more than 8 overs conceding at over 5. The only time they have managed to make 150 runs was against Canada, not that they managed to defend that either. Let's face it, they don't deserve to play here since getting back to back thrashings is never going to help the confidence.
Canada, on the other hand, have been a little better than Kenya but not great either. Being filled with Indians and Sri Lankans, they have just one Canadian in their line-up, that being John Davison. Both their bowling and batting are much better than that of Kenya. But, having scored just 122, 123 and 138 in their first three games, they didn't show much potential. Their bowling did click against Pakistan on a pitch that had a bit of assistance. They bowled with discipline and managed to bundle out the gaints for a mere 184. Main bowling stars were spinner Balaji Rao and  medium pacer Harvir Baidwan.
Ashish Bagai and Rizwan Cheema are also players who can do a good job. Cheema is a useful all-rounder with the ability to smack the ball hard. He displayed some of his skills in a cameo of 35 against Sri Lanka. His wicket to wicket bowling has been fairly okay as well. Skipper and WK Bagai also bats sensibly even if people around him keep failing. He has piled on two consecutive fifties against Kenya and then against New Zealand. So, talent wise they aren't that bad, but performance wise they have really disappointed. In the Kenya and NZ game, their batting has been much improved with Jimmy Hansra and Bagai taking the responsibility. But, any team who has scored 582 runs in 195 overs (before NZ game) and conceded more than 1000 in almost as many overs, has scope for a lot of improvement.
From what I have heard (and a bit I have seen), countries like Afganisthan, Nepal and Papua New Guinea which are making good progress in the World Cricket League, could do with a place instead of Canada or Kenya. Afghanistan, for example, were reasonably good in their only T20 WC appearance and would probably do much better than Kenya. So, these two countries really need to pull their socks up if they want to qualify for the next WC event. Otherwise, all they do is justify the belief of those, who want Cricket WC to be a 10-team tournament.