Top 5 batsmen who conquered the sub continent
When batsmen from the subcontinent travel abroad they have to be wary of 'Chin Music'. Their prime concern would be the pace at which the deliveries are aimed at them. Once they come to terms with the nature of the wicket by surviving for a couple of hours, the bowlers are not going to bother them. On the other hand, the situation is not so easy for overseas players who take strike on subcontinent wickets. Unless you are an expert in playing on turning wickets, your survival is not guaranteed and you may have to stay prepared to take a long way back to the pavilion at any stage of the game.
In subcontinent pitches, as a batsman, you have to be more worried about close-in fielders who stand at silly point and forward short leg, plus of course  those in the slips, than the bowler who turns and bounces the ball. Life is always going to be difficult for any overseas player who is new to the wicket, facing the world class spinners in India. Although batsmen do have multiple options of batting on turning wickets, if you do not apply your technique properly, you have to prepare yourself for an early shower in the dressing room.
If you come down the wicket and choose to play before the ball turns, you may get out stumped. If you are unsure of the way the ball is turning and so you prefer using your pads to block the balls, you may be given out LBW for not attempting the shot. If you try to sweep the ball (like most overseas players who do not have good footwork do), you may end up top edging the same, only to be taken by the wicket keeper or close-in fielders. If you try cutting a leg spinner with the spin by making room, but the ball turns out to be a sharp googly, your bails will stand disturbed. If you try hitting against the spin, then you are bringing about your own downfall. Even if you are brave enough to block the ball with your bat, a slight misjudgement will keep the fielders at silly point and forward short leg interested.
A classic example of what well established spinners can do to an overseas team can be seen by the way the spin trio of Kumble, Chauhan and Raju humbled the English touring team in 1993. However, there have been a few players from abroad who have been successful in not only surviving the slow turning wickets of the subcontinent but also have managed making these tracks their favourite hunting grounds. We will now have a look at the top five overseas players who have conquered subcontinent wickets.
5. Jacques Kallis: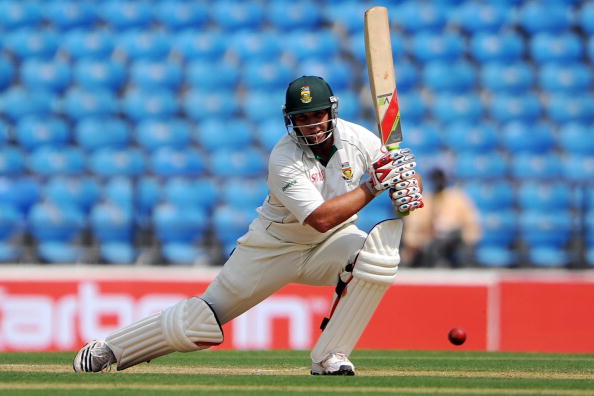 I remember Ian Chappell commentating during South Africa's first test series win in India in 2000, saying Jacques Kallis was the best defensive player against spin bowling. I don't think there needs to be a second opinion against this view of Chappell. Kallis is one of those rare individuals who can thrive under any conditions, let alone the subcontinent. In the year 2000, when South Africa toured India for a two match test series, Kallis was pretty much immovable. India's spin battery contained Kumble, Chopra and Karthik but they had to try collectively very hard to get him out, particularly in the second test in Bangalore. Eventually, when Kallis was out off the bowling of Kumble, his score read 95 off 432 balls. Only a player who is very good in batting against spinners in turning wickets can occupy the crease for so long in a test innings.
Kallis might have just scored a lone test century in India but then he had scored quite a few in Pakistan and very recently, a couple of years ago, in Dubai as well which was a neutral venue that hosted the test series. In the 2007-2008 series in Pakistan, Kallis had scored centuries in both the innings of a test match at Karachi, winning the match for the team. Pakistan had Kaneria, Malik and Hafeez in their ranks but it never bothered South Africa's Mr.Reliable. He plays a very watchful innings against the spinners in the sub continent and also is equipped with so much of patience to stay long enough at the crease. That was one of the main reasons which helped his cause of scoring runs very consistently in this part of the world.
4. Andy Flower: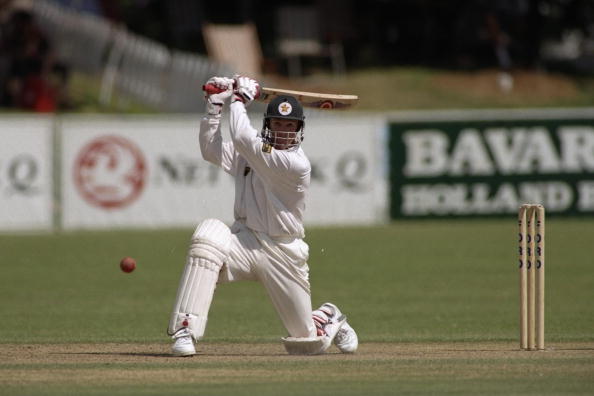 With an average of 117.14 in five test matches, aided by three centuries (inclusive of a double century) it is difficult to overlook him when it comes to listing out the best foreign players in India. Hailing from a side which did not have even one special player, his contribution of 232 in a single innings at Nagpur should be considered extraordinary by any standards.
The Zimbabwean developed a very good technique in sweeping the spinners which came in handy for him while batting in the test matches in India. The Indian team found very difficult to dismiss him every time he took strike. He remained 183 not out in the first test in one of his innings and scored a double century, like I said before in Nagpur, again staying not out.
He was not an aggressive player by any means, but he amassed 820 runs in five test matches held between the two teams in India. He continued his good form in the ensuing ODI series and in spite of being a part of the side which was generally regarded as underdogs, he did very well, making himself  the highest scorer of the test series. He holds three test hundreds in India over all. He used to be a great player of turning deliveries and had incredible footwork to support it. Though he is way ahead of others in terms of average, since his exploits were limited to his performance in India only as compared to the other greats in this list, I am unable to rank him at the top of the list.
3. Damien Martyn: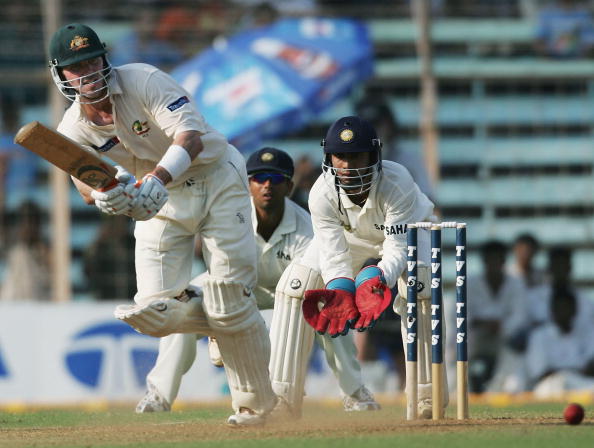 He was one of the most underrated batsmen of Australian cricket. Bestowed with a lazy elegance in batting, he used to clobber even the best of attacks at will. He was known to be a very special player of spin bowling and that helped his cause when he arrived in India to play the test series in 2003-2004 which Australia eventually won. He used to gauge spinning wickets very well and so negated them rather easily. He scored a couple of centuries and half centuries during the series and was one of the highest run getters during that tour. Many believe even now that it was his batting prowess which helped Ponting's men conquer their final frontier after a very long wait.
Martyn had contributed to his team's victories in the test series against Sri Lanka in 2004 as well. Since he was a very good off side player with some great driving skills in his repertoire, he hardly used to go into his shell playing in a defensive mode on the slower turfs of India and Sri Lanka. He used to drive the ball with great finesse, keeping it along the ground, which was one of his strengths in the subcontinent. Since he was very adept in playing vertical bat shots, he hardly bothered negotiating the balls which bounced well below his knees. The Sri Lankan spinners are always difficult to play against in their home conditions because you never know what a ball can do out of the rough.
But Martyn's majestic skills helped him carve out two spectacular centuries which helped the men from down under, whitewashing the Lankans 3-0 in the Test series in 2004.
2. Matthew Hayden: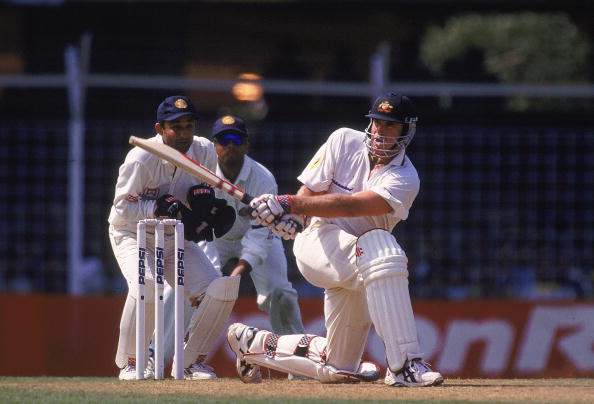 Any batsman who has the best footwork is sure to succeed against Spinners in subcontinent and Hayden was no mug with it. He had just what it takes to play in the pitches which offer good turn and bounce. He was never afraid of dancing down the wicket to play spin bowling. The fact that he used to play vertical bat shots like cover drives and on drives so well, aided him to bat against turners pretty comfortably.
It was the year 2001 when Hayden first toured India but he hardly looked skeptical battling against the top quality spinners like Kumble and Harbhajan Singh. The score of 203 against India in the 3rd test in Chennai was an epic showing. He used to get to the pitch of the ball and it hardly ever mattered to him whether he was surrounded by some close-in fielders with quick reflexes. He used to drive and cut the spinners with utter disdain. He had scored two hundreds in that series, though his team actually ended up on the losing side. He had an average of 61.00 in tests and 51.62 in ODIs playing in India.
Also, he has played equally well in Sri Lanka, where he scored a century at Galle in 2003-2004. And more importantly the Lankan team had spinners like Muralidharan, Chandana, Jayasuriya and Dilshan who used to purchase turns in any sort of wickets but it never bothered him, given his aggressive intent.
1. Sir Garfield Sobers: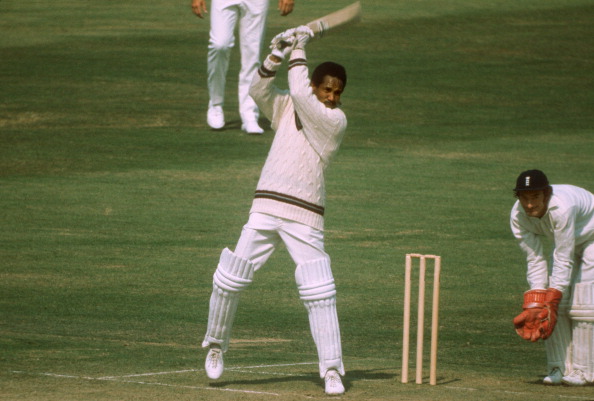 When you talk of exposure to play spin bowling, it needs to be said he had it in abundance. As a 16 year old youngster, he had great opportunities to bat against the likes of Subhash Gupte for Barbados against the touring Indian team. The veteran West Indian still reckons Subhash Gupte as the best spinner he had ever faced and holds him above Shane Warne. When Sir Garfield Sobers first toured India in the year 1958 he had three hundred plus scores to his credit. This time he faced Gupte again, but the scenario was a bit different then because the Barbados batsman was representing West Indies on the whole. He did not make a big impact in the first innings, but was very impressive in the second.
He hit only 8 boundaries in addition to a lone six during the innings which was played with utmost patience. You don't associate him with such a scanty number of boundaries in a score of 140 plus, but he grafted so well and remained unbeaten throughout, leaving a score of 399 to chase for India. He added a couple more during that tour.
When the West Indies toured the Indian subcontinent again, the spin department of India was even stronger with the likes of Venkatraghavan, Bedi, Prasanna and Bhagwat Chandrasekhar in the team. He might have missed out on scoring at least one century during the series but then had fifty plus scores in all the five innings in which he had batted. The touring team won the series 2-0 due to some incredibly attacking batting displays by Sobers against the spin quartet.
For me this Barbados batsman was easily one of the best in subcontinent conditions.