UC Browser announces appointment of Yuvraj Singh as Special Cricket Product Consultant and Brand Ambassador
2.84K //
15 May 2015, 10:59 IST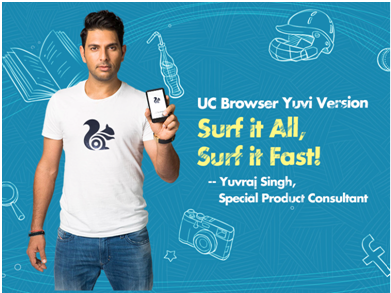 New Delhi, May 14, 2015 - Sports icon and cricketer Yuvraj Singh has taken on a new role – the 33-year old world class player will be representing UC Browser, UCWeb's flagship mobile browser, as a Product Specialist and Brand Ambassador. Yuvraj Singh and UC Browser jointly released a special version of UC Browser for cricket fans called, "UC Browser Yuvi Version."
Announcing the partnership, Kenny Ye, Managing Director of UCWeb India said, "Yuvraj Singh is an exceptional sportsperson and we are inspired by his dedication and passion for his sport. He has led India to innumerable victories, combining top-notch performances with power and speed. These are precisely the qualities embedded in our browser. We are confident that his expertise will add immense value to our product."
Yuvraj has been a regular user of UC Browser and its related apps. Last week, the cricketer took to a popular microblogging app to give suggestions to UCWeb on ways to improve its cricketing app, UC Cricket. It was followed by a quick revert from the company and a meeting with Yuvraj which culminated to him coming on board as a Product Specialist. The browser, for its part, will host Yuvraj-themed wallpapers on its homepage and give out memorabilia to millions of cricket fans across the country.
"I am happy to be associated with a young and popular brand like UC Browser. It's fresh, it's fast and it has everything I look for while browsing on my mobile", Yuvraj Singh said. Talking on his new role as a UC Browser Product Specialist he said, "I have been a regular user of cricketing apps – I am happy to provide my input as a consumer and make the product even more consumer friendly."
The special UC Browser Yuvi Version allows users to share photos with a Yuvi doodle/sticker on it via popular SNS platforms. UC Browser provides an array of expressive stickers of Yuvi, so that users can share emotions with friends in funny or emotional ways. UC Browser special Yuvi version can be downloaded from ucweb.com and 9apps.com from 18th May 2015 onwards.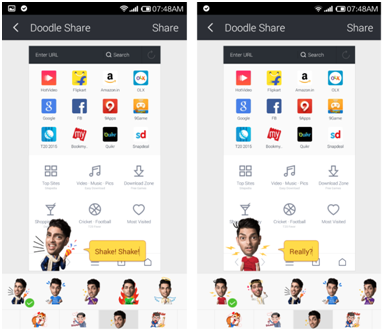 India and other emerging markets are leading growth drivers for UCWeb, the maker of the world's most popular third-party mobile browser by page-view market share (as of 2014 year-end per StatCounter). By signing up an Indian cricketer, UCWeb has strengthened its commitment to, and long-term plans for, the India market. The move will help the company reach out to new users and engage with its fast-increasing user base.
About UCWeb
UCWeb Inc. (UCWeb), an Alibaba Group company, is a leading provider of mobile internet software and services. Since its inception in 2004, UCWeb's mission has been to provide better mobile internet experience to people around the world. The flagship product of UCWeb, UC Browser, is available on more than 3,000 different models of mobile devices from over 200 manufacturers, and is compatible with all mainstream operating systems. Serving users in more than 150 countries and regions around the world, UC Browser is now available in 11 languages including English, Russian, Indonesian, and Vietnamese. Additional information about UCWeb and UC Browser can be found at www.ucweb.com.