Virat Kohli getting more marriage proposals than he can handle!
13.56K //
15 Mar 2012, 12:09 IST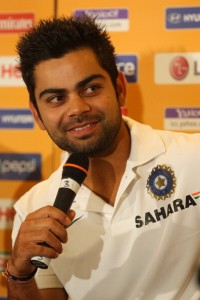 At 23, Team India's vice captain Virat Kohli has achived the kind of fame that would make even a Bollywood star envious. From being a brash Under-19 World Cup winning captain, Virat has transformed himself to become one of the most reliable, match-winning batsmen for India.
So it is not surprising that Kohli has become every Indian girl's dream date. A hug, a kiss and beyond (the kind of stuff that can't be mentioned on our site) are the usual demands that Virat gets from the opposite sex. Girls love him and he is aware of that. "Sometimes ham hi ko sharam aa jati hai, women come up to you and say such bold things, right out," Virat said to a reporter in Delhi during the opening of a popular joint called Khan Chacha in Delhi.
And he's not just attracting the frivolous kinds of moves – the future Indian captain has also started getting marriage proposals!  "Nahin, rishta… mujhe toh pata nahin. I think a few people have tried to convey the message that they have a daughter in the family and stuff, so my mom told me… It's funny because I've heard of these things before (happening with other cricketers), and to get something like this yourself, it's funny, so I just laugh them off," he admitted sheepishly.
Is he at all considering the idea of getting married, in the process breaking a million hearts? "No way! I am only 23," he quickly refutes.
That said, Kohli doesn't plan to be single all his life. He concedes that if someone interesting comes by, he wouldn't stop himself from getting to know the girl and perhaps even dating her. "Why would I stop myself?" he demands.
So all the girls reading this space, you know what you have to do if you want to ever be lucky enough to go on a date with Virat Kohli. You have to be interesting. Easier said than done!