Virender Sehwag's career: A comma or a full stop?
1.02K //
12 Mar 2013, 00:31 IST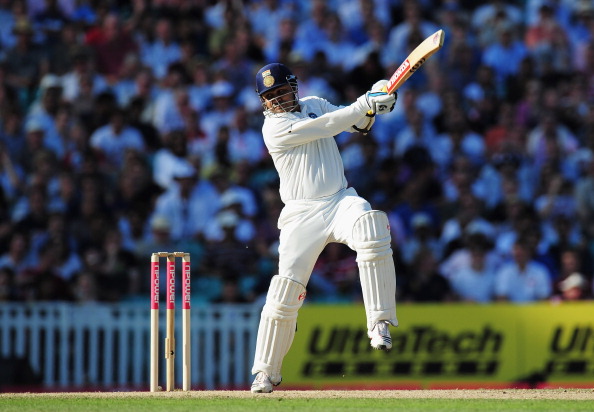 There have been expeditions to space to discover if there is life on Mars. We have had excavations to determine our ancient civilizations. The common factor in both these things is the presence of a small clue that leads the scientists or archaeologists to a bigger picture. In cricketing parlance, there is a specimen that is difficult to decipher. Cracking the Da Vinci code seems simpler than understanding what goes on between the ears of the Nawab of Najafgarh – Virender Sehwag.
The promise that he showed in his debut innings at Bloemfontein by scoring a hundred in testing conditions, the careless shot at 195 at Melbourne, the altruistic act of refusing a single for the team's cause while on 199 in Galle, the match-saving hundred against Australia at Adelaide, the monumental 309 against arch-rivals Pakistan at Multan (which was a watershed moment in Indian cricketing history in 2004), the golden duck in a Test match against Pakistan at Rawalpindi, the second triple hundred against South Africa at Chennai  in 2008 and the massacre of the Sri Lankan bowling at Mumbai in 2009 – Sehwag's cricketing career has been a ride of amazing highs and lows. The records that place him among the pantheon of cricketing greats like Sir Don Bradman and Brian Lara (two triple hundreds in Test cricket) were offset by some unbearable lows and painful moments like the time he got out just before stumps at Lord's in 2002.
A series of attractive shots, glimpses of brilliance, a long drought, a careless slash and careful selfless batting – there is no pattern to the way Sehwag bats. And just when you can't tolerate his string of low scores any more, he plays a big knock.
Sehwag's batting technique is simple – see the ball and hit it if it is meant to be hit. Sounds simple, doesn't it? But Sehwag has been practising this alchemy ever since he started playing cricket and it is commendable how he has never altered that habit of his. Whether it's the bowler's birthday or the resumption of cricketing ties with the neighbouring country after 15 years, whether the new ball is swinging prodigiously like at Trent Bridge in 2002 or he is out of form, Sehwag has one thing on his mind – just go for the shots. To master this technique, one needs to be unhesitant in his mind and Sehwag is one of those uncomplicated cricketers who you might think plays his cricket in a cavalier fashion.
The pundits prophesied a short career for this man who they thought did not have it in him to succeed. There has been an occasional bad shot, a series of agonisingly low scores and an incongruity in the way he has gotten out. But that is Sehwag for you. You just have to accept him for what he is. When he played a big wild shot against Herath at Ahmedabad in 2009, the media questioned his commitment. But Dhoni backed the mercurial opener and told the media to accept him for what he was. In the next two Test matches at Kanpur and Mumbai, Sehwag notched up colossal scores of 133 and 293 respectively. In a span of two weeks the media started talking about the conjurer called Sehwag.
He is unpredictable, yet India can never dispense of him on a big tour. When he was woefully out of form before the World Cup in 2007, Rahul Dravid pressed for Viru's inclusion in the team. He was part of the Australian tour despite his horrendous run in the domestic competition. The team management and the captain had belief in Sehwag's ability and it made them overlook his string of low scores. And their gut feeling paid off. Sehwag, after having missed the Melbourne and Sydney Tests, made an immediate impact at Perth and Adelaide. His twin cameos at Perth were important and the Adelaide hundred was a sign of Sehwag maturing as a cricketer.
But during the last couple of years, Sehwag has been battling indifferent form, lack of fitness and also alleged differences of opinion with Indian captain Mahendra Singh Dhoni. And after Sourav Ganguly lambasted the selection committee and held Dhoni responsible in some way for Sehwag's exclusion, I wondered if  we could replace Sehwag. Well, there are diverse viewpoints.
Sehwag is someone who has the ability to make the opposition captain place a defensive field within the first hour of a Test match. The Huttons, Boycotts and Gavaskars believed in giving the first hour to the bowling side and it was difficult to dislodge them thereafter. But Sehwag has redefined the role of an opening batsman into someone who believes in putting the bowler under pressure right from the outset. Is it easy for a person replacing Sehwag to fill the void of a man who has such a big reputation, a reputation as a match-winner and a game-changer? Will the selectors have the guts to keep Sehwag out of the important South Africa series and give a young, budding opener (Sehwag's replacement) a consistent run? One thing is for sure – we can't rule out Sehwag's comeback to the Indian side. But it remains to be seen if that would be a way forward or a path towards regression as far as Indian cricket is concerned.