VVS Laxman-The man who lived in the shadow of limelight
993 //
01 Nov 2012, 09:23 IST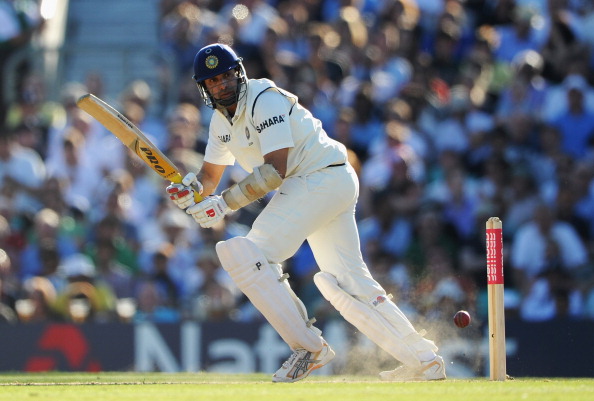 Flamboyant style of batting, impeccable technique, excellent timing, ever-committed towards cricket, and above all,Very Very Special in his game. By these adjectives, one would easily understand that the person I am talking about is VVS Laxman. I write this article as a tribute to my favorite master in the art of creating an innings, Laxman, who is celebrating his 39th birthday today.Wish you a very happy and prosperous life  ahead, Laxman.
After Rahul Dravid's retirement from the international cricket, it was pretty obvious then that the next name on the list would be Laxman. Some thought that he would hang his boots after the Test series against New Zealand and some thought that he would bid goodbye to cricket after playing the Test match against New Zealand at his home ground – Hyderabad. But to everyone's dismay, he has announced his retirement without playing even Hyderabad's Test match. His decision was like a death blow to the selectors who did not support him despite his good performances under any circumstances.
VVS does not only mean Very Very Special, but it also means Very Very Silent. In 16 years of his career, there were no complaints about his behavior. Even the incidents like excluding his name from the Indian ODI squad for the 2003 ODI World Cup could not break his silence. Though he played more than 100 Test matches and though he had the highest number of centuries against the world champions of cricket – Australia – there  found no traces of pride in this terrific Test cricketer. In this game of gentlemen, there are only a few cricketers who brought fame to the game not only by their talent, but also by their deeds. There is no exaggeration in saying that Laxman stands first among them.
He could not play as dashing as Sachin Tendulkar.
He could not be explosive as Virender Sehwag.
He could not hit back-to-back sixes like Yuvraj Singh.
He could not play helicopters like M.S.Dhoni
Still the opponents fear him, and the bowlers get confused about where to pitch the ball. Irrespective of whether the bowler is spin legend Shane Warne or speedster Shoaib Akhtar, his bat was like a magic wand. The way he moved across his stumps and flicked the ball towards  mid-wicket with his bat was a feast to the eyes. His right foot would almost move magically to conveniently allow him room to play his special shots. The coordination among his footwork, timing, eyes and wrists was a real miracle. In the future, world cricket may witness a cricketer who can score runs like Laxman, but that grace can never be seen again. The very first name that comes into the minds of  cricket fans when talked about the word style in the game of cricket would surely be Laxman. Indian cricket has witnessed many match winners but the tag match savior cannot be given to anyone other than Laxman.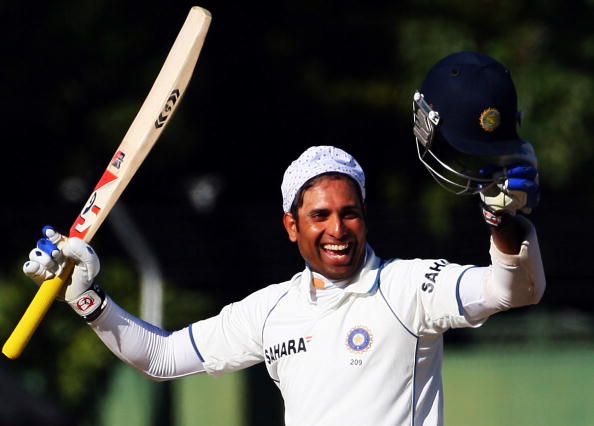 Laxman enters the crease not like a batsman, but like a savior entering his battle field. He looks more like an artist about to sketch a beautiful scenery than a batsman who dies for centuries. He does his work in a very calm way. Throughout his career, he was known for his professionalism, fighting spirit and temperament. Whatever may the shot be, if Laxman plays it, that surely would look different. Sometimes, there lies a beauty in the way Laxman gives away his wicket. He does not hurt others by his deeds and the same could be seen in his game too. The ball reaches the boundary line even before  the fielder takes a step to stop it. If a cricketer's greatness was to be measured based on his performances against superior teams, then doubtlessly, Laxman would get full marks.Today, he may have left the Indian cricket team, but he has left so much behind for his fans like me  to cherish. Here is a list of  some of  the magnificent innings played by Laxman:
1) Debut match: Laxman, in his debut match, played a key role in the team's victory. In the 1996 Test series against South Africa, when the team was struggling at 82/4 in its second innings, he had  helped the score reach to a respectable total of  190 with his knock of 51. The Proteas, chasing down a target of 170, were all out for 105 due to their inept batting skills.
2) Team's score was 261 and Laxman's score was 167: Laxman, in his first Test series on Australian soil was the opener then. With Sachin, Dravid, Ganguly sitting in the pavilion after getting out for low scores, he had helped the team to score a total of 261 with his contribution of 167 that included 27 boundaries.
3) Historical 281: Indian cricket fans can easily remember the conditions under which Laxman scored a magnificent knock of 281. With the team following-on in the second innings, he, along with Dravid, helped the team in registering a miraculous victory against Australia. And that innings now ranks sixth in Wisden's top 100 Test innings.
4) Amazing innings at Adelaide: In 2003′s Adelaide Test, Laxman, who stepped into the crease at 85/4, had helped the team in posting a mammoth total of 523 with his amazing knock of 148. And India won this match too.
5) Classic innings against Sri Lanka: In the third Test of the series against Sri Lanka in 2005, he once  again had led the team to a memorable victory with a classic knock of 104, after coming into the crease at 97/5.
6) Unforgettable innings at Mohali: In the first Test of the series against Australia in 2010, at Mohali, the target was 216 and the team was precariously placed  at 124/8. And he led the team to victory with his grueling unbeaten knock of 73.
Now after winning the Test series 2-0 against New Zealand, Dhoni and his team may be celebrating as they are back on a winning track again. And some news channels, famous for their sensationalism, shot their guns again and stated that the replacements were found for Dravid and Laxman after the excellent performances of Pujara and Kohli against Kiwis. But, the question is, had it been Australia or South Africa in the place of New Zealand, how would the situation have been? Can these youngsters be relied upon when playing outside the subcontinent? In the future, if there comes a situation,where the innings like 281 at Eden gardens,148 at Adelaide, match-winning knock at Mohali, have to be done again, can these young guns come handy?
Thank you for the memories,Laxman. Indian cricket shall miss you a lot in the future.
Kudos VVS Laxman!