Where does Rohit Sharma go?
1.19K //
03 Nov 2012, 18:54 IST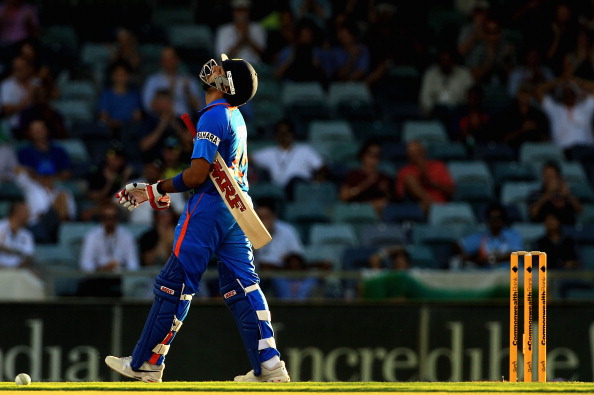 A promising young lad, who has great talent and was the next big thing in Indian cricket, now finds himself not even in the India A squad.
The T20 World Cup in 2007 brought the country a new face with a talent named Rohit Sharma from the inimitable land of Indian cricket, Mumbai. He burst on to the scene in his second match of the tournament against  South Africa with a gutsy half century against a quality bowling attack on a pitch that troubled batsmen. Coming out to bat when  two-three quick wickets had fallen in a crunch game, tells you all about his cantrip talent. The knock in the finals just made his talent more visible.
What followed was a trip to Australia for the CB series which India won, and yet again there was a fine display of batting and fielding. Suddenly, Rohit Sharma was the next great thing with his splendiferous performances.
In the first edition of IPL, he showed his mettle again. There were other series when he found himself down the pecking order, but the IPL has been a great hunting ground for Sharma. Whenever he was out of the squad, he scored well in the IPL and that gifted him a spot in the national team.
He failed to live up to the huge expectations but he wasn't that bad in the series played at home. Then came Virat Kohli who has used his opportunities to very good effect, and now according to me and more than half of the cricketing world, he is the best man to be wearing the blue of India.
We all curse Rohit for his torrid performances but what we fail to understand is that he has talent quite unmatched with his stroke play. He is an apt example for the saying "jack of all trades and master of none." The  future of Indian cricket looks bleak in the longest form of the game, especially when even the master is falling, and you need people who have the potential  to play the best in the world. Now there's only one man available for the job – Virat Kohli .
The problem with Sharma is not his talent but his temperament; he has the knack of putting a good ball into the fence but is also susceptible to getting out to the bad ones.
The selectors have to do something  to find a potential batsman that can make the future of Indian cricket look good. The answer to that would be to get Rohit Sharma to play county cricket. Playing in a new atmosphere, a new challenge against better quality bowling  compared to the Ranji trophy and vigorous training sessions would probably make him a better cricketer and help in forming a good middle order with Kohli and Rohit leading the batting lineup in the near future.