England in India are different from India in England
1.57K //
20 Nov 2012, 19:17 IST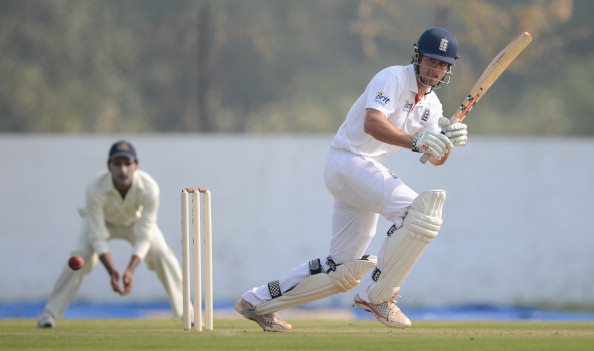 So it has started. India leads 1-0 in the 4-match Test series. People say that 1/4th of 'revenge' is completed. Revenge is a big word. Okay, so how is it revenge? Are we playing on English soil? Are we playing on a seaming pitch, under the majestic grey clouds? No. We're playing on a turning track, under blue, clear skies and we are the masters of this environment. It can't be called 'revenge' until we beat them in their own country, and with the same difference, which looks slightly difficult. Secondly, a word like 'revenge' in sport doesn't reflect on sport ethics, no? But yes, beating England is a big thing. This win gave us a big relief; bigger than the Test series win against West Indies and New Zealand, because we Indian cricket fans can't forget the humiliation the Indian team suffered last year. And we're eager to beat them with the same score-line. So yes, it's good.
Let's look at the first Test. India batted, and batted well. In fact, pretty well. It was a big relief to see Virender Sehwag raising his bat as he scored his first Test ton in 2 years. Cheteshwar Pujara came in as a new wall-in-making. As Rahul Dravid, in the commentary box, agreed to the youngster's batting style resembling his. Yuvraj batted brilliantly and showed that he's prepared for the classic format in his comeback.
Everyone knew the English couldn't play spin and that's what happened: 191 all out in the first innings. The Indian fans were quite happy and must have thought about winning by an innings margin. But when England came out to bat for the second time, Cook fought the spinners bravely and despite Compton looking in a bit of pressure, the duo stitched a century partnership at the top before Compton fell to Zaheer the next day. Trott looked promising, got a good start, but gave away his wicket quite cheaply. Wickets kept falling, and Indian hopes of an innings win looked stronger when Samit Patel got out on his very first delivery. England at 199-5 after 77 overs, were trailing by 131 runs. That's where the real struggle began – for both the teams.
'You will never walk alone', Prior must have said to Cook, as he came to rescue England from a shameful innings defeat. Thankfully for England, both batsmen knew that patience was needed at that point of time. Yes, they had problems with spin, they were beaten many times; Prior was even trapped plumb in front by Ojha, but Aleem Dar gave him not-out. The good thing was, they kept all these things aside, and moved on without letting the pressure affect them.
Their partnership was all about discipline. They played steadily. And soon, their steady approach started frustrating the Indian players. Frustration turned to fatigue. Bowlers couldn't bowl at their best and instead, waited for Prior and Cook to make a mistake. This steady approach became their biggest weapon. By the end of the day, the partnership started terrorizing the Indian supporters. Will it be a draw? Will we miss a great chance of winning a Test match, just because of a 6th wicket partnership? They played with the sole aim of saving the Test match; with a resolve to not give India another chance to make a comeback. Did we have that resolve when we toured England? No, we didn't. We never looked threatening; we never had that fighting spirit. Pressure dominated us every time we came in to bat. We bowled badly, fielded badly, and every time those 400+ runs on the scorecard terrorized the batting line-up. We refused to fight and never even tried. There lies the first big difference between India in England and England in India.
Let's come back to the current series. The Captain of the team, following on, with the team trailing by 330 – given these conditions, we saw one of the finest knocks by a visiting batsman on Indian soil, by Alastair Cook. Also, not to forget Matt Prior's innings. At the time when he came to bat, England were on the verge of an innings defeat, but he understood the situation pretty well and adjusted. And this is the second big difference between India in England and England in India. Every time an Indian batsman came in to bat, he went for quick runs, instead of playing slowly and steadily and thus, gave away his wicket. Rahul Dravid was the lone fighter, because he was disciplined. But who could give him support? Who could give the momentum India needed? That was a big question. India couldn't cross 300 even once in that series, and this was the main reason. England crossed it in the very first match (406) because they understood the need of the time, which the Indian batsmen couldn't.
India played well in their first match. England too showed in the second innings that India need to take them seriously. India leads 1-0. Like me, every Indian fan is hoping for a complete whitewash, but that's not easy, because England in India are different from India in England.