Womens day fact : Sachin not the first to hit 200
5.45K //
09 Mar 2010, 00:31 IST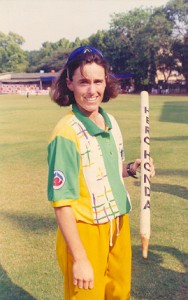 The day when Sachin Tendulkar hit double century in ODI, he became the first MAN on planet to hit double century in a single ODI innings. Yes the fact remains this feast was achieved first by Belinda Clark (Australian Women cricket player) in World Cup, played in year 1997 in India. Belinda scored 229 not out on just 155 balls. She scored this run against Denmark in Mumbai, thus scoring first double centurion (of either gender) in a one-day international. she also bagged WisdenAustrilan Cricketer of the year in 1998.
Negligence  ! What else . Whole world went GAGA about Sachin and he being the first person on planet to hit a 200 .
In an other reality, Indian women team played T20 international in 2006 against England and also won the match, much before Indian men team started playing T20 internationals.