Yuvraj Singh: Will test cricket remain a final frontier?
840 //
26 Nov 2012, 19:08 IST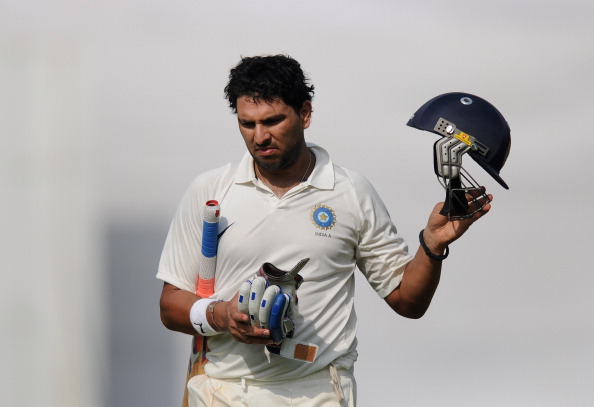 An illustrious career spanning over 12 years, full of epic innings all round the globe. He is often termed as Sankatmochak (loosely translated – saviour) of the limited overs side. Six sixes in an over against a quality test-playing opposition, the fastest half-century in the history of the game, the reason behind two World Cup wins for India, man-of-the-tournament of the World Cup in 2011 and a valiant fighter against adversity. Read all this and you visualize just one athlete – Yuvraj Singh.
Yuvraj Singh has seen it all and more. The name is not alien to any Indian or to anyone who has ever followed cricket in the past decade. He has been instrumental in numerous epic wins, sometimes through his bombardment and devastation and others through sensible batting and clinical bowling – not to forget, the fielding heroics.
Yet, there is one obstacle that he has yet to overcome; one final frontier still to be conquered – test cricket. An average of just about 35 in 39 tests – in a period where he has played 274 ODIs – definitely highlights that.
But is it correct to solely blame Yuvraj for it?
It was near impossible for anyone to push into a middle-order consisting of the Fab 4 – Dravid, Sachin, Ganguly and Laxman. Hence, numerous match-winning innings and devastation around the globe was not enough to secure Yuvraj a test berth. He had to keep waiting in the dressing room and stay content with being the 12th man. As a result, he never managed to get the same flow as his limited overs career into the tests.
Also, Yuvraj never found luck going his way as far as test cricket was concerned. Even if he played a decent innings, he was forced to sit out due to fitness or other issues. One of the most recent innings that comes to the mind is one during the Sri-Lankan tour of 2010 where, despite a decent 50 in the first test at Galle, Yuvraj was forced to sit out of the second due to dengue. In that very match, Suresh Raina came in and scored a fantastic century on debut. As a result, Yuvraj, without much fault on his own part, was forced to sit out again in the third match. Evidently, Yuvraj has been a victim of receiving few chances to prove his mettle as a test player of extraordinary character and strength.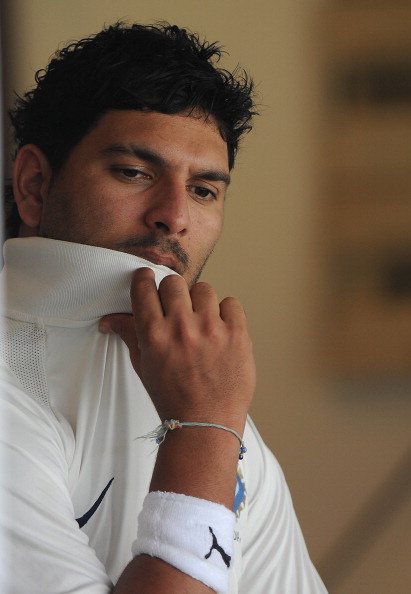 In fact, he has often performed quite well in the test arena and mostly when the team needed him the most. One might recall the Bangalore test against Pakistan, when the team was reeling with half the side down under 60 runs. At that point of time, Yuvraj stood up and faced the daunting task along with his former captain Sourav Ganguly. Both of them stitched together a remarkable partnership which brought India right back into the game – Yuvraj contributed 169 runs at a strike rate of 84.5.
However, the hallmark of a great player is to fight it out against all odds and come out trumps. Yuvraj did that in one-day cricket but to be entirely honest, failed to do so in test cricket. Time and again, despite some good performances scattered here and there, Yuvraj has been inconsistent and he has to look at where's he going wrong.
A valiant 74 on a turning pitch in Ahmedabad (against England) marked the return of Yuvraj post-cancer. But he failed in the next two innings.
Hence, the question still remains – has Yuvraj made it large? Is this final frontier ever going to be conquered?
The answer is engraved on the piece of willow which resides in Yuvraj's kit. If it does all the talking, then Yuvraj is set to retire as an all-time legend of the game (isn't he already?). Let's hope he justifies his talent.