Zimbabwe vs India 2013: 3rd ODI - The Quick Flicks
1.77K //
29 Jul 2013, 14:13 IST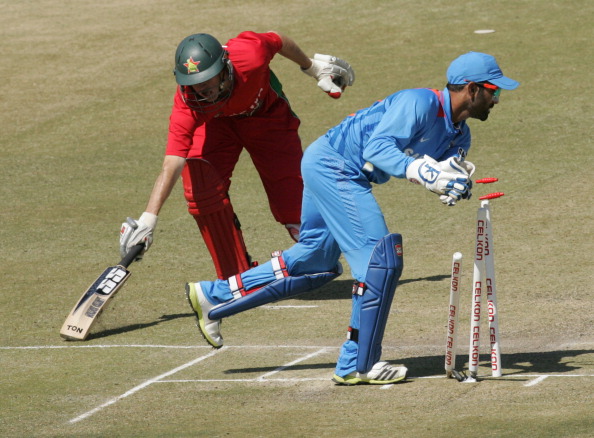 The Men in Blue marched to yet another win over the hapless hosts Zimbabwe in the third match of the series. While it is a commendable result as the tourney itself has been won by the visitors, it may not have been the ideal preparation for a tough South Africa tour.
Still, it's good to get some match practice ahead of what might be a lengthy stay in the African continent.
Here are the quick flicks for the game:
Mishra hero, Zimbabwe zero
Leg-spinner Amit Mishra once again came to the party with his bag of tricks. None of the Zimbabwe batsmen, barring Sean Williams, could play his variations.
With his flipper and googly, Mishra bamboozled the willow wielders without a fuss, forcing them to either play defensively or take the attack to him; either way, four of them ended up losing their wickets.
Perhaps a stint with the legendary Shane Warne could help the struggling Men in Red if they are to save some pride in this series.
50-over Test matches?
The way Zimbabwe are playing in this series, it looks as if they intend to bring another revolution in cricket: 50-over Test matches. A quick scorer like Brendan Taylor took 44 balls to score 23 runs – tied down by the bowling, yes, but there's no excuse for batting incredibly slowly.
At the very least, you should be trying to keep the scoreboard moving – so that the spectators at least get some of their money's worth.
No disrespect meant to the hosts, but watching them bat is like watching paint dry!
Tail-enders join the party
Brian Vitori and Tendai Chatara seemed to have taken a leaf out of Vinay Kumar and Shami Ahmed's books. Both the bowlers managed to hit a six each, as well as a few boundaries as they added a quick 34 run stand for the ninth wicket.
Michael Chinouya also hit a boundary towards the end as his side posted a somewhat respectable total of 183.
Note to Mr. Taylor – try to reverse the batting order for the next game!
Rohit flops, Raina returns to some form
Continuing the norm in this series, Mumbai batsman Rohit Sharma was dismissed quite early into India's chase.
After putting on fruitful partnerships with left-hander Shikhar Dhawan during the whole Champions Trophy tournament, he seems to have gone off the boil again.
He may have to be relegated to the Ranji Trophy hinterlands for a while if he continues to flirt with Lady Inconsistency – she's good-looking, but not too effective in helping him out of his troubles.
On the other hand, Suresh Raina finally had something to cheer about as he made his first decent score of the series.
Change of scene, change of fortunes? Absolutely!
Bulawayo might bring about a change in fortunes for the struggling Zimbabweans. The pitch on that ground has traditionally favoured both batsmen and bowlers, as a certain Sachin Tendulkar proved way back in 1998.
For the hosts, skipper Taylor, fast bowler Kyle Jarvis and batsman Malcolm Waller would have fond memories of playing on this ground, as all three performed well in the last Test match they played against New Zealand in November 2011 here.
Over to August 1 for the fourth game now.