Hero Cycles joins hands with WWF-India for Earth Hour 2015
1.95K //
23 Mar 2015, 17:47 IST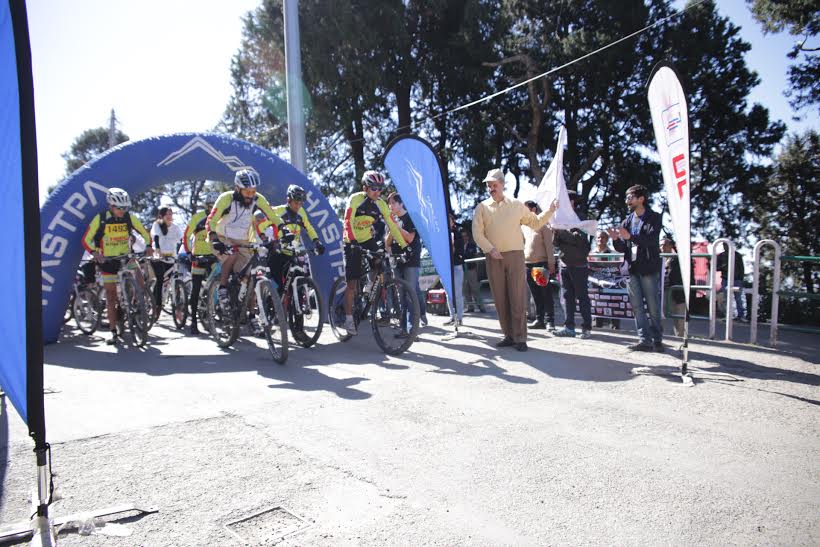 New Delhi, March 23, 2015:
Hero Cycles, world's largest bicycle manufacturer, along with HASTPA (Himalyan Adventure Sports and Tourism Promotion Association) partnered with World Wide Federation India for a cyclothon under the Earth Hour campaign. The Earth Hour Cyclothon 'Pedal for the Planet' was organised to raise awareness about climate change through 'Earth Hour' campaign. The race was held on 22nd March and witnessed huge participation by the local people. Every year, on 28th March, people are appealed to switch off their non essential lights from 8:30-9:30pm to take individual step towards environment conservation and switch to renewable energy.
The cycle rally was organised by WWF India and was supported by Hero Cycles and powered by UT Bikes, India's leading premium cycle brand from the house of Hero Cycles. Since 2009, this cycling event is being organised in Shimla a week before Earth Hour to give people a chance to contribute towards the campaign and give an inspiring message of hope and action – a global demonstration about climate change. Speaking about Hero Cycles' association with Earth Hour campaign Mr Pankaj Munjal, Co-Chairman and Managing Director said, "With the rapidly deteriorating environmental conditions it has become imperative for us all to come together and make concerted efforts in environment conservation and help maintaining the ecological balance. We should all consider this as our responsibility and duty to our future generations so that it makes us proud when the time comes to pass on our legacy to them. We are extremely delighted to join hands with Earth Hour campaign and pledge to do our bit to save our mother Earth from rampant exploitation."
He further added, "Cycle symbolises environment friendly and greener lifestyle. It is the most sustainable mode of transport and we urge everyone to integrate cycling into their lifestyles, you would not only save energy but will have zero contribution to pollution." This year, the theme of the Earth Hour is 'India Unplugged', which not only calls out to people to switch off, but also encourages citizens across the country to explore and adopt a cleaner and more sustainable lifestyle by embracing renewable energy solutions. Seven years in the running, the Earth Hour campaign calls for: Individuals to adopt household products powered by renewable energy; corporate to adopt renewable energy solutions for running their business operations and production processes; Governments to promote policies that are favorable towards the production and uptake of renewable energy.
Speaking about the campaign, Arti Gupta Project Coordinator WWF-India said, "Earth Hour brings together people across the globe to express their concern over the global crisis of climate change. In India, the campaign spans more than 150 cities, providing a platform to create awareness on renewable energy amongst individuals, corporate entities and decision-makers, while influencing behavior, opinions and policy to help mitigate the effects of climate change. The campaign's messaging and open-source model encourages participation through the symbolic switch off and leads people to adopt sustainable practices in order to conserve the finite resources of our planet. This year, Earth Hour hopes to reach out to a much larger number of people than before to promote the benefits of renewable energy."
Earth Hour is a WWF initiative where citizens around the globe show their support for action on climate change by switching to renewable source of energy. The cyclothon is WWF-India's signature lead-up event to Earth Hour celebrations event in the country. HASTPA has taken the initiative to promote cycling as a practical way of commuting in the urban areas as well as a healthy lifestyle choice.
About Hero Cycles Limited
Incorporated in 1956, Hero Cycles Limited is the largest cycle manufacturer in the world. The company has a manufacturing capacity of 7.5 million bicycles per year, with its unit in Ludhiana (Punjab), Bihar & Ghaziabad. The company has highly integrated plant in Ludhiana which produces 19,000 cycles every day. It also manufactures automotive rims and various other auto components. The company produced 5.5 million bicycles in FY14 and sales of Rs 2,000 cr.
Hero Cycles is a leader in both the standard and special bicycle segments in India, with an overall market share of about 35%. The company is equipped with state-of-the-art infrastructure and the most modern machinery. The Company also entered the premium bicycle segment with the launch of its new brand, Urban Trail, in February 2012. A nation-wide distribution network with over 2,200 dealers and the favorable location of its plants near vendors support its operations and facilitate competitive pricing of its bicycles.
Hero Cycles also exports to various countries in Middle East, Africa, Asia and Europe.