Far Cry 4 preview
8.29K //
09 Sep 2014, 13:04 IST
Far Cry 4 is one of the most awaited games of the year and now after releasing their trailers and their demo during E3 this year, they have got gamers drooling. Far Cry 4 can never be clubbed with other games as hours of first person mindless shootings, there is nothing mindless about the game. Every detail of the game has been given hours of work and the game has shaped up to be an enormous of over-the-top action packed game, with hours of game-play to be played in and around the truly majestic Nepalese setting.
Contrary to many reports given, Far Cry 4 is actually set in the Himalayan country of Nepal, not some remote part of India. The main character you play with, is Nepalese and the story in the game, is strikingly close to political upheaval and struggle that Nepal faced itself. And to make the experience of the game even more real, they have worked to the minute details to create surroundings that leave you speechless. Many could just play this game to explore the magnificent surrounding in it. But it's not just the surroundings that make this game what it is. We talk of five points about this game, after which I'm sure you'll be dying to get your hands on it this November.
1. Far Cry 4 gives you wings (a suit actually!)
The developers behind Far Cry 4 need to be applauded for this. Hurtling through the Himalayans in a wing-suit is something most of us would love to do but few of us could ever. But in Far Cry 4, you can totally do it and what better setting would want than the treacherous peaks in the Himalayas, while dodging enemy RPGs and whirring helicopters. The wing-suit is a handy item in your inventory for travelling quick, dropping stealthily near enemy out posts or making grand escapes.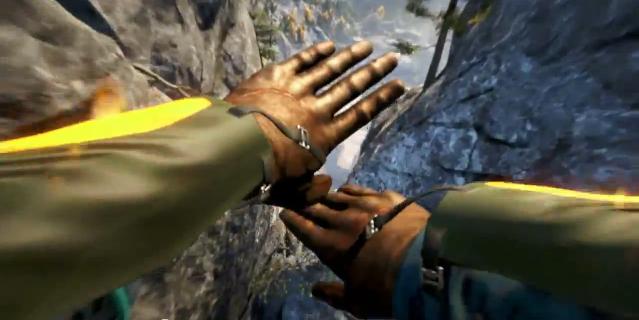 2. Animal Friendly (sort of)
Far Cry has always had local fauna there to serve as a wildlife wildcard whenever a gun battle breaks out, and Far Cry 4 is no different. In the Himalayan setting you can spot snow leopards and yaks, and even bears that reside in the snow-capped surrounds. These beasts will attack you if you get too close for their comfort, but you can also use their savagery to your advantage. In your weapon wheel, along with weapons, you will also be equipped with six chunks of meat. This is not for you to enjoy a roast under the trees, but can be actually used to lure wild animals into aiding you by decimating your enemies. If you spot a snow leopard lurking near an enemy, you can lob the meat at the enemy's feet and watch as the beast tears out his entrails. You can even use the meat to create a diversion with the big cat so you can slip on by undetected, or attack them from behind.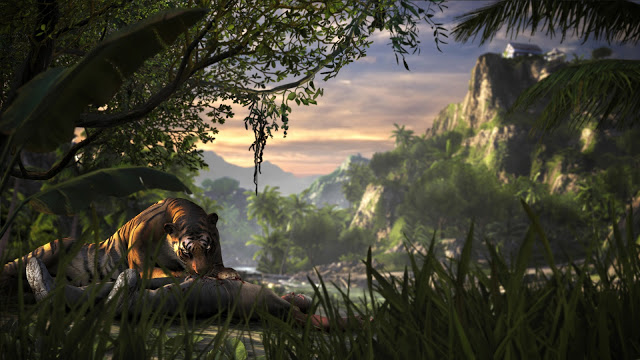 3. Awesome arsenal
What's the fundamental thing about shooter games? Its guns, guns and even more guns. And sure as ever, Far Cry 4 returns with an impressive arsenal at your disposal, to put an end to all your terrorist-shaped problems. In the Himalayan level, you get the ever reliable P416 assault rifle that returns from Far Cry 3, along with an A99 sub-machine gun, a powerful double-barrelled shotgun (the 'D2') and a cross-bow for stealthy shots.
These firearms are very impressive, but by far one of the most unique and favoured weapons to use is the Shangri-La bow found in the second section of the Games. You can pull both triggers in to notch an arrow in the bow and freeze time momentarily, making it a relatively easy to hit head shots from far. But the bow is just the touch of the surface of what awaits for you at Shangri-La...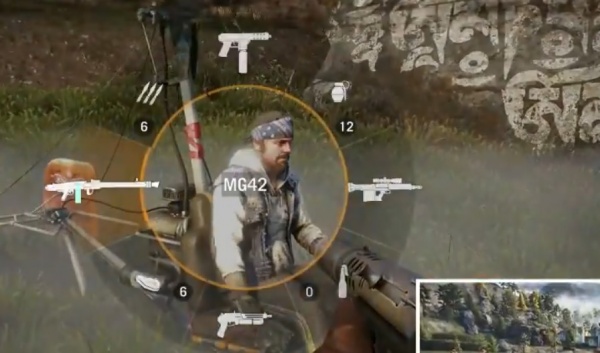 4. A legend in the making
The developers really wanted to expand on the mythology of Nepal and its people, and so found across Far Cry 4's Kirat, are hidden paintings that have the power to teleport you back, thousands of years into the past and into the body of a mythical warrior named Kalinag who was sent by the king to find Shangri-La. Sadly Shangri-La is overrun by demons, and it's in these parts of the game that things take a surprising turn for the supernatural with a variety of enemies that breathed fire, hurled poison darts or simply exploded in shrieks of blue flames. All of this takes place in an amber-soaked realm with rivers of blood and portals that teleport you towards bells of enlightenment, and all this while we're still talking about the same game. And the best part hasn't even come yet...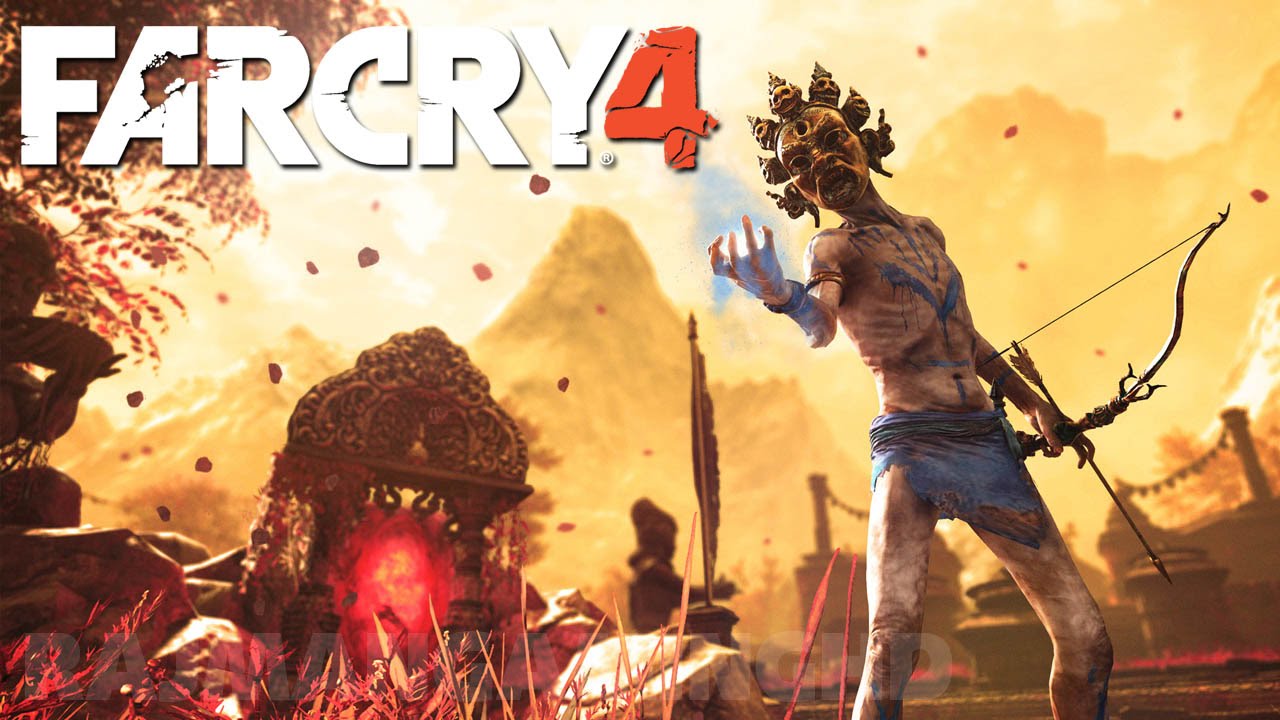 5. You get to command a spirit tiger
Far Cry took things to the next level this time you they have given you the power to command a spirit tiger. Once inside the Shangri-La parts of the game you're gifted with the 'protector of Shangri-La' at your side, a white spirit tiger who will either defend you automatically, or attack those you set him upon with a simple tap of the right bumper button. If you manage to set him upon an enemy before you've been spotted, the tiger will remain in stealth mode, cloaked in a skin of active camouflage as he pads along silently for the kill. If he dies in combat, he'll return to your side once a short cool-down timer gets over, and when you come upon more heavily armoured demon foes he's a valuable distraction that you can use on them while you circle around to shoot an arrow into their skull from behind.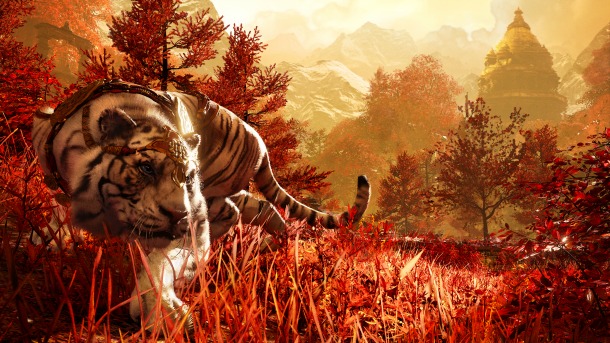 To learn more about the plot of the game, as well as its system requirements and other details, click here.