has acquired a spot in the upcoming Free Fire SEA Invitational after successfully claiming the pole position in the Super Star League 2023 MEA. It was a highly competitive Grand Finals as the top four were narrowly separated by points.
The one-month-long event started on February 18 and ran until March 18, with 24 teams from the region. In the one-day Grand Finals, the top 12 teams fought in six matches each for a place in the SEA International.
Alpha Esports plundered 95 points, of which 39 were earned from elimination. They secured one Booyah in the last match of the finals as they raised the trophy and took home the $5000 cash prize.

---
Free Fire Super Star 2023 Grand Finals overall standings
Here are the final rankings:
ALPHA - 95 Points
WASK - 83 Points
STARS DZ - 80 points
DICTATORS - 79 points
Olympia Police - 62 points
Savages - 55 Points
Miracles - 54 Points
La Camorra - 52 Points
Police - 48 Points
Nakazaki Esport - 43 Points
Legend.Max - 41 Points
Nakazaki Juniors - 36 Points
Wask, a Moroccan squad, competed spectacularly in the Grand Finals, but their minor slip-ups in a few matches cost them a seat in the SEA Invitational. The team achieved second place with 83 points with the help of one Booyah.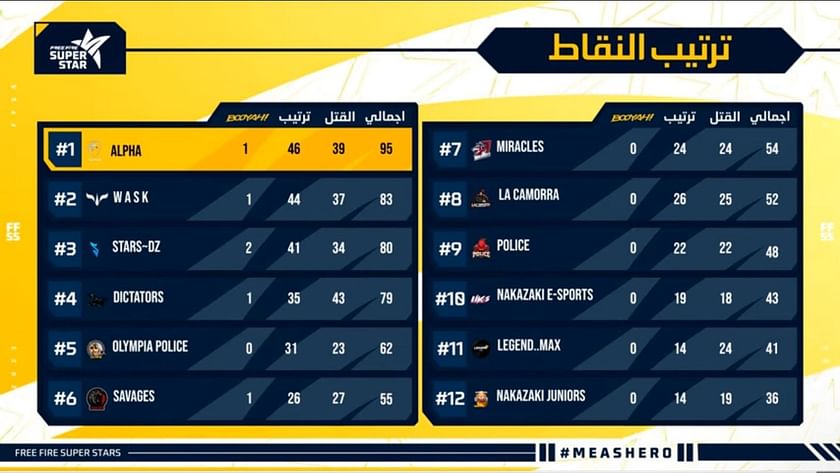 Despite obtaining two Booyahs out of their six matches, Stars DZ finished third due to their inconsistencies in the Finals. The team had a splendid showing in the first phase of the event. Legend.Max and Nakazaki Juniors finished eleventh and twelfth, respectively, after poor outings throughout the six games.
---
More about Free Fire SEA Invitational 2023
Consisting of the top 18 teams from across the globe, the Free Fire SEA Invitational is set to take place from May 12 to 28, 2023.
There will be two exciting phases: the Group Stage (May 12 to 21) and the Grand Finale (May 26 to 28). Apart from Alpha, four teams from Vietnam have earned their seats in the competition so far. Many regional events are currently being hosted, which will decide the other participants of the event.
Edited by Anirudh Padmanabhan