A few weeks back, I got the chance to preview Universal Happymaker's upcoming narrative-driven rogue-like title, Astronaut The Best. And honestly, I was thoroughly impressed by the innovative path the developers took with the rather saturated rogue-like gameplay system. And now, almost a month later, I finally got the chance to play its full-release version.
I was really taken aback by the sheer quality, the innovative interpretation of the rogue-like genre as well as lighthearted humor of Astronaut The Best's preview version. And unsurprisingly, the final release is basically the same but with added refinements to the moment-to-moment gameplay.
While I really enjoyed my six to eight-hour-long journey with the demo back in July 2023, I did find a few shortcomings, which were mentioned in my preview impressions. Fortunately, most of the gripes I had with the demo have been addressed in the final version.
However, I still have a few nit-picks and personal grievances regarding the game's progression, which will be explored in this review.
---
Astronaut The Best: Fantastic rogue-like that also doubles as a humor-filled text-adventure
Gameplay and rogue-like structure
Unlike a traditional rogue-like you might be familiar with, Astronaut The Best does not feature any role-playing mechanic, where you'll be left min-maxing your loadout for hours. Instead, the game is strictly a text-based adventure where you are in charge of a group of astronauts prepared for interstellar travel.
The game does resemble a management sim at first glance, but I can assure you it's far from that. The astronauts you get to train, nurture, and then send off to explore the depths of space are all randomized in terms of their personality and character.
Once you start a run, you are immediately thrust into the heat of things, where you must tend to the requirements of these space travelers and train them while also simultaneously managing the space program and impressing the High Priests. Failure to do any of these tasks correctly is, well, not pleasant.
---
The complex yet engaging gameplay loop
You get control over the stats of your astronauts, which can be altered to have them do your bidding. However, having control of the stats does not necessarily mean you'll always get the desired outcome. The personality and character of an astronaut (which is completely based on rng) is also a determining factor in their behavior.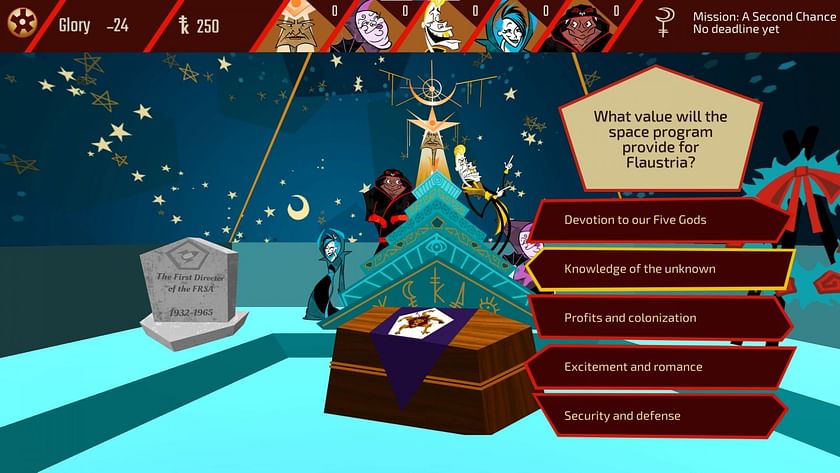 The personality and training of your astronauts are also one of the most crucial factors that is judged by the High Priests. And if any of your astronauts fail to secure a rating of 100, they're considered a failure. This results in my character getting killed and my having to retry from scratch.
There were quite a handful of runs where some of my astronauts were just not keen on space exploration. Instead, they spent their time elsewhere, despite my fervent attempts at persuading them.
However, this ordeal of managing a group of misfits, and molding them into the perfect space explorer, is the true essence of the game. While you might get a tad frustrated during the early hours of your playthrough, if you stick with the game and try out a few different runs, you will have a fun time.
Having prior experience with the game, I was already aware of what was in store, and for the most part, I wasn't disappointed with Astronaut The Best. My one big complaint is regarding hand-holding or lack thereof.
Don't get me wrong, I do like games where hand-holding is kept to the bare minimum. That's why my all-time favorite titles are mostly comprised of FromSoftware's entries. However, in the case of Astronaut The Best, a game that is very much unique, even within its own niche genre, I do expect some form of initial onboarding to ease newcomers.
It also doesn't help that the game struggles to deliver a truly rewarding experience, something that a rogue-like should strive for. Unless you're hooked to the moment-to-moment text-based and management gameplay loop, you won't feel much of a reason to replay the game after a few successful runs.
---
Visuals and presentation
As I already mentioned in my preview, the visuals and art style of the game are one of its standout features, and something that I really adore. Taking obvious inspiration from the early 2000's cartoons like Dexter's Laboratory, developer Universal Happymaker has crafted a really charming art style for their rogue-like/ text-based adventure hybrid.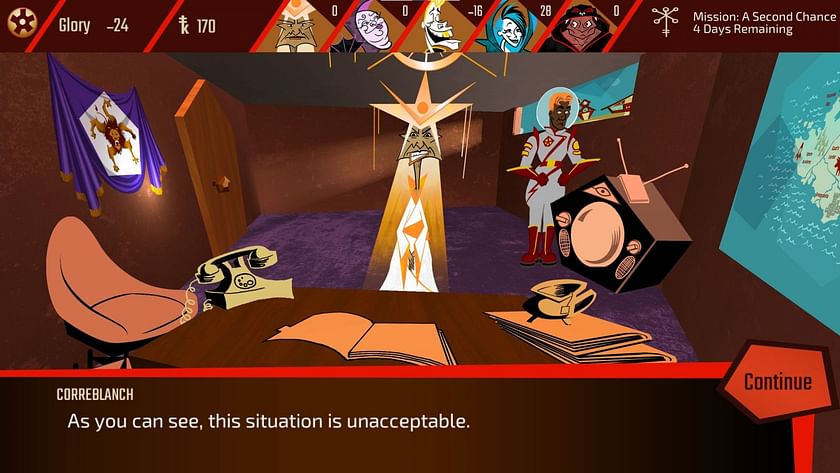 I do have to agree that the art style might not be entirely original. However, considering its implementation in the game, with every character looking distinct and apt to their personality and demeanor, makes it feel somewhat original.
Apart from the visuals, Astronaut The Best is easily one of the best PC ports of 2023. This was true for its preview build and also stands the same for its final release version. I mostly played the game on my main desktop with a Ryzen 5 5600 and GTX 1660 Super.
However, I did also try it out on my old laptop, which surprisingly pulled through without any issues.
---
In conclusion
Astronaut The Best is easily the most intriguing and complex rogue-like I have played since Dead Cells. With a charming art style, the comedic tone of its premise, and an engaging text-based gameplay loop, it's easily one of the best games I've played in 2023. The complexity of its gameplay might be a deal-breaker for some.
However, it's a minor gripe against what is essentially one of the most fun gaming experiences I've had in a long while.
---
Astronaut The Best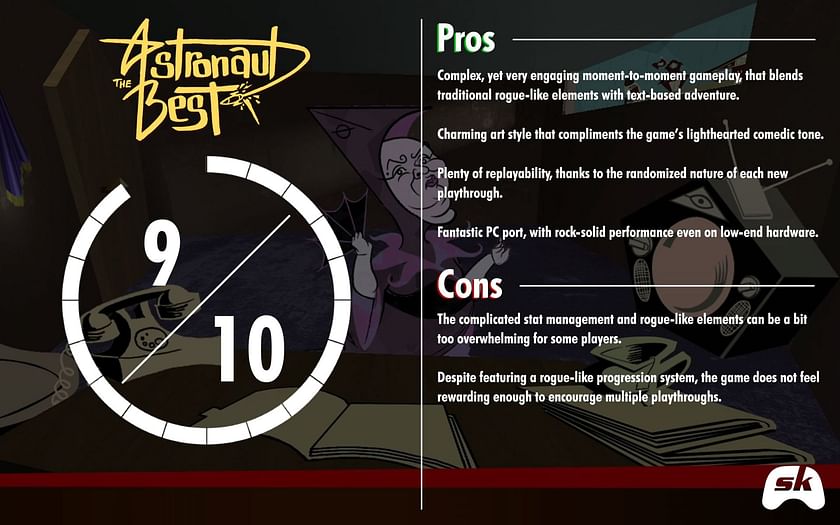 Reviewed on: Windows PC (Review copy provided by Universal Happymaker)
Platform(s): Windows PC (Steam)
Developer(s): Universal Happymaker
Publisher(s): Universal Happymaker
Release date: August 15, 2023
Edited by Sijo Samuel Paul