Following his streamer deepfake controversy, Twitch star Brandon "Atrioc" went live on his channel for the first time on March 15, 2023. He hosted a 20-minute broadcast in which he gave an update on some of his projects.
Atrioc revealed that he has been working with a company with the primary goal of shutting down deepfake streamer websites. He explained that he ran a test with the help of fellow streamer Maya and added that they were able to take down 512 websites.
The content creator said:
"The test goes really well. Like, really well! I'm actually... it's the first time I've felt, like, I'm finally helping. So, it's good. It's actually, we've taken down more stuff for Maya, then she was getting before. She's getting a better deal. Awesome! So then, again, thank you, again Maya, for giving me that chance."
---
Atrioc reveals he's working with popular content creators like QTCinderella and Pokimane to take down streamer deepfake websites
Atrioc stated that he contacted Blaire "QTCinderella" after the controversy and revealed that she agreed to participate in the testing to take down streamer deepfake websites. He claimed that the second run was "even better" as they managed to take down 700 websites:
"We run the test with QT(Cinderella), and it goes even better! We literally get, like, 700 things taken down in a day. Like, just, night and day. Like, way, way, way more stuff taken down. So QT is really impressed. Like, she's super happy. And we start talking again. Which is awesome!"
Following successful results with QTCinderella, the streamer disclosed that OfflineTV co-founder Imane "Pokimane" also joined the initiative. He said:
"Like, Pokimane went live two days ago, and again, an incredible amount of takedowns! Like, we got, you know, I think 2,000 things already. Like, more than everyone else combined, almost, for Pokimane, which is taken down. Which is awesome!"
Timestamp: 00:09:55
The 31-year-old elaborated on how the bot worked:
"I think that this bot is incredibly useful because the vast majority of what you need to get done, is just takedowns. DMCA requests because it delists from Google. What the real value here, is that, like, even if the website refuses to comply, you can get it delisted from Google, which for the majority of these women, I think that they are aware, even more aware than I was. Because I was kind of naive. That like... the internet is a sad place, right?"
He added:
"There's no way to get rid of this stuff permanently, forever. There's no silver bullet solution. But if you can get it delisted from Google and increase the friction of finding it, then it helps you with brands. It helps you, like, with family Googling your name. It's like, it's better for reputation management, but it's better for life. Like, it makes your life better and easier. So that's, like, an actual, concrete help. Right?"
---
Streaming community reacts to Atrioc's update
Atrioc's update went viral on the r/LivestreamFail subreddit. Here are some of the most relevant fan reactions: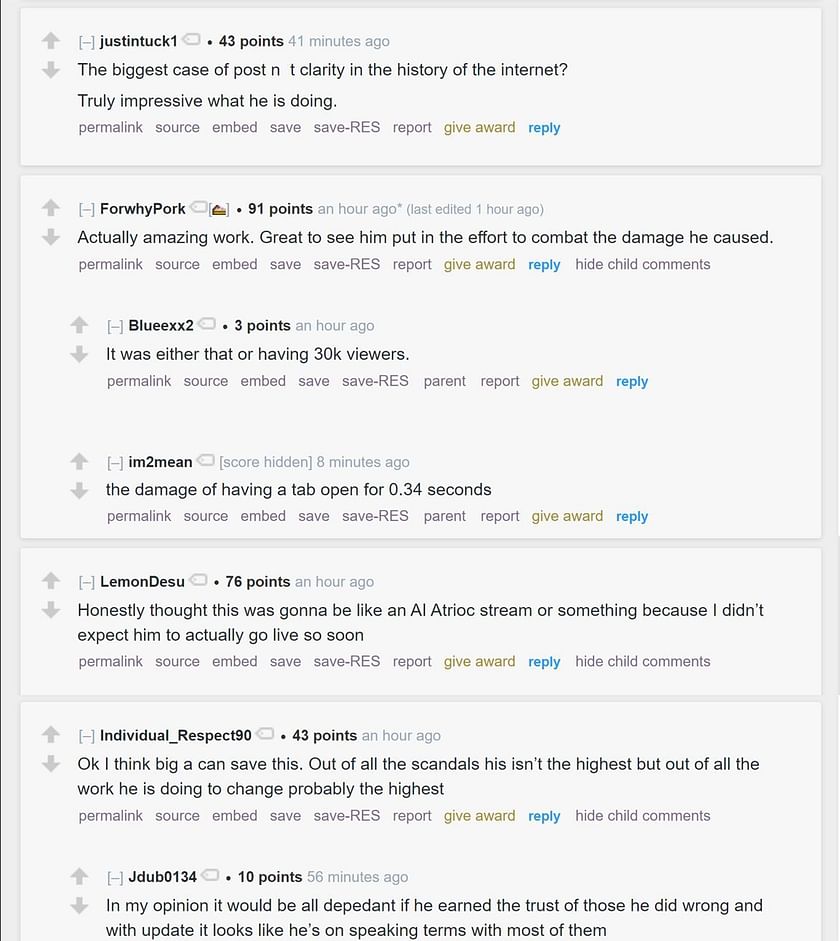 For those unaware, Atrioc made headlines in January after a clip from one of his livestreams went viral. During the broadcast, viewers noticed that a tab on his browser featured deepfakes of female Twitch stars.
After issuing an emotional apology, Atrioc announced that he was stepping down from content creation and as the co-founder of OFFBRAND.
Edited by Rachel Syiemlieh