Twitch streamer Becca "JustaMinx" recently sparked mixed responses on social media with a tweet about her return to Ireland. After facing criticism for her behavior at the Streamer Awards, she stated that she felt "refreshed" to be back in her home country.
Some fans showed support by expressing their appreciation for her recent posts featuring her family, seeing it as a positive change and a more personal side of her. However, others remained skeptical of the streamer. One user wrote:
"If only someone told you this 10 months ago."
---
JustaMinx reveals needing change, streamer to fly back to US soon
JustaMinx caused nuisance at the Streamer Awards after-party as she was intoxicated. Although she claimed to have had a seizure, fellow streamer Blaire "QTCinderella," the host and creator of the event, called her out for her behavior.
A few days after the episode, Becca revealed flying back to Ireland to not only take a break but also to visit her hometown doctor who has her reports with regards to her epileptic episodes. She wrote:
In a recent tweet from her main account, she said that she needs the holiday after her recent controversy at the Streamer Awards after-party. She wrote:
"I really needed to come home. I've never felt so refreshed. Even tho sh*t went down in an awful way, I'm grateful that it happened. I needed to be back with my family and I really needed a wake-up call."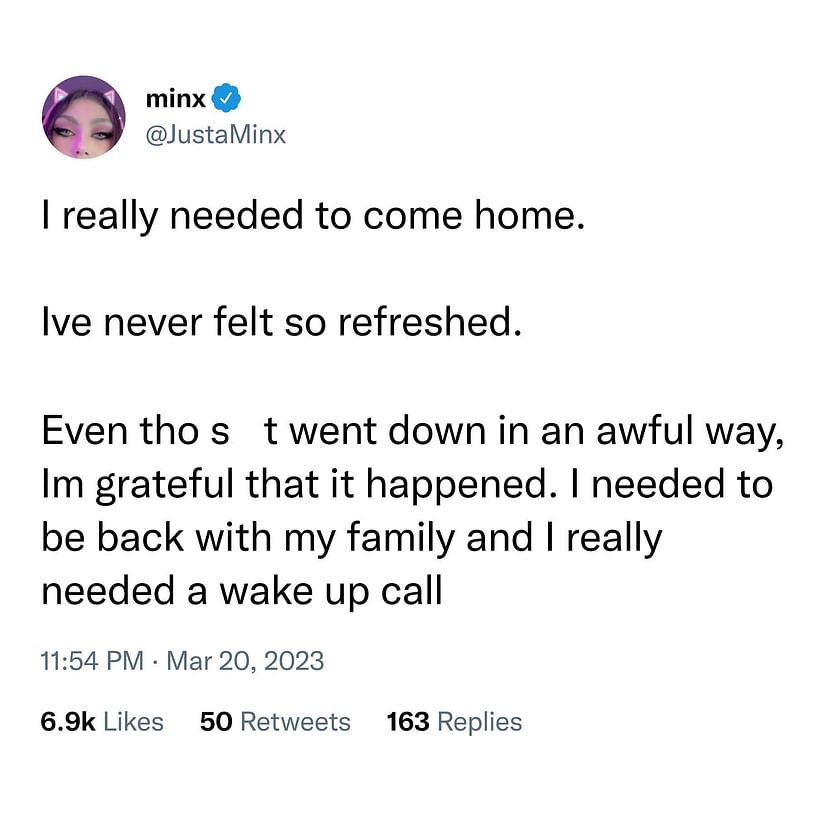 Many criticized her for merely making a statement to pacify her critics, without any concrete evidence of addressing her alcohol dependency issue. Here are some of them:
Despite the barrage of criticism, the streamer's tweet garnered some positive comments as well:
It's worth noting that, despite calling her out, QTCinderella has discouraged verbal attacks on JustaMinx. She wrote:
---
Becca needs to be in her best shape ahead of next month as she is scheduled to feature in KSI's Misfits Boxing event 006 in New Orleans. She will take on Jesse "Fangs," a FIFA streamer and YouTuber, in the welterweight division, which will mark the professional debut of both female creators. The event will be live-streamed on DAZN on April 21.
Edited by Dinesh Renthlei