Twitch streamer Blaire "QTCinderella" took to her channel on March 14, 2023, to host a Just Chatting stream. She also addressed the most recent controversy involving fellow content creator Rebecca "JustaMinx" and the alleged shutdown of The Streamer Awards afterparty.
QTCinderella explained why she chose to make the details of the incident public. The Los Angeles-based personality stated that she was not "drama-baiting," but rather being "honest and vulnerable" with her audience. Blaire said:
"A lot of people are like, 'Why are you airing this out in public?' Because it is the only thing I haven't tried. I can't tell you how many tears I have cried over losing someone who was my best friend... to this, genuinely. Over the past year, you can't look at her. There is not the same person there. She's been lost and gone. I have tried everything. I mean, everything!"
---
QTCinderella says that she tried to help JustaMinx privately, claims talking about the situation was a "calculated" move
QTCinderella continued the conversation and revealed that she attempted to assist JustaMinx by organizing an intervention and making arrangements for the latter to go to rehab. Her efforts, however, were futile. She stated:
"I got together a group for an intervention, and then got the rehab, got family involved. I've tried f**king everything. She doesn't want the help. I've tried handling it privately, it hasn't done anything. So I am just hoping that maybe all of this will finally make her realize that she needs to get help. And she can't keep using excuses. That is why I have done it."
The Streamer Awards host claimed that her actions were "calculated" and added that other streamers were going to talk about the situation publicly:
"It's all very calculated, why I've finally decided to talk about it. I knew other streamers were going to talk about it publicly, and I just wanted to say, as someone who cared and loved this person, who can no longer be taken advantage of by this person, that is why I decided to say something publicly."
Timestamp: 02:05:15
QTCinderella opened up about her personal life and stated:
"If you've ever had an addict in your life, you know how hard it is. I've had people in my life. You know, I've had a family member that was addicted to heroin, and the same thing happened. They just took advantage and advantage. I've tried over, and over again. They've stolen from me, blah, blah. All these different things. I've tried! I've tried so much and this is the only thing I haven't tried."
The 28-year-old personality hoped that the debacle would serve as a "reality check" for JustaMinx:
"So, maybe this will give the reality check that's needed. Maybe it won't. But that's why I did it. You know, you don't have to necessarily agree with me. It is heavy, and it's why I did it."
---
Streaming community reacts to QTCinderella's statement
A clip of QTCinderella's statement was shared on the r/LivestreamFail subreddit. The reaction thread received over 75 comments. Here's what the streaming community had to say: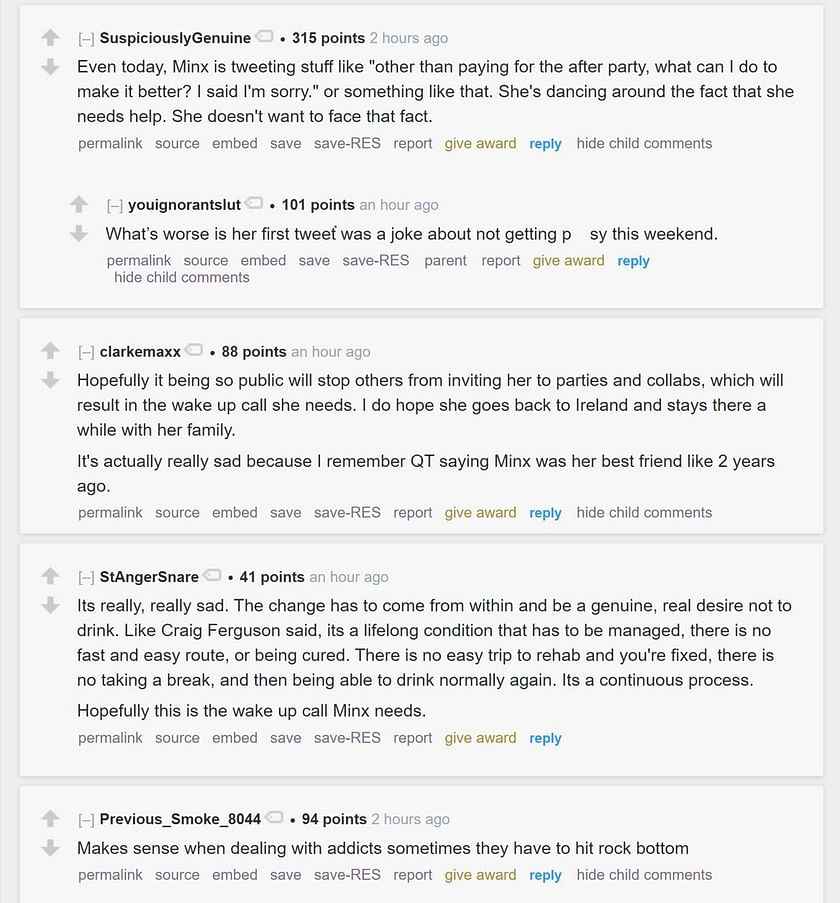 ---
For context, it was recently revealed that JustaMinx's antics at The Streamer Awards afterparty allegedly resulted in the function being shut down.
French-Canadian icon Felix "xQc" provided details about the incident and claimed that the content creator had become "completely unresponsive" as a result of excessive drinking.
Edited by Siddharth Satish