Pokémon is returning to it's Kanto exclusive story for the third time, with the latest Pokémon remake Pokémon Let's Go Pikachu and Let's Go Eevee. The original games, Red, Blue and Yellow were remade into a Gameboy Advance Port; FireRed and LeafGreen back in 2004. Pokémon Let's Go is more of a remake of Yellow, but with elements from the anime and some original ideas as well.
The original 151 Pokémon are back, with Nintendo bringing back the original music from the original Gameboy games, albeit with some modifications to the tune. Pokémon Let's Go features a completely different overworld and Kanto now feels so much larger! In FireRed / LeafGreen and Red/Blue/Yellow, the small size of your character and the overworld did not capture how much bigger and detailed the Kanto world was.
FireRed and LeafGreen added much more features from the original games made back in 1998. So for comparison purposes, we will compare Let's Go with those games and see how well the third remake still holds up, 14 years after the second one. The game does not include Pokémon from other regions and games and you will not be able to transfer Pokémon from the older games. This is because of the game's connection to Pokémon Go, which still has the original 151 Pokémon.
In this article, we will be comparing how well the graphics have held up, information about starter Pokémon, the reworked system of wild Pokémon and catching Pokémon and the replacement of the Safari Zone with Go Park. There are many other small differences, such as the inclusion of Alolan forms from Sun & Moon and meeting level requirements before competing for the gym badge which is not covered in this article.
---
#4 Visual Graphics and Overworld
Thanks to the major advancements in gaming technology, Pokémon Let's Go runs at a resolution of 1920x1080. In comparison, FireRed and LeafGreen ran at a resolution of 240 x 160 pixels and the original games ran at a resolution of just 160 x 144 pixels. The overworld in Let's Go is multidirectional, unlike Pokémon games before the 3DS that had only four directions.
The overworld in Let's Go features many small details that were not present in the older Pokémon games, such as 3D models of houses, players crouching when talking to children younger than them and a visual presentation of wild Pokémon. The NPC trainers also do not automatically detect you when you are walking in a certain direction in Let's Go. The player has the option of interacting with the trainer if he chooses to battle them.
#3 Starter Pokémon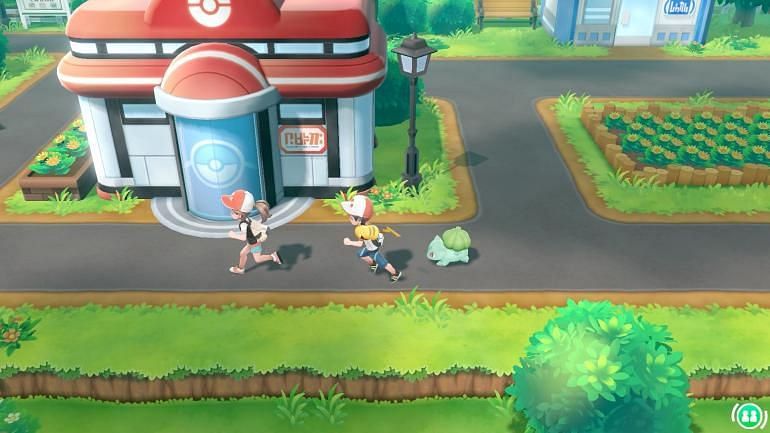 The player does not have the option to choose the original starter Pokémon, namely Bulbasaur, Charmander and Squirtle in Let's Go. In Let's Go Pikachu, the player will always start with their Pikachu and in Let's Go Eevee, always with their Eevee. In FireRed and LeafGreen, one of the three original starters was what you had to pick.
However, players in Let's Go also have the option to get Bulbasaur, Charmander and Squirtle in different parts of the game as they progress. Players could also do this in Pokémon Yellow. However, in Yellow, the Pokémon were freely handed out by interacting with an NPC. In Let's Go, players need to have caught 30 Pokémon in total to get Bulbasaur, 50 Pokémon total to get Charmander and 60 Pokémon total to get Squirtle.
Players can also catch the starters in the wild, although they are incredibly rare.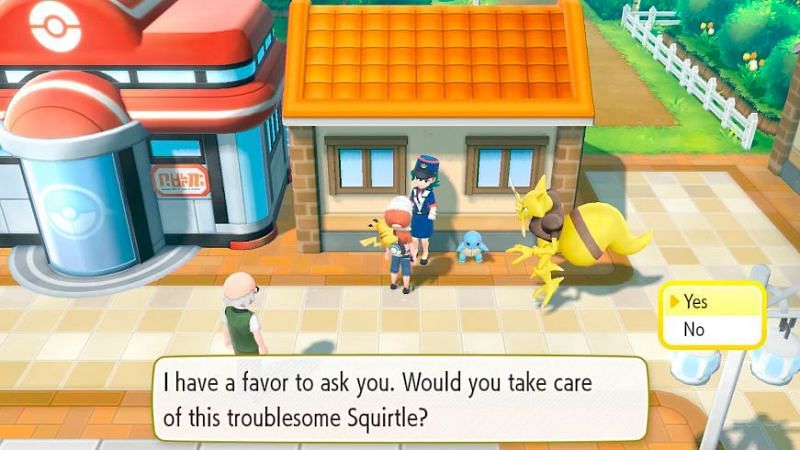 #2 Wild Pokémon and Catching Pokémon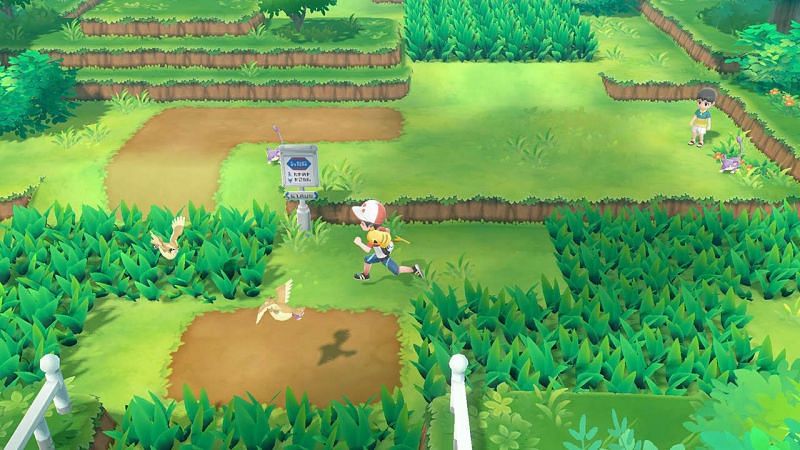 Catching Pokémon and encountering Pokémon in the wild is quite different in Let's Go compared to FireRed, LeafGreen or Yellow. Most Pokémon players are used to the older battle system, where you the player would need to weaken the Pokémon with Pokémon from their party and then use one of the many different Pokéballs to catch them.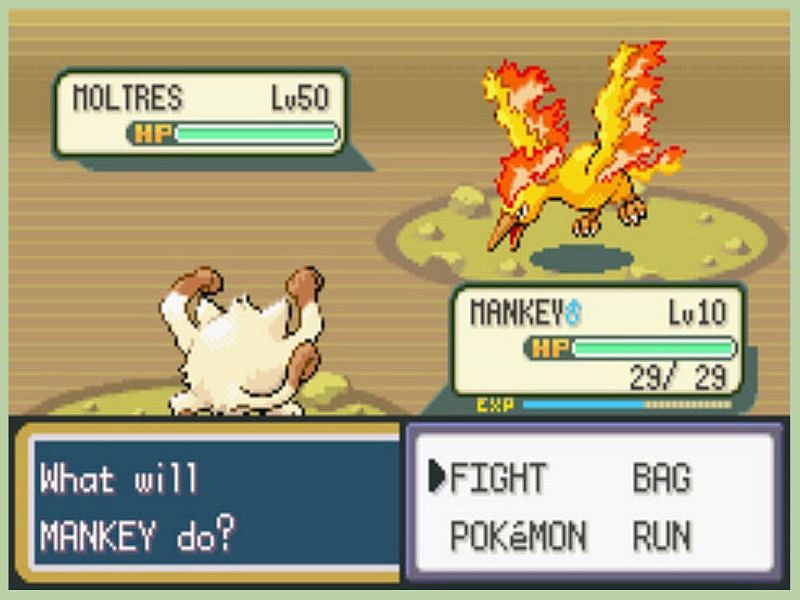 In Let's Go, the capture system is exactly like the mobile app Pokémon Go, where players only have the option to use their Pokéballs with the Switch's Joy-con. The Combat Power (CP) is also displayed when catching a Pokémon, a feature that was introduced in Pokémon Go and was not present in the other Pokémon games.
Wild Pokémon in Let's Go are encountered when a player walks towards a Pokémon which is visible on the overworld. Most Pokémon games encounter wild Pokémon by chance when walking through grass, caves, water, etc.
#1 No more Safari Zone and Sevii Islands
The beloved Safari Zone which was found in Fuschia City has been replaced with Go Park in Pokémon Let's Go. The Safari Zone in Yellow, FireRed and LeafGreen was an area where you could catch rare Pokémon with the help of bait and rocks as well as the place to get HM Surf.
In Pokémon Let's Go, the Safari Zone has been replaced with Go Park. Go Park is an area where you can link your Pokémon Go account from your mobile to Let's Go. When you catch a Pokémon on Go, you will need to catch them again on Let's Go in the Go Park. Go Park is also a place where you can "rest" your Pokémon, where they will be put in an open field to run around.
Sevii Islands from Fire Red / Leaf Green will also not be making a comeback in Let's Go.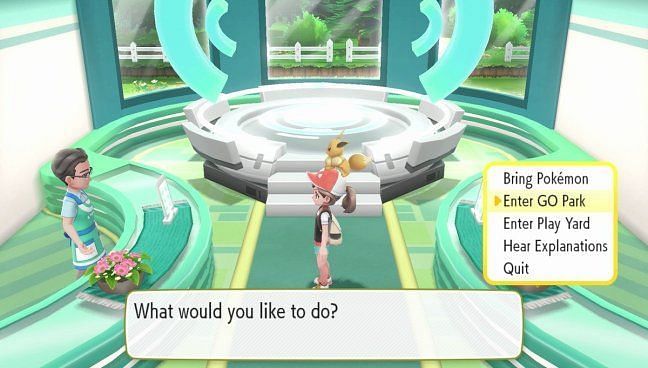 Edited by Nishant Jayaram