A proposal to lift Indian football
1.07K //
02 Dec 2012, 21:01 IST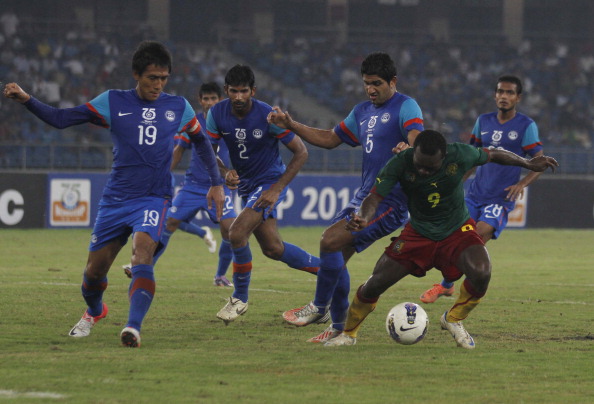 On the 56th anniversary of the golden day of Indian Football (1st December), let's try to think what should have been and where Indian football has landed up after initial brilliance. Syed Abdul Rahim took his Indian team to the 1956 Melbourne Olympics where they finished fourth. It has been a downslide ever since where the Indian football fans have had to be content with victories which are few and far in between.
So, what went wrong? Where did Indian football's rise turn into a minor positive blip in an otherwise disappointing graph?
Was it due to the rise of Cricket? Cricket in India was one of the peripheral sports in the country until the 1983 world cup success. It was not a major sport in the country but was fighting for its existence on the Indian stage. So was Football. If only Indian Football could have continued what Rahim Sahib had managed to conjure, and managed to win a major trophy some years later, then who knows, it may have been Indian Football at the forefront rather than Indian Cricket.
Is the lack of Money in Indian Football the reason then? This isn't true as many people think. Obviously, the going is not as good as in Europe or in the Americas, but it isn't that bad either. From Rs. 40-50 lakh per annum last year, an average professional football player in India will earn Rs. 65-70 lakh this season, according to AIFF sporkesperson Nilanjan Datta. Odafa Okolie, the Nigerian striker for Mohun Bagan, will earn Rs. 3.25 crore this season, making him the highest earning player in India. Another Nigerian striker, Ranti Martins, who plays for Prayag United, will get Rs. 1.8 crore for his services to the team. Even if Indian players won't earn as much as their foreign counterparts, Rs. 1.1 crore for Subrata Pal, and Rs. 1.05 crore for Gourmangi Singh, aren't bad figures at all.
Then what about facilities? This may be one of the reasons. The Jawaharlal Nehru Stadium in New Delhi is beautiful from the exterior, feels very much like the cauldrons we see in Europe and in other Football centres across the world, but the pitch is not up to the mark. I have not been to other stadiums in the country, but on T.V., a majority of the pitches seem to have lots of faults in them. Plus, gyms and other such facilities have only recently become part of a normal Indian's life, meaning that teenagers in India would not be as fit as in other parts of Asia, where players are smaller than the Europeans but can make up for it in the way they can cover the field.
Thinking about it, I think Football is really popular in India. It has always been popular in country's Eastern and Southern parts, but due to the promotion of the game on T.V. of many major leagues in Europe, the popularity of the game has surged in other parts of the country as well. Bayern Munich visited India this year and played against the Indian National team at Delhi's Jawaharlal Nehru Stadium. I was dumbfounded to see the number of spectators that had packed themselves into the metro, wearing their Man Utd, Chelsea, Madrid colours. But the fact that only very few of them had dawned India colours, was poignant.
I am 22, and when friends ask me what day was the best day of my life, I am very quick to answer that it was the day when the Indian Cricket team lifted the World Cup last year. I hope, that by the time I am old and carrying a stick to walk with, and I'm asked to recall the best day of my life, it would come down to a very tough choice between the day when the Indian team became the champions of the world and the day when India lifted the Football World Cup!
What I am proposing is that we set up a fund to be used for the upgradation of football facilities in India. If all the football fans throughout the country can pitch in a megre Rs. 100 each month, I think we would have a decent sum in no time and we would not have to depend, thereby, on people running football in the country. Think of a Barcelona-like ownership (in the way that the supporters own and operate it) at the national level and we can have it! This idea is obviously pretty immature and raw, but I would like all of you to ponder over it and do something to help get Indian Football to where it really should be.