Are our football venues really secured?
3.44K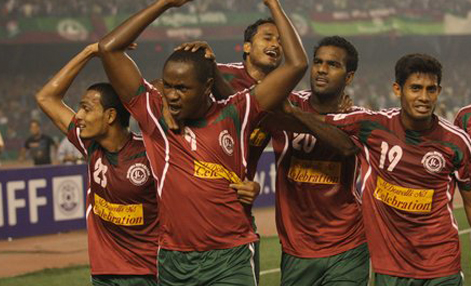 There's lot more to learn from football than just kicking it. Probably, our Indian clubs do lack such knowledge.
Mohun Bagan's decision to withdraw from the I-League derby against East Bengal on Sunday match is unpardonable. Emotions run high during any Bagan-East Bengal match. But that doesn't give them the ridiculous reasoning to pull out after playing the first half. We're not sure who pulled the trigger in the Bagan camp but whoever had done it may be unaware of the FIFA guidelines.
At least, I didn't expect Bagan, hailed as the National Club of India, to behave in such a ridiculous manner.
May be frustrations have hit the Mariners hard. The current season isn't going well for the club who are saddled with poor form and the sacking of coaches. But Bagan complicated things further by pulling out from the match against their city rivals. The club management has been so irrational. As a punishment, the club may face a two-year ban. But I'm not sure if the All India Football Federation (AIFF) will have the audacity to take such a bold step. I remember how the AIFF 'helped' Bagan to qualify for the inaugural National Football League (NFL) in 1996 when the club failed to cross the hurdle in the preliminary stages.
The then AIFF President, Mr Priya Ranjan Dasmunshi, virtually bent the rules to accommodate Bagan and restored their pride.
The truth is that nobody in the AIFF has the guts to impose such a hefty fine on Bagan, who, if penalised, can threaten to move court. And that means there will be an undeclared war between Bagan and the AIFF.
Also, the violence at the venue sends a strong message to local authorities and football administrators in Delhi about having 'zero tolerance' during high-profile games. How are they going to handle hooliganism, if India wins to host the FIFA U-16 World Cup bid?
Between 1993 to last year's Argentina versus Venezuela friendly match, I've covered a lot of big matches in the Salt Lake Stadium. The security has been always been a concern. The cops just remain clueless. Barring the security checks at the VIP entrance (through which the players and media enter), other entry pockets don't really have the heaviest of security.
On Sunday, surprisingly, the spectators managed to sneak in a large number of stones and bricks, apart from sticks and crackers, into the stands, despite heavy police presence.
The highly charged-up game snowballed into madness soon after Bagan's Odafa Okolie was sent off by Vishnu Chauhan for showing dissent. As soon as the Nigerian was sent off, Bagan fans started to hurl missiles. One of them also hit Bagan defender Syed Rahim Nabi's face. Had Bagan and Odafa acted in a responsible manner and, the security been more alert, such a situation could have been averted.