East Bengal edge past Salgaocar, remain on top of the table
723 //
27 Nov 2012, 20:44 IST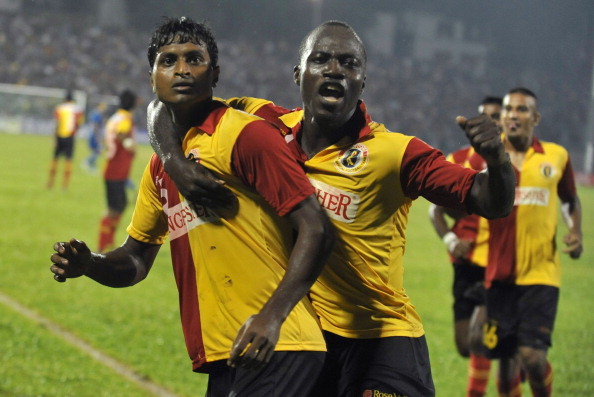 Kolkata giants East Bengal beat Salgaocar 1-0 margin in their 8th round clash of I-League at Salt Lake stadium today to secure their place on the top of the table. Edeh Chidi scored the priceless solitary goal for the home side in the 66th minute of the match.
This was a battle between two experienced coaches in Trevor Morgan & David Booth, who both come from England. A win was necessary for both sides, East Bengal needing it to retain their position on the top, and Salgaocar to jump out of the relegation zone.
Morgan & Booth started with the same lineup they used in their previous matches. East Bengal started with Chidi & Manandeep upfront while Salgaocar started in a lone striker formation with Sean Rooney along upfront.
Both sides had their chances in the first half. East Bengal, having home advantage, started to dominate the game from the start, and could have had a very early lead if Arnab Mondal could have found the net from Mehtab's corner. Sean Rooney of Salagaocar also failed to convert in front of the six yard box when he got a chance. Manandeep also spoilt a few chances, while Penn Orji made a blunder from inside the box.
In the second half the Red & Gold brigade became desperate to score. Penn Orji started to dominate the midfield, and following a through ball from Penn, Chidi tried to test the visitors' custodian Karanjit with a volley from the left side of the box. Karnajit exactly predicted it and dived towards the right direction, but unfortunately saw his own teammate Rocas Lemere guide the ball via a poor clearance attempt towards the other direction into the net, leaving the keeper a silent visitor.
After that goal, both sides had a few more chances, but they failed to convert. The visitors had a golden opportunity to equalize at the death when their captain Luciano Sabrosa headed the ball into the hands of East Bengal goalkeeper Gurpreet Singh Sandhu following a corner from Francis Fernandez.
East Bengal now lead the table with 20 points from 8 matches, while Salgaocar stand in 11th position with 6 points from as many matches.