East Bengal Vs Mohun Bagan: Derby Time in the I-League
1.27K //
04 Dec 2012, 14:26 IST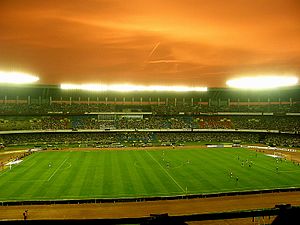 It's derby time in the I- League! The two superpowers of Indian football, East Bengal and Mohun Bagan, will clash against each other on 9th December 2012 at the Salt Lake Stadium in Kolkata. Supporters of both teams will assemble at the stadium to cheer for their favourite team. Who will win? It's a million dollar question! No prediction works for this match! This match always proves the 'Uncertainty of Outcome' hypothesis of Sports Economics. We all are waiting to see the biggest and perhaps the only marketable match of Indian football.
Despite the competitive nature of the match, we must admit that East Bengal, at least on paper, look a better side. They did not lose a single one of their last thirty-three matches. Their defence is rock solid, their midfield is well-composed and the strike force is highly penetrating. Okpara is emerging as the 'Great Wall of China' in the defence, Mehtab and Penn are creating unforgettable moves in the midfield and Chidi is showcasing his power in every match. And who can forget the contribution of the great leader, Coach Morgan! The Master is playing a significant role in creating a composed team. He has developed a strong reserve bench which has the ability to replace any player from the main squad. Credit should also be given to their officials who were instrumental in retaining the core team for the last two or three seasons. East Bengal have undoubtedly established their dominance in the ongoing I-League and it will be a difficult task for any team to beat them at this moment.
Mohun Bagan is an institution of Indian football which has made us proud on several occasions. It's not only a club, but a symbol of national pride. In 1911, the club created history by winning the IFA Shield. This prowess of Mohun Bagan infused vigour into the lifeless and cheerless Bengalis and made them believe that the mighty British could also be defeated. The club converted football into an instrument of nationalism against the colonial rulers.
However, the present is not so impressive for Mohun Bagan. They are still at the eighth position in the I-League table. They have problems in their defence and midfield. Their defensive players are making major mistakes in almost every match. There is hardly any creative role played by the midfield. There is no blocking as well which affects the defence adversely. The team is centred around their strikers, Odafa and Tolgay. Unfortunately, Odafa is not fully fit and Tolgay is injured. Nobody knows the status of Tolgay or when he will make a comeback. Odafa is trying at his utmost, but his helplessness is obvious as he is not getting adequate support from his team- mates. The dismal performance of the team forced the management to change their Coach. However, the management is equally responsible for this unimpressive performance as they did not give enough importance to every position while recruiting the players.
The match against East Bengal is indeed an opportunity for Mohun Bagan to make a turn around. The fans are waiting to see their team get back to winning ways. They are eagerly looking at Karim and his boys.
It will be an exciting match, a battle between two cultures to establish their supremacy. This rivalry is still relevant and if marketed properly it will surely attract football fans across the country. What we need is an effective marketing strategy. Hope that the stakeholders of Indian football will play a pro-active role in making the match more lucrative to the fans. We are all waiting!