Former East Bengal coach Trevor Morgan looking forward to working in the ISL
2.48K //
28 May 2014, 17:43 IST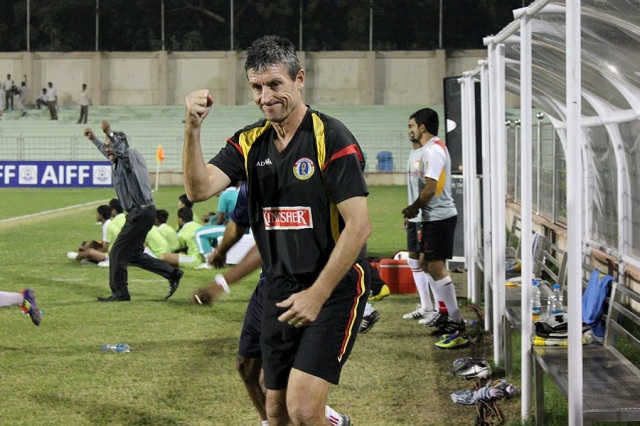 East Bengal's former coach Trevor Morgan has expressed his desire of working in the much-awaited Indian Super League. The Englishman has had an offer from Kenya and also was in talks with East Bengal for a second spell but now looks set to have a role in the ISL.
In an interview with britishcoachesabroad.com, he said, "Earlier this year, I got an offer from a club in Kenya (AFC Leopards). But while I was over there, I was approached by a franchise in the new Indian Super League. I had to tell the Kenyan people: "Look, I'm sorry to tell you this, but the Super League is something I'd like to get involved in."
"The Kenyans gave me two weeks to decide, but after three or four days, I called them and said: "Sorry, I can't take your job.""
Last year Morgan had conducted a training camp for the IMG-Reliance contracted players in Mumbai and the former Hull City development coach explained the way ISL could help improve Indian football.
"I think the Super League is going to be very exciting. I'm looking forward to going back to full-time football, and working with big-name players. For Indian fans to see players who've played in World Cup finals, as well as other top quality foreign players, can only make the game better.
"The games are due to be played in cricket stadiums, so there will be big crowds. I also think it will help the domestic players improve. They'll get used to training with better players, having better facilities, and so on. When they go back to their main club, they'll notice a huge difference," he stated.
The 57-year-old spent three seasons at East Bengal and won eight trophies there with the club never finishing outside the I-League top three. Morgan believes that football in India has improved since the time when he first took charge of East Bengal in 2010.
"Indian football is definitely improving. When I first came, there were games – not being big-headed – where you knew you'd win. But as time went on, there were no guaranteed three points. The Indian players are improving, and the foreign players are better now.
"The problem for the Indian national team is the foreigners play in really important positions. Everyone has foreign strikers, centre backs. The spine of the team is often foreign. So there are some fantastic Indian players, but they miss out on people who can put the ball in the net," he was quoted saying.